Not even Google Maps is safe from spam, at least before Google released a patch. According to security consultant Bryan Seele, messing with the name of a business prior to the patch was easy (though he refused to go into detail). It's a worrisome implication of how any market can be exploited for personal gain.
However, the real scare didn't come until a day after his "trolling" demo for Gizmodo writer Eric Limer. Valleywag writer Nitasha Tiku reports:
"The callers that Seely recorded thought they were speaking directly to the government agencies because they looked up the telephone number on Google Maps. What they didn't know was that Seely had set up fake listings for the San Francisco FBI office and Secret Service in Washington, D.C., displaying numbers that went to a phone account he set up rather than the federal offices. After Seely's numbers received the calls, they were seamlessly forwarded to the real offices the callers were trying to reach, only now the audio of their conversations with real federal agents was being captured by Seely."
Images of the security flaw, as Seely demonstrated, showed that he managed to wire contact numbers for both federal offices to a phone account he set up. After the stunt, police placed Seely in custody but only for a few hours. He was released on the grounds that he did a great service by pointing out these security flaws. Google has since updated their service.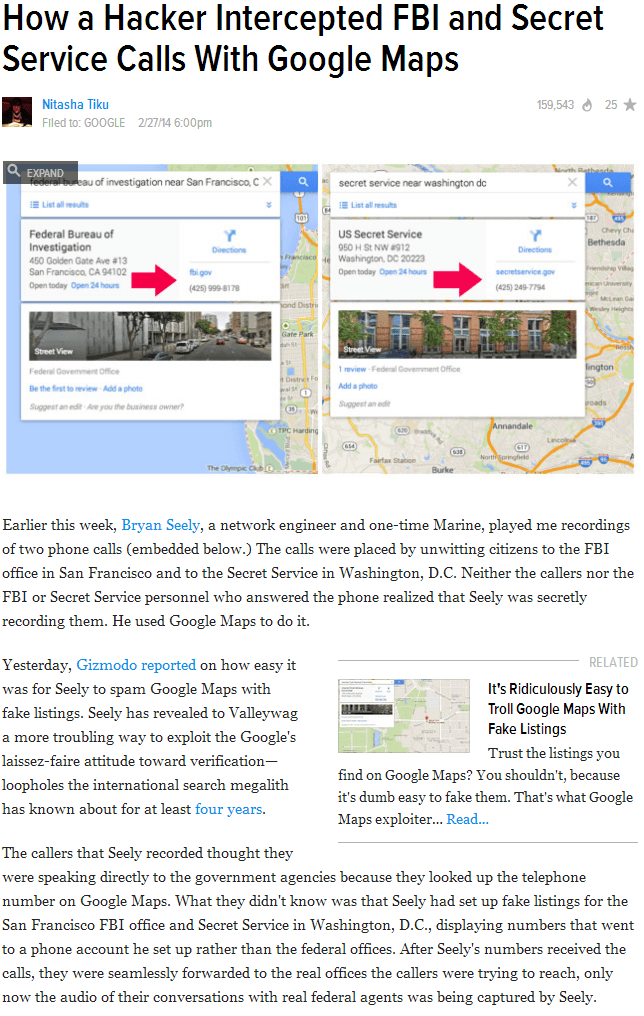 Any local market would've been vulnerable, even Google Places in the U.K. You can report and get rid of fake listings by reporting them to Google, namely regarding discrepancies in the location and contact details. In the demonstration, the federal offices' contact numbers had an area code of 425, which pointed to Seattle, well away from San Francisco and Washington, D.C.
Google encouraged public participation in rooting out these fake listings. Limer reported that over 100,000 of these exist for locksmiths alone.
You can even have services like Whitehat SEO Ltd. help in making the listings more accurate.
With upgrades made to Google's verification system, the only thing you need to worry about is providing the correct details.For example: London's area code is 020, so if you see a London store's contact number sporting a 0161 (Manchester's area code), it's probably a fake. The same also applies to Google Plus local business profiles.
(Article information from "How a Hacker Intercepted FBI and Secret Service Calls With Google Maps," Valleywag, February 27, 2014)