It is the goal of every company with an SEO strategy to land on Page One of Google's search results. That's the reason for all the interest in Pay-per-Click marketing, local SEO, website optimisation, and hiring the right SEO company for the job. With that in mind, it's important for you to know that Google seeks to attract and please its users by providing relevant search results, just as your business aims to attract customers by producing useful, relevant content.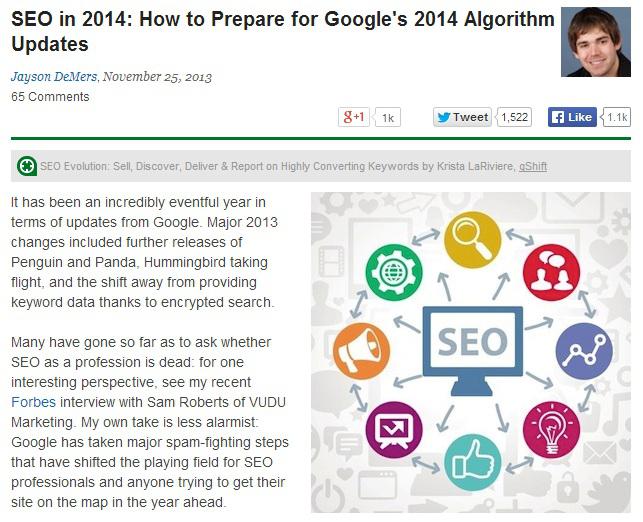 Google's Authorship could be the single most important tool you can use for your search engine optimisation efforts. Put simply, Authorship allows online content writers to claim their work while also helping search users find more of the work done by the same author. The program is designed to build credibility for individual authors and company websites that post their work—sites with Authorship tags will get more search traffic, which can result in greater exposure for the authors and their content.
Will Authorship matter for your SEO strategy? "Yes," says a lot of SEO experts. Jayson DeMers, contributor for Search Engine Watch, explains that it's one of the two most important things to include in your SEO efforts for 2014:
"In addition to strengthening your overall social media marketing position, it's going to be absolutely critical that you are investing in your Google+ presence.

Moz's most recent study of ranking factors confirms that Google+ is playing an increasingly significant role in a solid SEO ranking. The immediate areas to focus on include:

Establishing Google Authorship of your content, and tying it to your Google+ account. Authorship, which brings your body of content together, will play an important role in the SERPs as well as strengthening your Author Rank."
Those +1's add up. It isn't clear exactly how much Google +1's directly contribute, but it's fair to say that it's a major factor in the "social signals" component of Google's algorithm. I expect this to increase in the year ahead.
By creating a Google Authorship, you'll be able to establish your authority as an expert in your field, increase targeted traffic to your website, and improve you search results. For a more detailed explanation on what Authorship is all about and how to implement it, consult with knowledgeable SEO companies like Whitehat.
(Source: SEO in 2014: How to Prepare for Google's 2014 Algorithm Updates, Search Engine Watch, Nov. 25, 2013)