Hotel operators count on fast, quality service to keep guests coming back. However, a few slights (or even just one) may be enough for a customer to spread ill word about the establishment. Hotel marketing professional Alain Classe explains:
"Online Reputation Management or E-Reputation for Hotels is a really big deal. Simply defined, this is what individuals see when your Hotel name/ Hotel brand is searched for online via search engine (like Google, Bing, Yahoo) or Social Media (like Facebook, Twitter..)

Hotel Management should be aware it is difficult to regain reputation lost, Althought (sic) there are some simple measures that can be taken to help avoid crises and/or minimize them if they happen."
Classe's analysis may resonate with operators of hotels and other types of lodging in the United Kingdom despite market optimism in recent times. A report by hospitality information news portal HotStats showed that hotels in England and Scotland earned more per room; Welsh hotel operators, on the other hand, banked on major local events to attract guests. If you're a hotel owner or hotelier who's concerned for the credibility of your establishment, enlist the services of a reputation management company like White Hat SEO to safeguard it and encourage more guests to book with your place.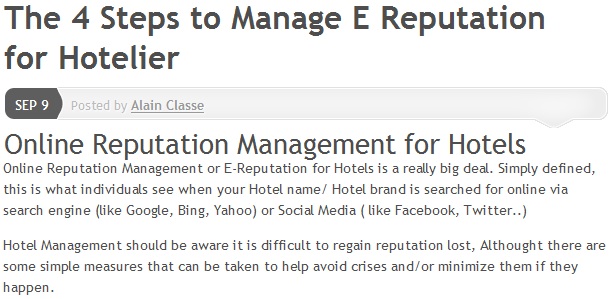 Yea or Nay
An online presence has the potential to shine up your hotel's credibility or smear it badly. You need to establish an official website for the establishment and its special accounts on various social media sites; a consultation with an online reputation management expert will help identify which sites will work best. In this way, you prevent detractors from setting up poser accounts often filled with negative content. However, you must have a trusted associate handling the accounts.
Google Alerts have become effective tools for detecting online content. Classe suggests setting up Alert notifications for your hotel's official email, which will be vital when someone praises or maligns your establishment. Publishing positive content helps bury the negative content in online searches.
Online Diplomacy
A calm and diplomatic manner is required of hotel operators who receive all sorts of feedback from guests and other people, especially when talking to them in the lobby. However, you must bring that attitude to another level when dealing with fierce critics. Consider holding a private discussion with them to sort out various issues.
Every person who's come to a unique destination for the first time wants to stay at the finest lodgings in the area to help make their trip happy and memorable. Showing prospective vacationers that you can make them feel at home adds to the market value of your establishment.
Send us an email now at info@whitehat-seo.co.uk or call us at (+44) 020 8834 4795 and grow your bottom line through our online marketing agency today.
(Source: The 4 Steps to Manage E Reputation for Hotelier, Ask Alain Classe)