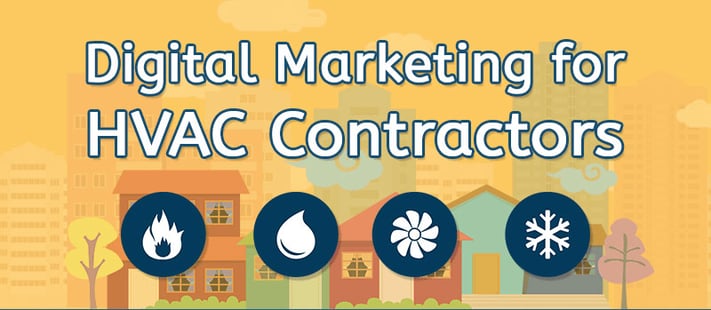 Over the next several years, demand for HVAC contractors is projected to climb momentously. According to the latest statistics from Statista, the global market for HVAC system installations is expected to be sized at around £77 billion—a notable increase from just £49 billion in 2014.
Check out this featured infographic about Online Marketing for HVAC Contractors:
Customers Search Online For HVAC Contractors Today
The way prospects look for and find businesses has changed over the years. Rather than rely on word-of-mouth referrals and traditional advertising, most of your potential customers now search online when looking for reputable HVAC contractors.
A study by the Pew Research Center indicates that as much as 91% of consumers use search engines to look for service providers in their area. This data is supported by statistics from GE Capital Retail Bank, which says that 81% of customers conduct online research before purchasing a product or service. When acquiring services, 89% of customers use search engines, according to Brafton.
Can potential clients find you when they search on Google, Bing, and Yahoo?
Have A Mobile-Friendly Website For HVAC Contractors Like You
Mobile devices have come a long way from just being a tool used to send text messages to being a significant platform for online communication. Today, a huge majority of customers use their mobile devices in locating and acquiring the services of an HVAC contractor. In fact, comScore reveals that 61% of digital consumption takes place on mobile and tablet.
Marketo also highlighted the importance of mobile devices for consumers in one study, saying that 74% of buyers searched on mobile using a search engine before making a purchase, and 50% reported making a purchase in a browser on their mobile.
Do you have a website for your HVAC business? Does it adjust and display properly across different devices?
More And More Customers Look For HVAC Contractors Via Local Search
Like any other business targeting a specific geographical location for their services, HVAC contractors should possess a strong presence on local search.
BrightLocal found that 71% of searchers value the information they find in local search results, whilst 54% include a local modifier, such as a city or zip code, in their search.
Have you claimed your listings on Google+ Local, Bing Places, and Yahoo Local? Can potential customers find your HVAC services in directories, blogs, and social media?
Video Marketing Can Help Your HVAC Business Drive More Conversions
More and more businesses are able to convert potential customers to actual customers through video marketing. According to comScore, visitors who view videos stay on websites an average of 2 minutes longer than those who do not. Sixty-four percent (64%) are more likely to buy a product or service after watching a video about it.
A separate study by ReelSEO indicates that homepage videos are shown to increase conversion rates by 20% or more. Forbes, on the other hand, reveals that 39% have called a vendor or service provider after watching a video.
Can potential customers watch online videos about your HVAC services?
Online Reviews Greatly Influence Your Potential Customers' Purchasing Decision
Potential customers are looking at reviews and feedback about your HVAC services online. Many studies have shown the power of online reviews in winning (and losing) potential customers.
Seventy percent (70%) of online searchers say they look at online reviews before purchasing a product or service. The same percentage of global consumers trust online consumer reviews, making it the second most trusted form of advertising.
Many customers rely on reviews in knowing whether a product, service, or business is good, with 92% saying online customer reviews are "extremely" or "very" helpful. Fifty-nine percent (59%) of online searchers even consider customer reviews to be more valuable than expert reviews.
Will prospects find awesome reviews about your HVAC services online?
Be The Coolest HVAC Contractor In Town With Our Online Marketing Services!
Evaporate your physical presence towards online marketing and radiate your visibility online to reach more customers who need your HVAC services and expertise. Fill out the form or give us a call at 020 8834 4795 to schedule a free consultation.