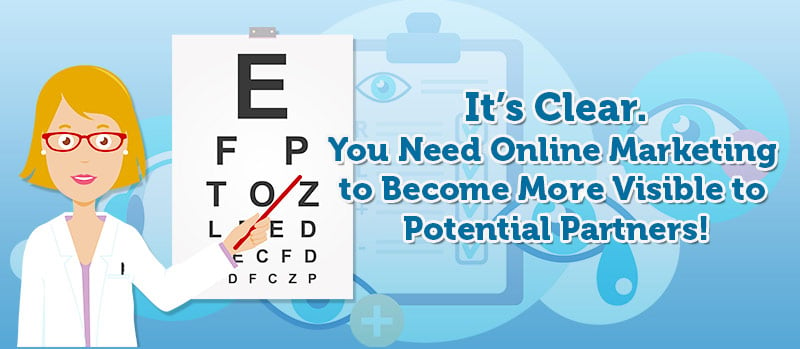 A huge majority of the British population rely on optometrists for primary eye care. In fact, 74% of people in the UK either wear corrective eyewear or have had laser eye surgery, with the help of an optometrist, to help them see better.
Additionally, research by The College of Optometrists found that 73% of patients would go to an optometrist for information about eye health.
Can potential patients find your optometry practice when they need your expert help?
Check out this featured infographic about Online Marketing for Optometrists:
Your Potential Patients Seek Information Online About Eye Care Services and Professionals.
Are you taking advantage of the power of the Internet to market your optometry practice? We hope you visualise it beyond.
A study by Pew Research Center suggests that of the 74% of adults who use the Internet, 80% have looked online for information about health topics, such as medical eye care, eye exams, prescription eyewear, and contact lenses. Many health seekers use search engines primarily, with 77% saying they began their research using Google, Bing, or Yahoo.
Are you visible online?
Your Potential Patients Look On Their Smartphones and Tablets To Seek for Optometry Services and Practitioners.
Most of your potential patients are searching for you and your services online while on-the-go, using their mobile devices. According to Pew Research Center, 52% of smartphone owners have looked online for information about health topics, such as specific diseases, treatments, or procedures. comScore, on the other hand, states that 61% of digital consumption takes place on mobile and tablet.
Is your website mobile-friendly? Do you envision a huge number of smartphone and tablet users visiting your website?
Social Media Plays A Big Role In Your Marketing Efforts.
Today, social media is changing the way people interact with one another. To find and contact you easily, your potential patients expect to find you on Facebook, Google+, LinkedIn, and other social media platforms.
Your competitors know this, as 50% of optometry practices have social media for their business. This is the breakdown of healthcare marketers using social media to distribute their content and market their services:
75% use Facebook
71% use YouTube
70% use Twitter
56% use LinkedIn
23% use Google+
22% use Pinterest
Can you be found on these social media platforms?
Video Marketing Helps You Convert More Leads To Actual Patients.
Videos are good at driving conversions for businesses because of its engaging visual format. comScore found that visitors who view videos stay on websites an average of 2 minutes longer than those who do not. Furthermore, 64% of consumers are more likely to purchase a product or service after watching a video about it. ReelSEO, on the other hand, revealed that homepage videos are shown to increase conversion rates by 20% or more.
Are you using videos to engage potential patients?
Your Potential Patients Rely Greatly On Online Reviews.
To help them decide whether to purchase your services or not, your potential patients are reading reviews and feedback about your optometry practice online. Recent studies found that 70% of online searchers say they look at online reviews before purchasing a product or service. The same percentage of global consumers trust online consumer reviews, making it the second most trusted form of advertising. Additionally, 92% deemed customer reviews as "extremely" or "very" helpful.
As you see, they wouldn't have to place a contact lens to see reviews online. Are there clear positive reviews about your eye care services online at all?
With Our Help To Boost Your Optical Expertise Online, You Can Gain A 20/20 Vision of Digital Marketing Success!
Refract a clear visibility online and reach more customers who need your eye care services and optometry expertise. Fill out the form or give us a call at 020 8834 4795 to schedule a free consultation.