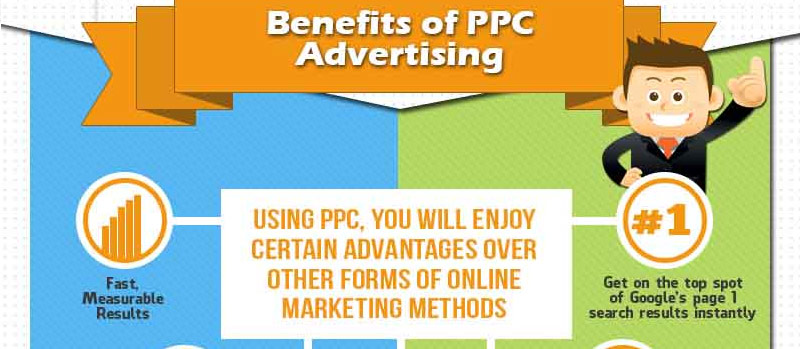 Pay per click management: Why businesses are spending and earning more on ppc ads
Years ago, businesses realised that their prospects are online and that if they want to reach their target market, they need to have a website. But today, due to tougher competition, smarter business owners are realising that having a website and optimising it for search engines is no longer enough. They now know that pure "organic" or free traffic won't keep the cash register ringing. They need Google pay per click management .
Unlike SEO, you will need to directly spend for traffic to implement PPC, which is also known as paid search. But there's a reason why the big players are investing heavily in this channel – they are earning from it. Indeed, PPC can complement "organic" online marketing efforts. When you want instant, targeted traffic, paid search is the way to go.

What is pay per click advertising?
A survey by marketing research firm MarketingSherpa showed that PPC UK accounts for 25% of online marketers' budgets. Safe to say, the biggest players in the online paid advertising industry are getting something out of pay per click marketing. Otherwise, they would not be allocating a chunk of their budget to this channel. The same survey showed that marketers primarily use PPC advertising to:
Increase web traffic - 63%
Generate more leads - 62%
Increase online sales revenue - 57%
Achieve or increase measurable ROI - 50%
From these figures, the benefits of PPC are apparent. Increasing a website's traffic and leads are its main benefits. Much of this is due to PPC's power to instantly display your ads on the first page of Google, making it an ideal choice for marketers who cannot wait for the results of search engine optimisation or SEO to take effect. And because PPC ads return on investment (ROI) is measurable, it's an attractive choice for businesses that need to track spending. It's effective for businesses that have an online sales funnel ready.
Paid Search Fuels Google's Growth
Google is a company that is built on advertising, especially PPC. With pay per click Google AdWords management displays advertisements on its web properties like Gmail and YouTube, as well as via millions of affiliate websites, collectively known as the Display Network. It also displays PPC ads on search results.
According to the latest figures released by Google, its 2017 revenue from advertising stood at $95.35 billion.
Behind Google's revenue rise is paid search's massive growth through the years. A survey by Statista, showed that as of 2017, paid search is already a $92.4 billion industry worldwide. It's bigger than radio advertising ($6.1 billion), outdoor advertising ($6.2 billion), and cinema advertising ($0.6 billion) and TV advertising ($35.5 billion)
The estimated paid search growth for 2018 is 12.6%. PPC is indeed an industry that is growing.

Biggest PPC Players, Budgets Exposed
How much does the biggest PPC advertiser spend on paid search? WordStream estimates that in 2011, the IAC/InterActiveCorp spent $174.23 million on Google AdWords PPC management, making it the biggest PPC spender for that year. IAC owns a number of businesses, including popular websites Ask.com. Dictionary.com, and Vimeo. Retail giant Amazon.com is second with a budget of $118.50 million. Telecommunications provider AT&T completed the top three after spending $115.56 million.
Meanwhile, these industries spent the most on Google AdWords:
Finance & Insurance – $4.0 Billion
Retailers & General Merchandise – $2.8 Billion
Travel & Tourism – $2.4 Billion
Under Finance & Insurance, the top three spenders are familiar brands: State Farm ($43.7 million), Progressive ($43.1 million), and Geico ($23.7 million). Familiar names also topped the Retailers & General Merchandise industry: Amazon.com ($55.2 million), ebay.com ($42.8 million), and Macy's ($35.6 million).

Can Your Small Company Compete?
Your marketing budget will be humbled by those of big dogs like Amazon, eBay, and State Farm. Does this mean small businesses cannot and should not try paid search? Is PPC an advertising platform where only the wealthiest can compete? What about small and medium-sized businesses like yours?
According to the Google Economic Impact Report, the use of Google search and advertising tools in 2012 resulted in $94 billion worth of economic activity for 1.9 million businesses across the U.S. This simply shows that the benefits of pay per click campaign management are not limited to the big corporations. That "1.9 million" figure includes small businesses and massive enterprises. This means even smaller players can use PPC campaign management to instantly land on the first page of Google and reach a targeted audience.

Options for Professionals, Small Businesses
Google AdWords management is still the best platform to advertise with. According to estimates by eMarketer, Google holds a 73.8% share of U.S. search ad revenues. That share is expected to grow to 74.4% this year and to 75.7% by 2015. Google also reports that AdWords advertisers typically gain a $2 revenue for every $1 they spend on the platform.
Your next best option would be Bing Ads, which has tie ups with Yahoo and other partners. Together, this group represents a total search engine market share of 30%, or 6 billion searches conducted every month, according to comScore. This network reaches 162 million unique searchers.
But here's some advice before you proceed: while in general, PPC can be beneficial to businesses both small and huge, you should never easily entrust your marketing budget to any agency. Be sure to get to know the agency first, ideally through free consultation or meeting, to ensure that you get your money's worth. Trust an agency that understands your needs and your business goals. That's the only way to earn profits when spending on management of your PPC ads.
See Also
Reference