Do you remember a time when we didn't have social media? It feels like it's been around forever, but it's only in recent years that it has become an increasingly important part of our lives. It's moved from a tool used for personal interaction into a very prominent, very important part of commerce, particularly when it comes to business-to-business, or B2B, sales.
Social media gives businesses like yours, a direct route to engage and interact with customers, potential customers and your contemporaries. It is also an incredibly useful weapon to have in your arsenal when selling to other businesses.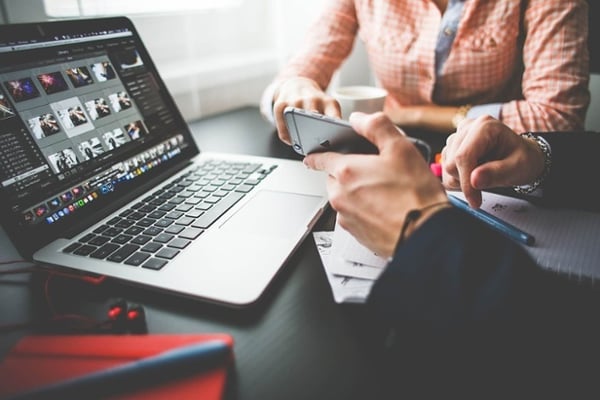 The changes the unstoppable rise of social media have created are well understood, but often companies, particularly those in the technology fields, aren't always best placed to take advantage of the opportunities it can bring. It's fair to say that when it comes to industry's that are used to dealing with manufacturing, electronics and technology, it can be hard to see the benefits of a social media presence, but it's definitely there.
There are a multitude of social networking platforms available. Each one has it's own set of features and each can offer you something different in terms of B2B sales, assuming your personas are out there. But, with over a billion social media accounts now live, it's a good chance they are. Before you go rushing off to set up a plethora of new accounts, let's just lay a little groundwork. When it comes to combining B2B sales, social media and marketing, you need to have a strategy to extract successful sales from any of them.
As tempting as it might be, creating accounts on every platform you can find isn't the way to go. It's going to spread your message too thinly to be truly effective. Instead, take some time to research where your market really is. By all means look at each platform, but be objective as to whether it's going to work for you. Twitter, LinkedIn and Facebook are the obvious contenders, but don't disregard the others without an element of due diligence. Remember your marketing personas and be sure you're not missing them on other networks.
Bear in mind that social media and marketing aren't two independent elements. They need to support and complement each other. You also need to understand what your goals are before you start. Are you looking to drive organic social media traffic? Connect with influencers? Nurture leads? Or, are you looking to simply promote your inbound marketing-focussed content?. Whether it's one of them, or all of them, it's important to understand these, before you start. Whichever platforms you ultimately decide on, you need to be able to quantify your decisions and be confident that you're making the right one.
We're all familiar with inbound marketing methodology when it comes to creating insightful, authentic and engaging content to draw visitors to your website. Social media can help this process along enormously, even for large companies with complex B2B markets. It's a great way to spread the message that your site is the 'go-to' place for engaging content and you can tap into the personas on these platforms to share any number of different types of content, on numerous different subjects. You can even use the strengths of the individual platforms to your advantage, by pushing relevant content to one platform over another. Again, it all depends on where your personas are frequenting, another reason why research is so important.
B2B buyers are more socially sophisticated and informed than ever before and they're getting better everyday, so your marketing and sales teams need to work hard just to keep up. If you don't have the time, resources or knowhow to lead the charge, the team at Floodlight New Marketing can help. Our expert team are always on hand to talk you through how to make social media an integral part of your marketing and sales efforts. Give us a call today.
Other blogs you might like...