Local SEO is the process of growing your business by optimising your website for local searches. Read on for more details or ask us how.
A massive part of what people search on Google (or similar Search Engines) is based on a local need. For example, if you want to give your partner flowers, I'm pretty sure you will write on Google sort of "Best flower shop in London" or "Flower shop near me".
Google knows that the location of the shop or service you are looking for is essential, so it provides a special feature to immediately visualize what's close to you. This service is called Snack Pack.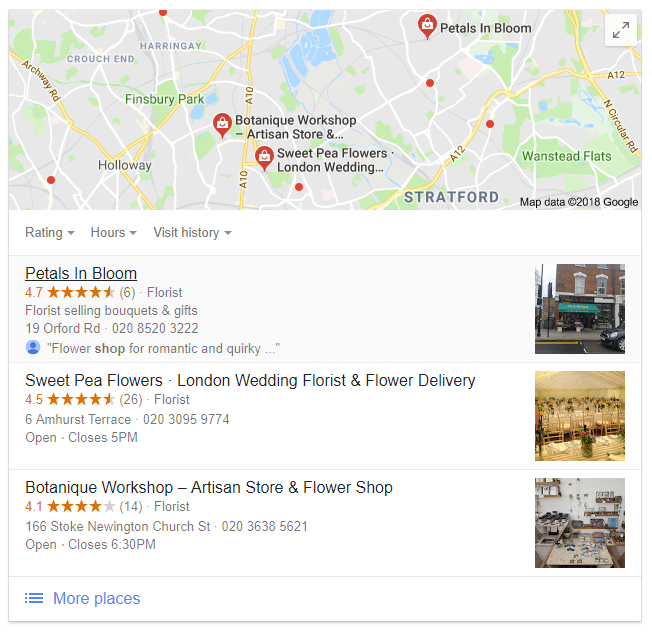 Snack Pack is great if you are a user searching for something, but it could become a problem if you are a business owner or a marketer and your website doesn't appear there. Why? Because the platforms inserted on the Snack Pack increase their traffic by 33%.
We know, that's huge.
The answer to your problem is local SEO. Let's dive into 10 best practices to grow your local presence, step by step.
1. Make sure you have a mobile-friendly website
It may sound strange, but recent researches show that 61% of mobile users are more likely to contact a local business if it has a mobile site (not just a desktop version).
Are you not sure about your mobile-friendliness? Don't worry, Google can come and rescue you.
Just go on Mobile-Friendly Test powered by Google Search Console and enter your website URL. Big G will tell you if you have to improve something or if you're perfect.
2. Activate a Google My Business Account
Probably this is the most important step to follow but also (sigh of relief) the simplest one.
Just go on Google My Business, sign up with your Google account and enter your name, address and phone number. If you are a freelancer without a brick and mortar office, it had better you tick the option "I deliver goods and services to my customers" and "Hide my address".


After having declared the address, you can pin the exact position on Google Maps.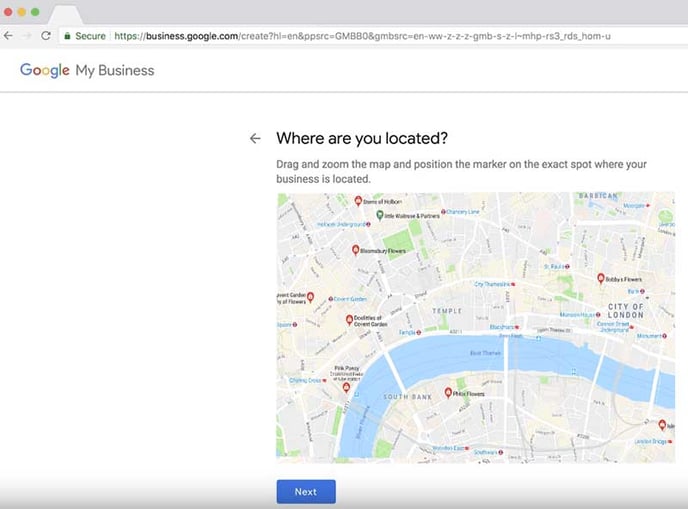 Then choose a business category, the phone number and the website URL. The last step is to verify the info (by phone or mail). A recommendation: provide to Google as many additional info you can through the section "Info" (subcategories, hours of operation, links to important website pages, a description of your business and photos of your actual location) so that for example the Search Engine will be able to show the exact opening hours when a potential customer will type "When X closes".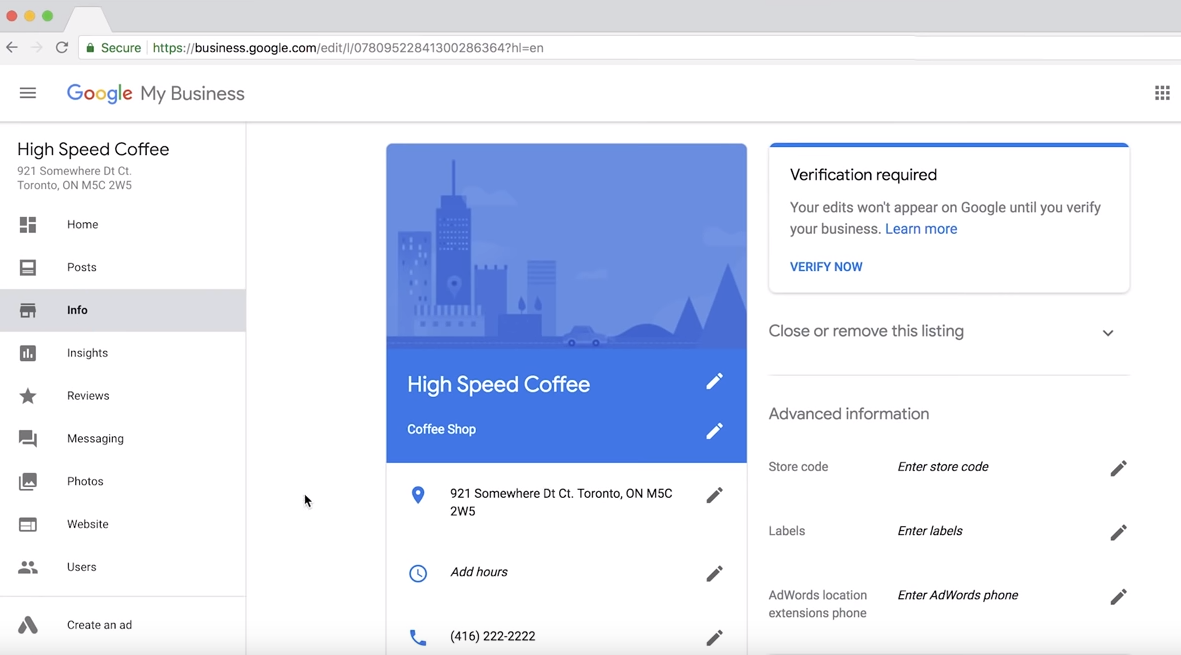 3. Run a keyword research
In order to improve your local SEO, it's essential to figure out a bunch of keywords you want to rank for. It is a multi-step process.
First, brainstorm and write down some keywords related to your industry (i.e. "Flower shop in London").
Go on Google and start typing them. Big G will show you other related search queries (i.e. "Flower delivery London" or "Florist London").
When you submit a research on Google, you can see other relevant possible queries at the bottom of the SERP.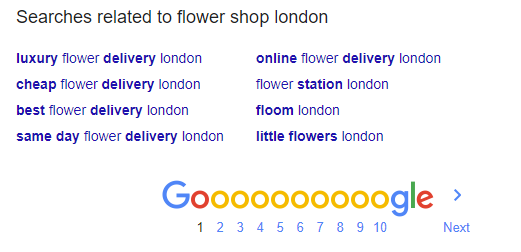 Find the keywords your competitors are ranking for using other tools like

Google Keyword Planner

(within AdWords) or

Ahrefs

(it's a paid tool). Just paste your competitor website URL and look for their best-performing keywords. It's a great way to discover what people really search for and how they use Google. Coming back to the previous example, we've discovered that a famous florist website ranks for keywords like "Best flower shop in London" and "Bouquet London", that are not so immediate to think of.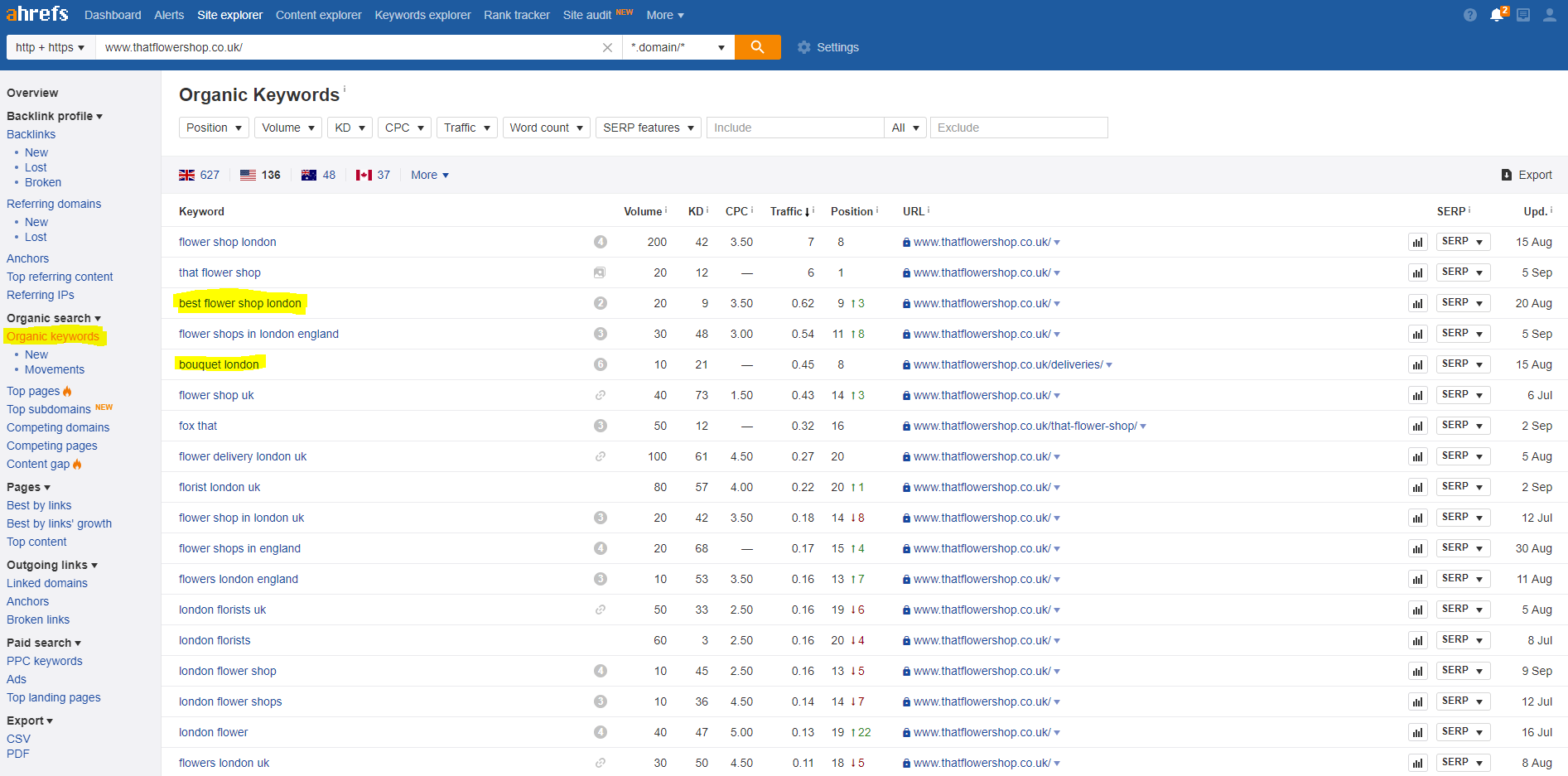 4. On-Page SEO
If you have a satisfying list of desired keywords, it's time to put them into your website. This step follows the classic On-Page SEO tactics (insert the keyword in the title tag, in the H1 and in the URL) but there are some further tips you should be aware of. Keep in mind that the homepage is usually the most important website page of yours for local SEO. But if you have multiple locations, it'd had better optimise the single local pages.
Specify the

name, address and phone number

(a footer is a good placement so that every website pages will show these details). Obviously, they should match what you wrote on Google My Business.
Leverage the

Google Structured Data Markup Helper. A schema markup is a code that helps the search engines to gain more info about your website, so it improves the way search engines read your pages.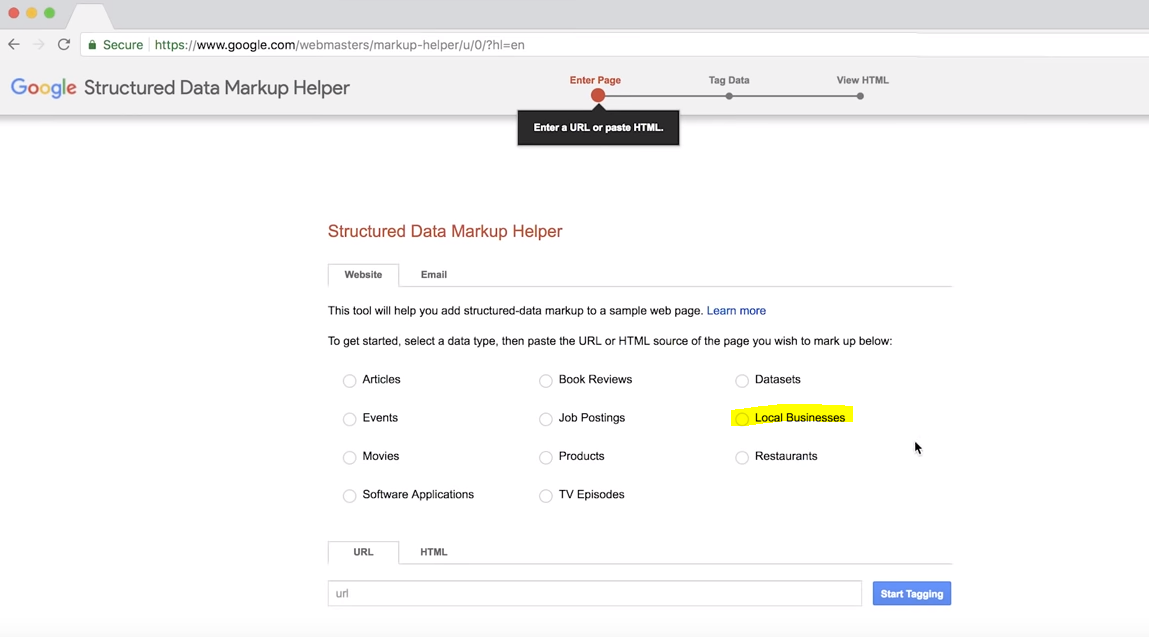 Select "Local Business" and then enter the URL of the page you want to markup (it should be the homepage). Google will display the web page, so you can click on the element you want to tag.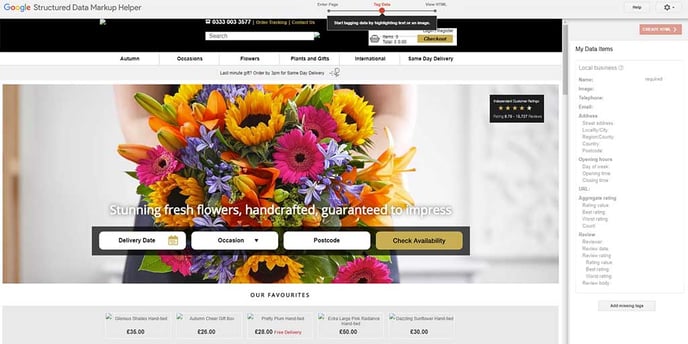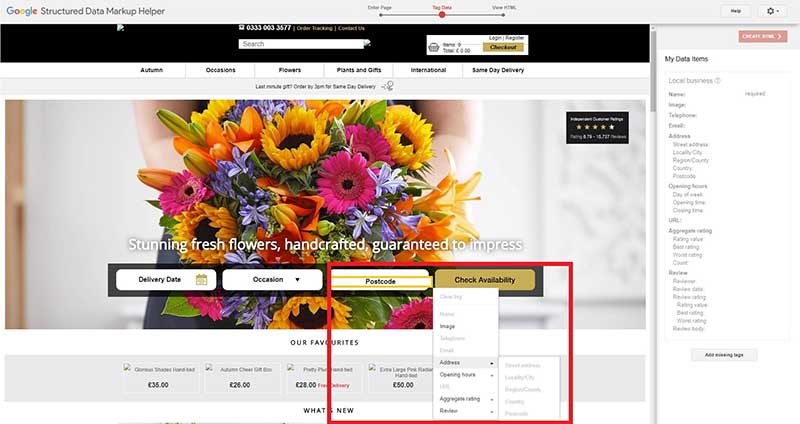 Then hit "Create HTML" on the right side of the screen (the red button).
Google will generate a code to insert in your website.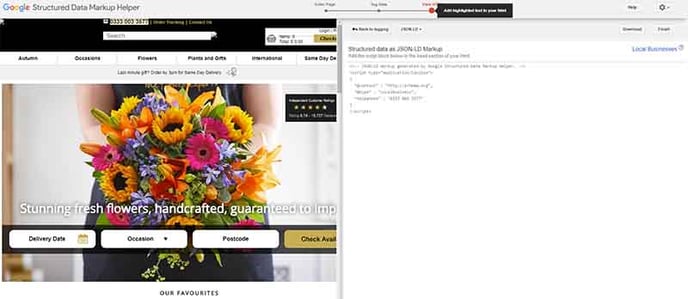 5. What to do if your business has multiple locations
We talked about the importance of optimising your home page for local SEO, adding the name of the city/town on it. But what if you manage a big company with a variety of shops/offices? In this case, you don't want to focus on the home page: the key to your success is on the local landing pages.
The first step is setting the basic information on those landing pages, that is:
Name;
Address;
Phone number;
Operating hours.
Then, putting the proper local keyword within the page (title tag, headlines, etc.). That's it.
6. Leverage online mentions of your business
There are 2 types of citations you should care about: structure citations (that is when your Name, Address and Phone number are shown) and unstructured ones (they don't follow a fixed scheme). In any event, you should:
a) Be sure that all the citations are accurate and updated;
b) Create more citations.
These are the steps to follow:
a) You need a citation audit. How to do it? Obviously, the simplest way is to search on Google "your business name + city", but it would be very hard to review each and every entry. A shortcut could be a tool like Moz Local, that detects where (website, social network, etc.) somebody talked about you and classifies if the information given is complete, incomplete, inconsistent, or duplicated.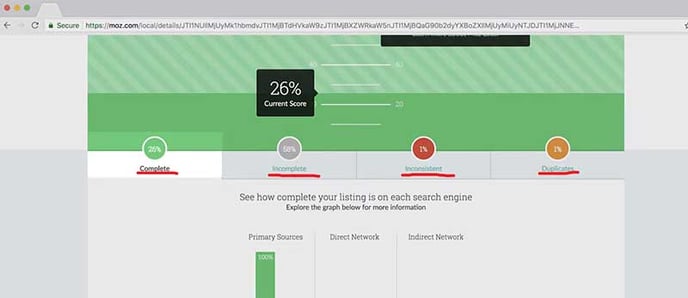 b) Build citations, searching for directories (Whitespark is an example), similar business lists (i.e. local chamber of commerce, other business associations, etc.) and review platforms (like TripAdvisor).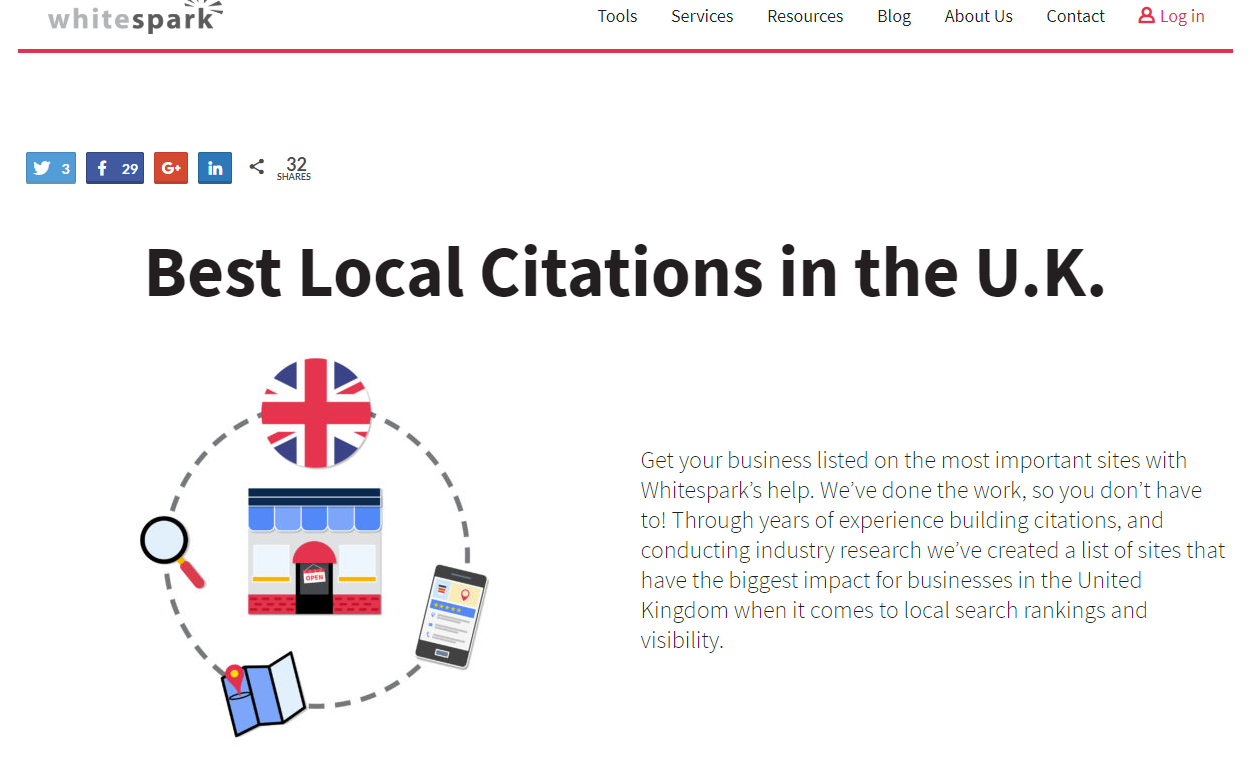 If you don't have so many ideas about what platforms are available, peeking at your competitors' citations is a winning practice. Indeed using SEO tools such as Ahrefs or Majestic you can discover who's talking (and linking) about them.
Let's see how to do it through Ahrefs platform.
Just paste the URL of your competitor's website homepage into the Ahrefs search bar. Be sure you've selected a research based on the exact URL (as highlighted in the image below).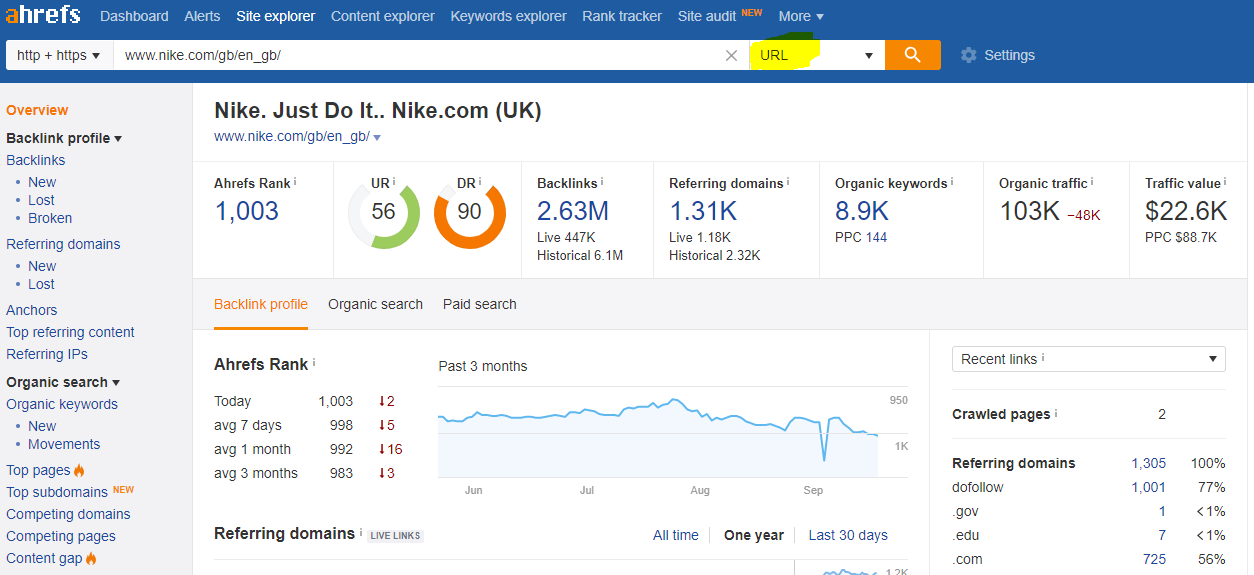 Next, go to the "Anchor report" (bar on the right) and look inside the backlink profile for anchor text that are keywords like "Website", "Visit", "Click here", and the plain URL (just type these words into the search bar you find): this way you can filter the backlinks that are likely to be citations/directories.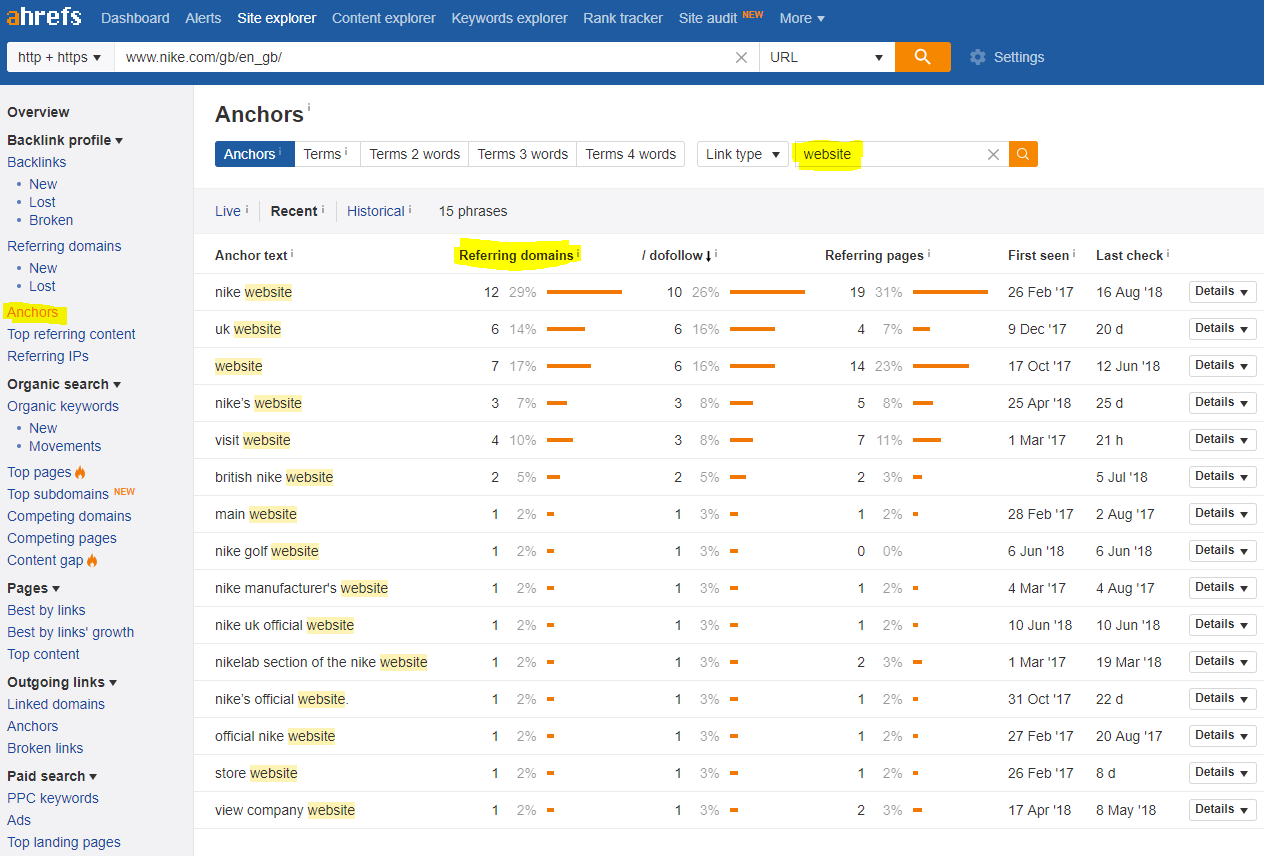 7. Build backlinks
Like in any SEO strategy, local optimisation requires a solid backlinks creation as well.
Why?
Because Google loves backlinks. Google knows that if somebody is referring at you, it means that you are an authority in your trade field. To understand better how Google ranks websites, read this article. Your backlink profile is the most important ranking factor in Google mind.
There are several methods to follow in order to achieve this goal (our blog is a great source if you want to learn more), let's dive into 2 of them.
a) The heart of the matter is pretty simple: create a stunning piece of content about a topic related to your job (be careful: it should be something that your customers want to read, not just a spamming brochure) and promote it. People naturally want to link back and share something that is valuable for them.
b) Another tactic is to write guest blogs for local companies related to you (but, obviously, that are not competitors) so that they can add a link to your website. How to find it? Just Google it! For example, search for keywords like "London write for us" or "Manchester guest post" and select the results that are blog or newspaper: there are seeking a copywriter. You can contact that website offering your writing skills.
8. Update your profile
Remember to always update your company information. Have you recently changed the location? Is the phone number not the same? Don't just adjust the information on the website. Go on Google My Business and amend the details. But this is still not enough because if you've created tons of citations, you have to renew them too.
And be careful: anyone can suggest to Google an edit about a business profile (as you see in the picture below).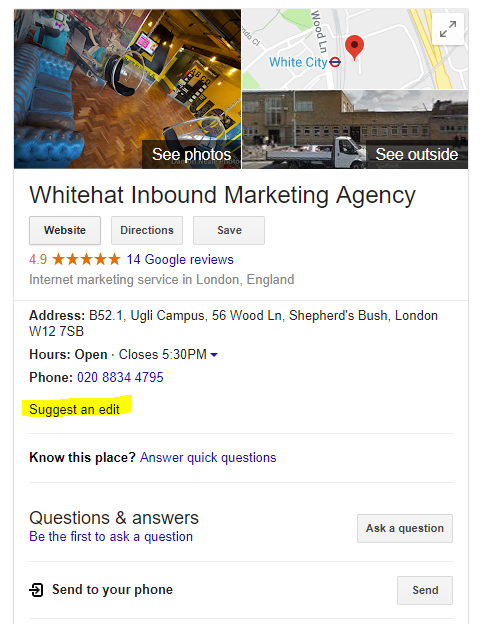 Sometimes Google accepts the changes, so a good habit is to constantly review if the information Big G provides about you is right.
9. Manage customers' comments
However, updating is answering to the comments you receive (both positive and negative) as well. That's important not only in a local SEO point of view but also in a reputation one. A bad comment could be a disaster for your turnover if you don't answer shortly and in an impressive way.
10. Leverage Google Posts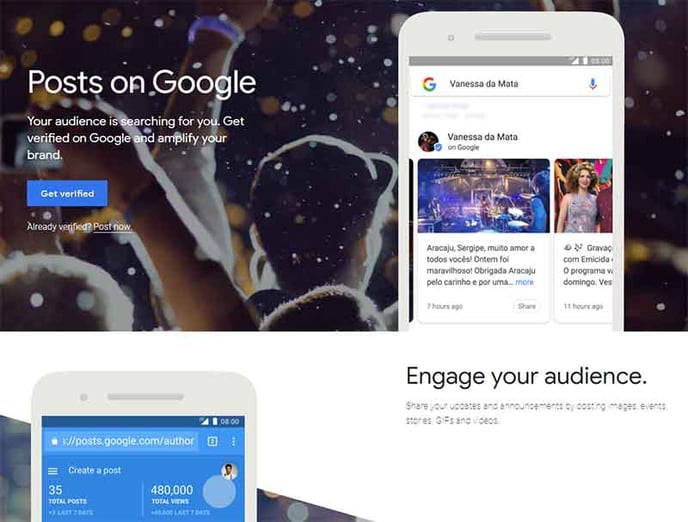 Google Posts is a micro-blogging platform within Google My Business. The aim is to engage your customers, promote offers and events, and let people discover a little bit more about you. The posts you write are visible on the Google SERP right under the snippet about the company.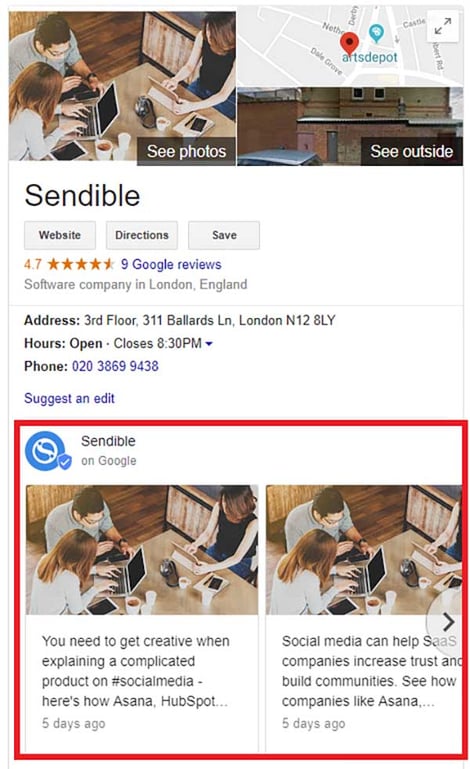 Creating a post is very simple: log into Google My Business, enter your dashboard and hit "Posts".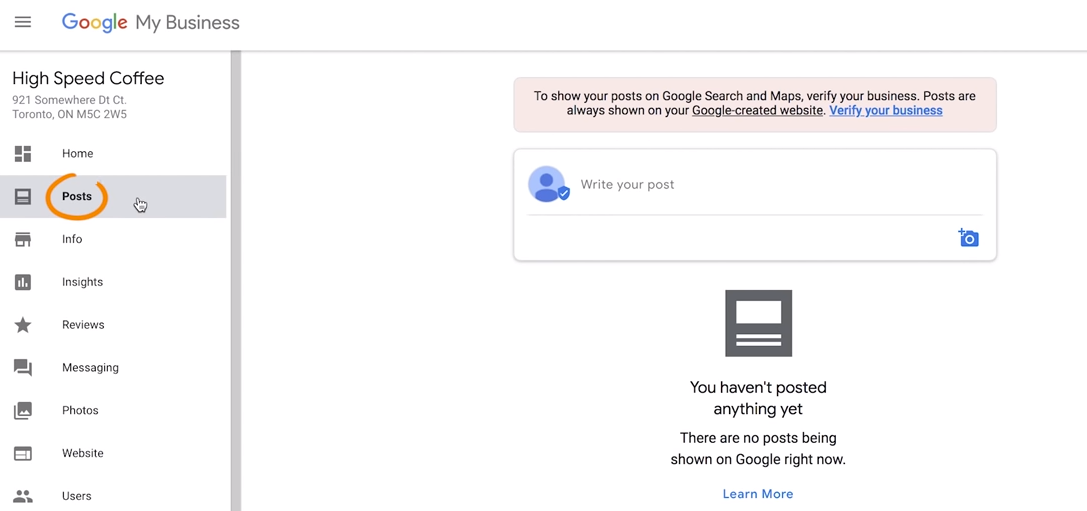 Then, click on "Write your post" at the centre of the fold and follow the procedure to publish your first message.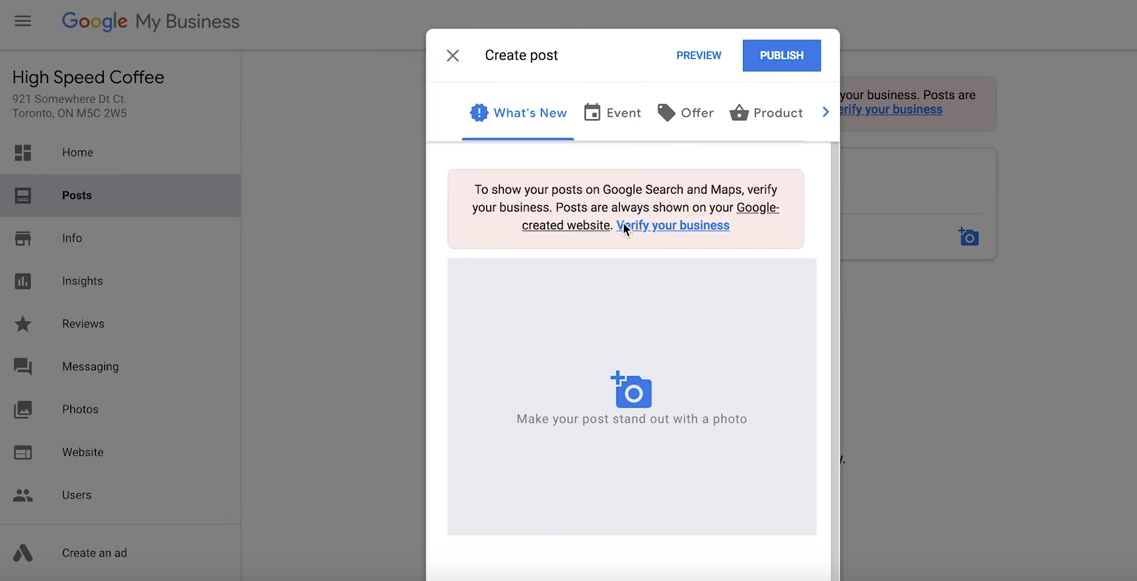 You can also add a call to action in order to strengthen your post and get conversions. A final advice: keep consistent your presence on Google Posts.
Learn about our local SEO service: Click here...
Additional articles to read
These are the most powerful techniques to boost your local SEO. Now it's time to put them into practice.