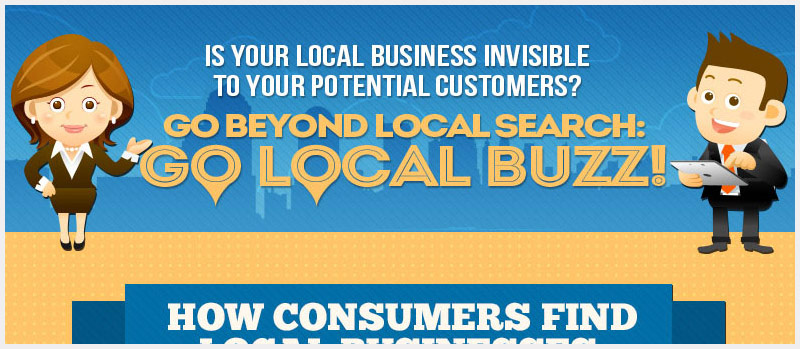 Is Your Local Business Invisible Online? Discover Local Buzz! [Infographic]
More and more consumers are using the Internet to search for products and services in their area. Sadly, local businesses are struggling to keep up with the trend. They are finding it more and more difficult to stay visible to potential customers online.
On the other hand, a select few local businesses are thriving. They are dominating local listings and enticing prospects to come and visit the shop. Want to dominate your local area for your products and services, too? Discover how you can thrive locally with the help of optimised local listings, customer ratings and reviews, check-ins, and maps – otherwise known as "local buzz."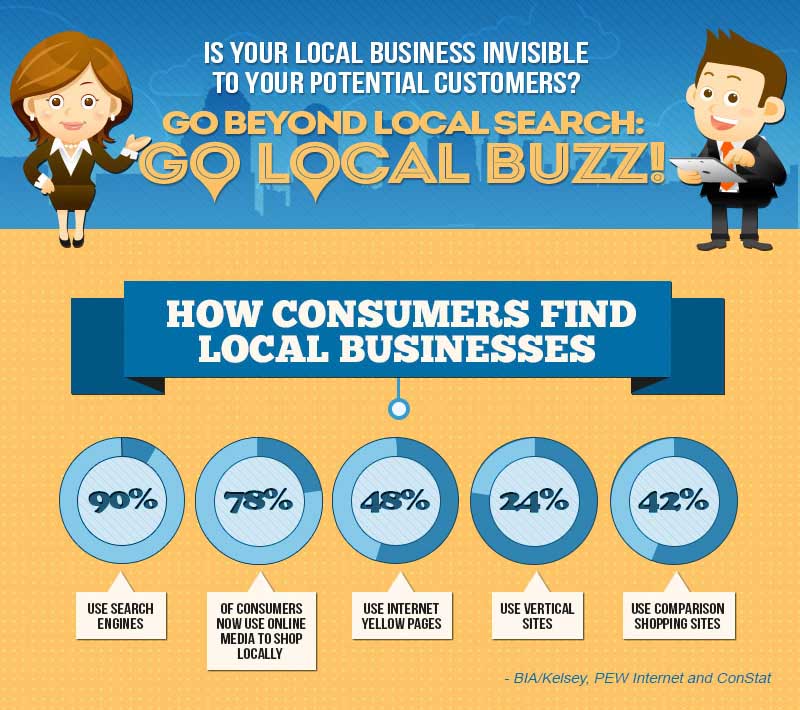 Local Search and Why It's Growing
Many local business owners are aware that nearly 8 in 10 consumers use the Internet to look for products and services online. Google, of course, is the leading search engine of choice. That's why business owners spend majority of the budget on having a website and optimising it for search results. What many owners are realising now is that they should optimise their online presence based on location too, not just on products and services they offer. That's what local buzz is all about.
Local search happens when prospects type in geographic keywords in their search queries (i.e. "best wedding gowns San Francisco" or "website design in Chicago). Some 54% of searchers include a local modifier (city, zip code) in their search nowadays.
Much of the popularity of local search can be correlated to the growth of mobile device ownership and usage. Some 74% of smartphone owners get real-time location-based information through their phone.
Local Buzz Means Money for the Biz
For now, it is clear that consumers are online and they are looking for a local business with the help of the Internet. But why should you care? In essence, it's about your bottom line, your sales. It's about your business' future. Local searches are not just aimed at locating a business. They are also geared to make a purchase! As mentioned above, mobile is fuelling local search. So it is no surprise that:
78% of mobile phone searches resulted in a purchase
77% of tablet searches resulted in a purchase
73% of mobile searches trigger other additional action and conversions
Local searchers therefore aren't just typing queries on Google using their mobile devices; they are looking to buy! Now this is what matters: is your local business "buzzing" on local listings and consumer feedback? Or is it invisible when prospects search online?
Local Buzz 101: Beyond Traditional SEO
Typically, business owners hire a designer to create a website and then employ an agency to optimise that site. There is nothing wrong with this approach. In fact, these two things should be first in your priority. They ensure your business is present online. But your local business needs more than just exposure on general search results. It needs to be visible in various local listings and entice prospects to visit your shop and avail of your products and services. That's where local buzz comes in.
Unlike typical and traditional search optimisation, "local buzz" focuses on your business's local online presence. This is done by combining traditional SEO with the optimisation of genuine consumer reviews, check-ins, maps, and local listings. This also means that aside from your own web pages, search results from Google maps, Foursquare, independent reviews sites, and local listings will come up when prospects search online. Local buzz aims to make your local business visible and appealing to local searchers.
Dominate Local: Check-ins, Listings, Maps, Reviews
Various studies have shown that local listings, maps, reviews, and check-ins not only dominate local search results, they also influence a user's purchase decision. For example, a BrightLocal study found that the effect of online reviews of consumers is also stronger this year, compared to last year.
85% of consumers read online reviews for local businesses
79% of consumers trust online reviews as much as personal recommendations
73% of consumers trust a business more because of reviews
65% of consumers are more likely to use a business with positive reviews
Aside from reviews, geo-social or check-ins websites and apps should be part of the strategy. Foursquare alone has 40 million users and has logged 3.54 billion online check-ins so far. You may use check-in promotions to entice prospects to visit your local store or shop. Rewarding them after a number of check-ins is one type of promotion.
Maps and listings also matter. For instance, 35% of mobile phone users who search for local businesses via apps use Google Maps, according to comScore. Meanwhile, 76% of searches using Internet yellow pages resulted in either a purchase or intent to purchase, says the Local Search Association.
Customers Are Searching for Local Businesses Online – and How Your Business Can Survive the Shift
Do you still think that a listing on the yellow pages is enough for prospects to find your local business? If so, this is a wake-up call.
The truth is this: paying customers are finding more and more ways to research products and services in their area. Widespread Internet access and mobile devices enable customers to find what they need instantly, on the go, and with high buying intent. This also comes with the high propensity to share experiences online with friends. If your business is not capitalising on this shift, then you are losing out.
Watch our video now:
Online Trends Affecting Your Local Business
Local businesses that serve a specific geographic area can no longer rely on simply placing their listing on yellow pages. Consumers are going beyond traditional methods of searching for products and services in their area. Here are some trends that you need to know:
Local Searches on tools like Google My Business and Bing Local grew by 144% last year
86% of tablet owners made a purchase from their recent tablet-based local search (MarketingSherpa)
72% of smart phone owners made a purchase from their recent smart phone based local search (MarketingSherpa)
78% of all Internet users conduct product research online before making a local purchase (Pew Internet)
80% of users stated they have changed their minds on making a purchase because of a bad review they read online (Cone Communications)
These are trends that your business simply cannot afford to ignore.
The Shift – How Prospects Are Looking for You
Based on the trends above, you'll see that consumers are no longer dependent on print listings and other traditional media to find businesses they need. They are using the Internet and their mobile devices to quickly locate shops. In fact, a survey by Ipsos found that 61% of global Internet users are doing their research before making a purchase.
Aside from traditional search engines like Google, prospects are using tools like Google My Business, Facebook Places, and Foursquare. Local Buzz is a service that optimises your presence in these location-based web properties. Through Local Buzz, you can ensure your business is optimised for local business listings, maps of major search engines, and the sites mentioned earlier.
And frankly, if your competitors are as interested in success as you are, they will be optimising their business for these increasingly popular tools as well — if they haven't already.
To illustrate the power of Local Buzz, here's a "personal" example. Have you ever found a business through Google maps? Checked-in to your favourite restaurant over Facebook? Or decided to visit a local store because you were influenced by a friend who did so? Then you've personally experienced what Local Buzz is capable of.
These online local channels will help you, at the very least, ensure potential customers in your service area know exactly how to get to you and by reading reviews, learn why they should choose you over everyone else.
Crucial Areas Where Businesses Need Help
More than just knowing how Local Buzz works is knowing what pressing issues local businesses are facing. These issues need to be addressed immediately:
Duplicate Local Business Listings – Duplicates will confuse people and search engines alike. Prospect customers won't know which listing is official and correct. On the part of search engines, they might split your listings' authority between the correct one and the duplicate. This is one area you should definitely look into to be able to take advantage of Local Buzz.
Lack of Competition Analysis – Do you know where you currently stand in the race? Are your competitors being rated and reviewed by your prospects?
NAP Inconsistency – One of the biggest factors that affect local search domination is inconsistency of name, address, and phone number or NAP across all listings. Again, Google knows that if you confuse people with inconsistent information, your search results won't be good for users, and it won't rank those results.
Absence of Profiles on Major Channels – Be there when your prospects look for you. It's a major mistake not to open your accounts on Google+, Facebook, and Foursquare.
Absence of Promotions – You need to attract in-store visits via deals and online check-ins. Posting promotions on key accounts can motivate prospects to check out your store and existing customers to return.
Manage the Shift – Help Prospects Find Your Business
Statistics show us that prospects are searching for local businesses online and increasingly via mobile. Your response should be obvious: move your marketing efforts online and ensure your local business is visible to those who need to find it. All of this starts with a shift in your mindset as the owner.
You've seen how Local Buzz works through statistics. But more importantly, you've most likely already experienced its potential. You've felt it personally and you know it is no longer enough to rely on traditional methods to be visible to prospects. You need to be online, be visible, and be proactive. To survive the shift to mobile local searches and to thrive in it, you need to start using Local Buzz for your business right here, right now.
How Your Local Business Can Keep the Cash Register Ringing!
According to statistics, an overwhelming 78% of consumers research about products and services on the Internet before buying locally. The message consumers are sending local business owners is therefore clear: be visible online or get ready to close shop.
A lot of business owners have responded to this message by getting a website done. They also pay for SEO or search engine optimisation services to make sure they appear on Google when their prospects look for products they offer. But is this strategy good enough to keep your cash register ringing every day? Or is there a better way to ensure your business dominates "locally"?
The 'Problem' with Your SEO Approach
Indeed, optimising your online presence is a necessity. Some 90% use search engines such as Google to look for products and services. If you do not appear on search results, even your neighbours might not purchase from your shop, and it's because you are "invisible" on Google. So, business owners employ agencies and professionals to conduct SEO or search engine optimisation for their website. That IS the solution. Ironically, that is also the problem: Business owners tend to focus all their attention on SEO, and nothing more.
Traditional SEO works if you want to rank on Google. But if you own a local business and you want to appeal locally, you need to implement optimisation efforts that are geographically focused. This goes beyond targeting keywords that include your geographic location. It means creating a "buzz" that 1) enables your business to dominate local search results and also 2) makes people actually visit your physical store and buy.
Higher Ranking, More Search Results
Local search factors differ from general search factors. According to the 2013 Local Search Ranking Factors study by Moz, some of the things you must consider for local search optimisation are:
Place Page Signals – proper categorisation of business, etc. (19.6%)
On-page Signals – NAP or name, address, phone number, etc. (18.8%)
External Location Signals – NAP consistency across listings, etc. (16%)
Review Signals – review quantity and diversity, etc. (10.3%)
Social Signals – Google+ authority, Facebook likes, etc. (6.1%)
The items above are signals that surveyed industry experts believe help websites rank in local searches. These ranking factors tell us how we can better rankings on local search results. But to "dominate locally" is another thing. You need to rank high for your website AND get more search results from external sites, too. This way, your business will have more chances of being found by users.
Therefore, you need to optimise your local online presence in other web properties, such as social media, maps, review sites, and local listings. They not only help improve your website's overall rankings, they also ensure your local business shows up for more search results on Google.
Generate 'Buzz' for Your Local Business
To create local buzz for your business, you need to reinforce your typical SEO work with these location-targeted approaches:
Ensure NAP Presence and Consistency – According to MarketingSherpa, only 58% of businesses list their local business address on their website! This has two major negative consequences: first, a missing or inconsistent NAP can lead to a poor local search ranking, as Moz ranking factors above tell us. Second, it will prevent prospects – particularly mobile users – from taking further action. A study by Google and Nielsen showed that users who searched via a mobile device also called a business phone (7%), visited a store (17%), and made a purchase (17%).
Check for Duplicate Places Listings – Be sure there's only one listing for your business at Google+ Local, Foursquare, Facebook Places, and Bing Local. You want everyone to check-in only at the right account – your account. Plus, you don't want to confuse both people and search engines.
Get Published on Review/Rating Sites – According to BrightLocal's Local Consumer Review Survey, over 80% of consumers regularly or occasionally read online reviews to determine whether a local business is a good business. In comparison, only 15% do not read online reviews. What's interesting is that around 65% of consumers say positive reviews make them more likely to use a local business – significantly up from only 50% from two years ago.
Encourage Social Media Reviews – Some 58% of searchers are more likely to use a local business if a social network connection recommended it, says the Local Search Usage research. The study, which was conducted by comScore for 15miles/Neustar Localeze, also found that consumers who actively search for local businesses on social networks also use (50%) and submit (41%) consumer reviews.
Facilitate Web Check-ins – When customers check in on your shop using services like Foursquare, that activity is published and seen by his network. You can use promotions to attract check-ins. Some of the most popular promos are the "friend deal" (reward is given when a group of people check-in together) and the "loyalty deal" (reward is given after a number of check-ins). Why? Research by Pew Internet shows more smartphone owners are now using check-in or geo-social services. The percentage is at 18%.
Dominate Google's Local Search Results With These Four Simple Tactics

Local search has been a great help for smaller businesses and bigger businesses with multiple locations. When optimised correctly, your company can easily stand out in the local search results.
Unfortunately, this is often easier said than done. Google, in line with their commitment to providing exceptional user experiences, continuously tweaks its local ranking algorithms. These continuous updates can make it difficult for businesses to maintain the results of their current online marketing strategy.

We understand that such scenarios can be frustrating. As a leading inbound marketing agency in London, we constantly monitor changes in the local search landscape and adjust the components of our Local Buzz techniques to ensure our service remains effective and efficient.
How Can Simple Tactics Help Your Business Dominate Google's Local Search Results?
Top Local Ranking Factors
Before adjusting your current local SEO strategy, take a look at some of the most important ranking factors Google uses for its local search. A good understanding of these ranking factors can help you determine the most effective measures to include in your current strategy.

Here are the top Local Search Ranking factors from Moz:
Google My Business Signals (14.7%)
External Location Signals (13.6%)
On-page Signals (20.3%)
Link Signals (20.0%)
Each of these ranking factors plays a significant role in determining your local search ranking. With that in mind, here is a more in-depth look at each ranking factor:
Google My Business Signals
It's only natural that establishing a presence on Google My Business is an important ranking factor for Google's local search. Google My Business complements your existing website by giving your business a public identity and presence on Google maps.

Google primarily looks at information pertaining to relevance, distance, and prominence of a business to help determine its ranking. By completing the following tasks on Google My Business, you can provide Google with the necessary information to help boost your rankings:
Enter complete data (physical address, phone number, category, etc.)
Verify your location(s)
Update business hours
Manage/Respond to reviews
Add photos
Simply put, you must update your Google My Business profile and keep it updated—or have someone optimise your profile for you. If you don't have an existing profile, it is high time to make one.
External Social Signals
Citations are still a crucial factor, but make sure that your citations are consistent and of high-quality. According to the report from Moz, "citations went from 15.5% to 13.6% as a general ranking factor, but specifically, citation quality and consistency remain top-five factors for both pack results and in competitive markets."

Google's algorithms treat high-quality citations as indicators of the credibility of your business. Local Buzz makes sure your business is listed on Yelp, Foursquare, YellowPages, Manta, HotFrog, and numerous other listings. These established sites are great for building up the number and quality of your citations.
On-Page Signals
Varioius on-page signals are important because they provide Google's spiders vital information about your business. This is where your SEO strategy should shine the most.
Optimise the structure of your website with target location landing pages and URLs if your business has multiple locations, or for a certain business location covering multiple cities.

Optimise the titles, meta descriptions and header tags of your pages. You also want to make sure the keywords in your content are right on the spot and to include relevant keywords as well.

Make sure that your NAP (name, address, and phone number) is listed correctly on your site, as well as your business hours. This information has to be consistent with the NAP indicated on your Google My Business listing and other business directories.

Keep in mind that you should also optimise your page for people as well. Be sure to write engaging content. Users are much more likely to stay and keep your business top of mind if your content is useful and easy to navigate. Furthermore, this will help keep bounce rates to a minimum.
Link Signals
Links continue to play a vital role in determining to rank. As with citations, you should focus on building high-quality inbound links. Be on the lookout for respected and authoritative sites. Link buying is a strict no-no. Optimising anchor texts for both the keyword and your city also has a significant positive impact.
What Does Google Have to Say About This?
In a recent Google Q&A, Andrey Lipattsev, Search Quality Senior Strategist at Google, confirmed that On-Page Content and Links are two of the most influential ranking factors Google uses. Both factors have a weight of 20 percent in the Moz study.

Overall, we are proud that our efforts to improve our Local Buzz services are well in line with the recommendations of Google. Hopefully, the topics covered above help you maximise the returns of your online marketing strategy.
The message these statistics bring is clear: you need to dominate local listings with location-based services to ensure prospects find you, and that they find you worth dealing with. Your local business needs local buzz.
Making Business Solutions Better with Google Places UK
A business location may become more visible when you mix platforms like Google Places U.K. with additional "ingredients." Paul Chaney of Practical eCommerce writes on a new development out of Google HQ:
"Google Places, which contained information Google used when listing a local business in search returns, has been renamed Google My Business. There is more to the switch than merely rebranding with a new name.

Google has combined Places with Google+ Local, which was the business listing that appeared in Google+. This should help to clear up the confusion that existed between Google Place listings and Google+ Local as all information now resides within Google+."
The development can be a boon or a bane to business operators in the United Kingdom. The interconnection of online services in the country already triggers excessive competition among businesses, even in certain counties. However, with the merging of Google Places U.K. with Google Plus Local U.K., you need to maximise its potential with the help of specialists like Whitehat SEO UK.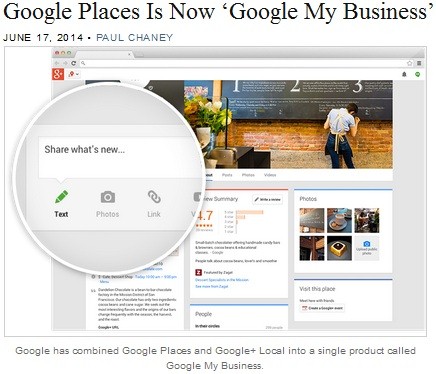 A consultation with your Google Places expert may work in structuring your online representation under the new structure. Chaney said the rationale behind GMB is that the functions of Google Plus Local, Search, and Places, among others, are to be integrated behind a single dashboard. This gives merchants the space to fully update their business details in one go, such as official website URL, contact numbers, and address.
The GMB setup has been touted as a way to post additional content on the Google Plus page that may help direct customers to the official site itself. According to Chaney, it is an outgrowth of Google Places' content-posting limits and GMB gives flexibility on sharing videos, images, and other relevant information.
Dialogue is always vital in making sure the customer traffic keeps coming in. Google My Business can assist operators with keeping track of reviews and responding to some which have issues. Companies such as Whitehat are open to providing you with reputation management options in case negative reviews escalate.
Embracing Google's business-specific functions such as those now under the My Business umbrella takes a moderate amount of time to getting used to. Professional assistance, however, will ease the learning curve.
Zooming-in Closely: Making Your Company Visible on Google Places UK
Now that businesses have taken the competition to cyberspace, companies that fail to keep in step with the latest changes related to online marketing methods and strategies are likely to be left behind. One of the more powerful tools being used today is Google Places, which offers more flexibility compared to traditional search engine optimisation (SEO) methods, and a more focused approach, which is vital when generating leads.
"Other advantages of Google Places is the real listing allows businesses to fully manage what's seen by the searcher. They can post online videos and photos, they can give details of their opening hours, and most critically, the listing can also show reviews of past buyers.
Google Places gives your prospective customers the opportunity to get to know you and what you've got to offer in much less time than it would take to trawl through your site."
Having their company listed in Google Places UK should be the next step to consider for business owners, especially if they are struggling to come up with leads and falling short of their targets and expectations. As the above excerpt from an article posted on Site Pro News explains, being visible on Google Places not only puts a company on page 1 of the major search engines, it also connects the business to the target market.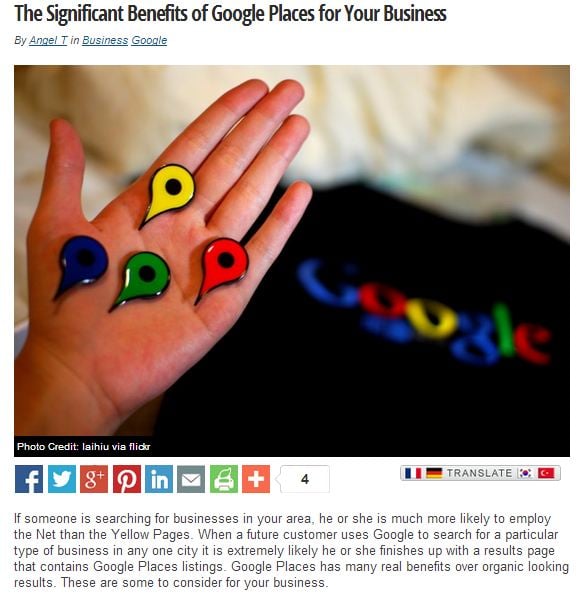 Since a business wants to connect with people within its vicinity who want to acquire its products and services, or personally visit the physical store, utilising the online marketing tool will be beneficial. When it comes to getting started with the service, the article also mentions that companies can look for SEO specialists who can hook them up with the Google Plus Local site. It is important to note that not all SEO services are equal; some SEO providers come to the table with something more to offer.
Business owners should look for reputable online marketing companies such as Whitehat, which focus on key areas like on-page SEO, website optimisation, and promotion of client websites on numerous prominent directories and specific locations. Internet marketing companies that provide these features will give businesses the edge against local competitors. Through Google Places, the company will be able to establish a more solid local presence, which is key to becoming a household name in its area.
Reference
Send us an email at info@whitehat-seo.co.uk or call us at +44 20 8834 4795 now to schedule your free in-depth consultation with us. We can help your business dominate online locally with the power of local buzz.