The Hummingbird is less than a year old, but this newest algorithm is already making a major impact on search engine results pages. Reliable 'White Hat' SEO services in the U.K. understand that they need to adjust their packages to accommodate Google's massive changes, including the Hummingbird. An April 11, 2014 Search Engine Land article elaborates further on what SEO companies should do.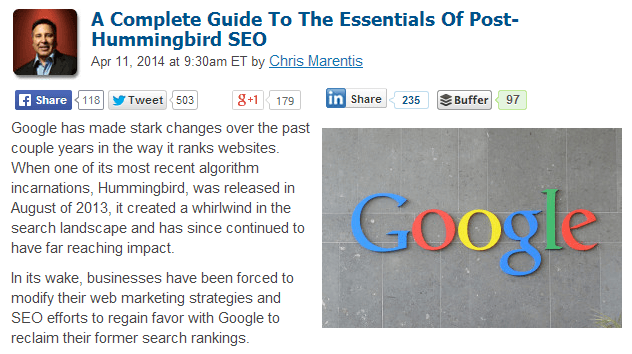 First of all, having a good website is an integral part of any internet marketing campaign. This now plays a great deal on how well a website will top the rankings of Google:
"An internal link structure and architecture that facilitates the customer moving through your site easily is a must. Fast page loading, optimised images and sitemaps all contribute to the end-user experience and that, in the end, is what matters the most."
The second thing that SEO players and clients should reconsider heavily is the relevance of the on-page elements. The Hummingbird algorithm puts a priority into having these elements present in any campaign:
"The rumors aren't true: basic on-page elements still play a huge role in SEO ranking. Title tags, page URLs, ALT image tags and appropriate H1 tags are taking on new levels of importance. We have seen some of our clients improve their search results by as much as 45% simply by focusing on these items."
Finally, the backbone of trusted SEO services in London and other cities must not be forgotten:
"Hopefully, you're not too tired of hearing "Content is King" because it's more important now than ever… and it doesn't look like it's changing any time soon. Make sure your content is never duplicated, always high quality and is relevant and useful to your audience."
The Hummingbird was released with the intention of focusing less on the keywords and more on the context of the content. Knowing this, clients will find that their websites will have a more established presence online if they engage the services of reliable firms who know the latest in Google algorithms, such as Whitehat SEO - the London-based search engine optimisation agency.
The Hummingbird – alongside the Panda, the Penguin, and any other algorithm change that will be released in the future – aims to help users find what they are searching for more easily. Likewise, businesses who want to reach their clientele should not hesitate to approach updated SEO services.