When it comes to online marketing, search engine optimisation or SEO is currently one of the most efficient ways big and small businesses can make themselves visible to their target consumers. However, while reputable white hat SEO providers take the high road when it comes to boosting their clients' rankings on search engine results pages, some unscrupulous folk resort to black hat techniques that incur the ire of search engines and could even get a client's website banned.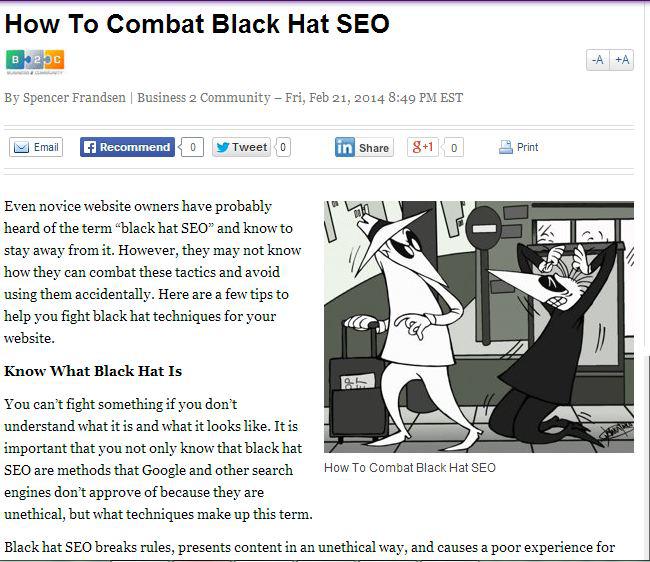 As a business owner, here's how you can join the fight against black hat SEO.
Know the Enemy
The first step to keeping away from black hat techniques is to actually know what you're facing. Essentially, black hat techniques like link farming, spamming web forums, doorway pages, invisible text, and the like are done solely for profit without regard for the consequences to the end-user experience. This makes such methods unethical as most search engines seek to make sure that their users are always getting the right results for the keywords they put in.
Write Quality Content
The key to effective white hat SEO is to produce content that is as reader-friendly as it is search engine-friendly. This means incorporating links and key phrases that search engine 'crawlers' can easily find whenever someone searches for a relevant keyword or phrase. At the same time, the content should be rendered in a format every reader will find informative and easy to understand. After all, this is the main goal of creating quality content in the first place.
Turning White
The thing about black hat SEO techniques is that most of them arise from distorted or unethically modified white hat techniques. According to a Yahoo! Small Business Advisor article:
There is a method to use these techniques in a way that is appropriate and approved by search engines. For instance, buying old domains isn't a bad thing if they are relevant to your industry. They become black hat techniques when buyers choose random domains that have no relevance to the new site.
Another example is leaving comments. Spammers often send out mass comments to multiple sites with links back to their site. Instead of choosing random places to leave comments, you can turn this into a white hat method by selecting forums or blog posts that are complementary to your site and leaving thoughtful comments.
Whatever online strategy you employ, see to it that your SEO provider sticks to ethical techniques. Otherwise, you risk getting your website blacklisted by major search engines. A reputable SEO consultant from a company like Whitehat SEO Ltd. can help you stay on the right path.
(Source: How To Combat Black Hat SEO, Yahoo! Small Business Advisor)