As more and more people are looking into the World Wide Web for data and information, several developers are establishing ways to drive more users into their web sites, because more traffic means more revenue. A WP Matter article dated February 14, 2014 defines the standard practice used by most SEO experts to improve search engine performance, in line with the terms and conditions of most current search engines:
"White Hat SEO is the general designation of any legal, proper, and fair-minded methods for search engine optimization, which apply to and are based on the ranking algorithm of all the main search engines like Google, Yahoo, and Bing.

It has been regarded as the best SEO technique in this field, for it avoids all the potential dangers and the possibility to conflict with search engines. Besides, it can be seen as the ultimate ethical standards for all SEO experts and professionals."
Engaging in white hat SEO techniques is the chief benchmark of enhancing a web page's ranking in different search engines, since it follows the proper guidelines. Web crawlers or internet bots are the ones that "crawl" on different websites to study and evaluate valid content and keywords, and to index the pages so users can easily search for them quickly. To boost traffic into a site, quality content and SEO should go hand in hand, enabling users to easily discover the site whenever they need substantial information.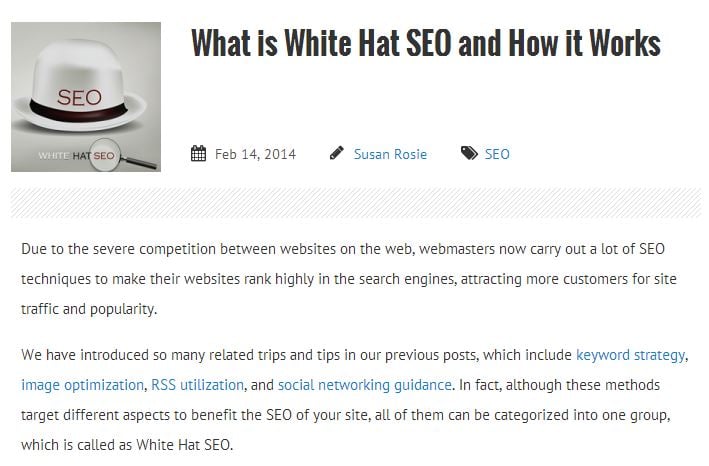 After the release of Google's Hummingbird algorithm, site owners and developers have adapted to the change in rules, utilising keywords based on the users' search intent and the relative meaning of the terms used in the queries. The search update aims to give users more direct answers to their questions by adding requirements for raising page ranks. Although keywords still play a main part, the content should also be relevant, timely, credible, and of high quality. The algorithm prevents site owners from "stuffing" their content with repetitive keywords and using redundant phrases to attract users into their web pages.
Getting on a certain search engine's bad side doesn't really help. Using black hat SEO methods (SEO techniques that are considered unethical) can raise the popularity of the web page, but not for long. Search engines often penalise these sites by blacklisting them and burying them further in the results pages.
Those who want to practice proper SEO tactics should seek the help of a dependable UK marketing consultant, such as Whitehat, which cares about rich content and creates effective strategies to evaluate processes and successes. An experienced SEO consultant implements the best practices and consults with clients regularly to enhance traffic and business opportunities.
Reference Source
What is White Hat SEO and How it Works, WP Matter, 14 February 2014
Additional Articles