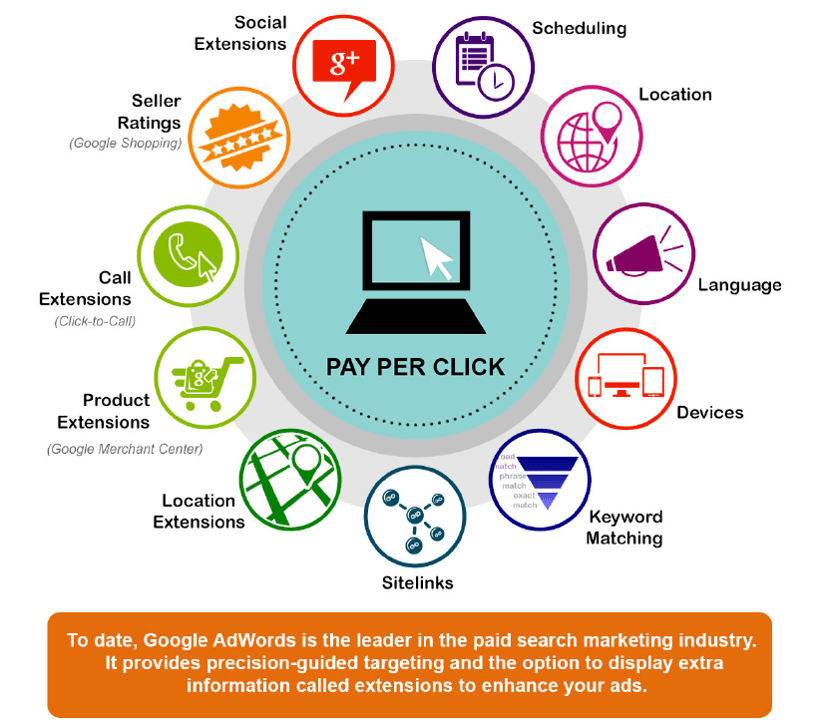 Marketing has always been an open-ended art, where there are no rules. Traditionally, fledgling businesses would have trouble trying to establish themselves as effective advertising is often difficult with limited capital. With various inbound marketing companies in London offering inbound and outbound marketing it can be confusing and it can often cost more to launch and advertise than to actually create the products or services itself.
Advertising has always focused on investing a lot of time and money on attracting customers to your products or services. Imagine being able to track where you advertising efforts reach, significantly earning revenue and website traffic for your business. Which maximises profits in the long run.
A cost-effective way that one can maximise your online-gained inbound marketing profits is through hiring a pay per click management company or ppc marketing agency. Websites and blogs often utilise these in order to track the reach and scope of their online advertising efforts. The concept is fairly simple; profits are gained from each click that the ad gets, hence the term "pay-per-click."
It's also not something that has to contradict your inbound marketing efforts, it can be complimentary. Any good inbound marketing agency will be able to help you run both types of campaign effectively.
It is simple enough to use, and yet most people are wary of talking to a PPC agency in London. The effects of prolonged, decades-long inbound marketing solutions have yet to be explored, and tracking these efforts require a little more knowledge and expertise in using search engine optimisation practices.
Whilst you pay the advertiser for the PPC ads, you end up gaining more in the long run because the sales brought about by the advertisements will total more than the cost of the ad itself.

PPC Management and Inbound Marketing Companies
Our new inbound marketing packages and services together with our ppc management service can change all that. Not only do you get to advertise your product to a wider audience, you can utilise tools that are already at hand – mainly, social media and search engines such as Google and Bing – and integrate it in such a way that it becomes your own.
Although creating your own website is often costly and requires many licenses and a competent server to maintain, it costs far less than what traditional outbound marketing will cost you in the long run. Whilst it takes more time to implement, its effects can be tracked and you can pinpoint areas for improvement. Feedback is always appreciated, unlike in traditional advertising where it becomes almost impossible to do so.
Both onsite and offsite blogs can utilise pay-per-click advertising to generate profit. As it is cost-effective and easily tracked, they can do so at their own ease and convenience. It's a way to get your content out there without a huge capital.
It works fairly simply; for Google Adwords (PPC), advertisers bid for space and then ranking within the search engine when certain keywords or related terms, as sponsored links. These often come up when you search for related terms about your queries. If you search for "inbound marketing" on Google or Bing, the PPC ads that will appear will relate to that search term.
The number of clicks per pay are also an effective statistical tool to measure your return of investment (ROI) . As the number of clicks across a certain period of time will be recorded and provided to you, you can see just how much you are earning from it and how effective your marketing strategy has become. Most, if not all, outbound marketing campaigns do not have that advantage, which makes PPC an effective strategy to implement in your business plans.

Cost-Effectiveness Margins
One of the main pros in regards to using PPC for your business is its measurable ROI, or return of investment. As you are paying for the number of clicks that your ad gets, you gain more profit as those who are likely to click already have a vested interest in your business. As they count the pay per click, you can easily track the number of traffic your ad gets on a daily, monthly, or even yearly business.
Over time, you can use this data to determine high and low points in your ads. You can track the times in a day where your ad gets the most clicks, or times in the month where your ads get more revenue. This is especially important if the product or service you get is seasonal, such as Christmas tree farming or pheasant hunting gear. This data is useful when it comes to improving and innovating your business plans and inbound marketing methodologies, as it is tailor-fit for your business and its intricacies.

How It Works
Let's say you earn £1 for every click that your ad receives. If every click resulted in a profit margin of £100, then you've made a large profit. The pay-per-click is often paid to the search engine in exchange for a higher ranking, so you both benefit from the arrangement.
Keyword research and selection is critical at this stage. Investing in keyword backlink research and customer feedback will always benefit any working business, but it is especially evident in PPC as these keywords are what lead customers to click on your links. The more keyword variations you allow yourself to have, the more profit you get. This will depend on continuous customer feedback, industry integration, and internal innovation of your business.
When applied, frequent updating of your business -- from industry news to community events -- make for more relevant keyword search terms. For example, if there is a new kind of software available for smartphones and you are a retailer that is planning to stock this, being updated towards this development will definitely benefit your business.
Two models for PPC that are followed in most marketing campaigns are Flat-rate PPC and Bid-raised PPC. Both factor in the cost of advertising over the number of ads clicked over a given period of time, but with different ways to have your business earn.
In flat-rate PPC, there is a fixed price that can be negotiated between the publisher and the advertiser, usually involved with search engine and other places for placement. This is usually adjusted in regards to where you plan to advertise it. Google and Bing will have higher rates as compared other search engines due to the number of users that frequent then, as well as blogs that have high website traffic.
Bid-based PPC, on the other hand, requires the advertiser to bid for the highest ranking area in their service provider, usually for rankings and higher placement and the like. Ads that appear at the top of a particular page will naturally get more clicks, which will lead to more revenue and profit in the long run. Those that are at the bottom, however, will not gain as much. These spots are highly valuable online real estate, and as such spots are not permanent, bidding is often a continuous process.

Keywords in PPC
Just what are keywords? They are the information in a certain post that contains the main topic, usually as part of a search term that you input into the search engine. As there are many possible variations of a possible keyword, it can be very time-consuming to create and conduct research on them. Often, the investment will be costly as it requires putting effort into combing through similar links on the Internet, usually with help from back-linking software and search engine optimised websites.
PPC depends on keywords, and as such, it would be important to learn how to conduct effective research to generate the most useful keywords for your business. If your ad does not generate the kind of clicks that the search engine requires, they may lower your ranking. If you profit, however, the pay-per-click will often cost less as you have gained the search engine more revenue.
Even if you do not plan on using PPC as a means of advertisement yet, keyword research is still valid if you want to foster an online presence. There is no point in creating websites and doing inbound marketing campaigns online if you do not want to be found by potential customers and clients, and keywords are the tool to make that happen.

Innovation in PPC
In order to find the appropriate keywords for your business, brainstorm with your business partners and associates for words and phrases that define your business. A restaurant may be interested in "fine dining London" or "upscale restaurant London". Once you have produced a list, you can come up with word groupings that can function as keywords.
Next, procure software that lets you sift through posts and websites that rank high in that keyword. Take note of the similarities that they have between then; can these be applied to your current inbound marketing strategies? If applicable, then you may be able to infuse them into your websites and blog posts.
Stick to one keyword if you are just starting out, as you would want to establish a higher ranking first. If you are already applying keyword research into your research methodology, then you may be able to include more to suit your needs.
Include the keyword organically into your content -- make your blog posts sound as natural as possible. The meta tags in your photos, videos, and descriptions must also contain the keyword. This heightens your lead in the search engine results pages, and increases your credibility with your customers and the search engines you utilise in the long run. Visibility is everything with the help of the best inbound marketing companies, as marketing good content is just as important, if not more, than creating quality content
Continue to add your chosen keyword into your subsequent posts in order to increase your rankings. This will further your visibility to website traffic, as you will be higher up the SERPs, and make for more effective PPC. Your content strategy will be made easier once your ranking has been increased, as this allows for more developments in your business and for your industry.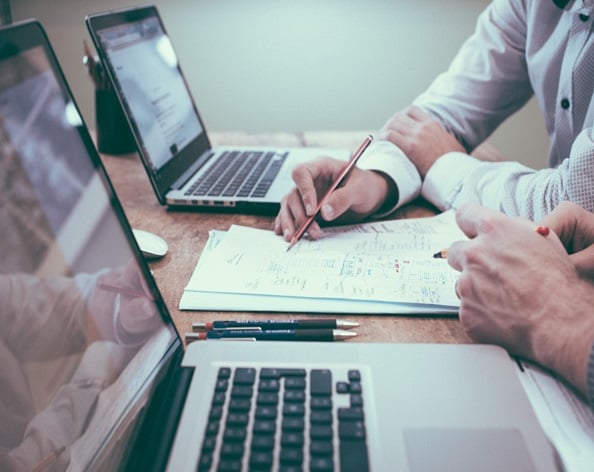 What's Next?
The future of online marketing is rooted in increasing visibility, profit, and interaction with customers and clients. As the Internet has become increasingly personal and custom-fit to an individual's needs, PPC marketing users will need to adapt to this. Building closer relationships and ties with potential customers has become important in making PPC work.
Advertising continues to create ads that appear more personalised and produce a deeper connection to the individual. For example, PPC ads will relate to the location and community that it revolves around. If one is searching for "local pharmacists London" and your location settings are set in West Ruislip, the search engine will generate ads that correspond to that.
If your search is more general, you may receive PPC ads that refer to a particular product or service. "Makeup products in London" may generate products that are made or manufactured in the United Kingdom, and usually feature those with high website traffic and quality feedback.
PPC becomes a determiner of quality and good service in regards to businesses, as search engines rank ads according to their website traffic and cost per click. It erases the need to search for reputable establishments in which to go about your businesses, allowing the potential customer the opportunity to choose at their own whim.

A Final Word on PPC
Versatile, cost-effective advertising services in online marketing are possible through pay-per-click marketing. If you are thinking of starting an inbound marketing campaign, or else are focusing on more online-oriented services, advertising that can be easily tracked and observed is a wise investment for the future.
As businesses choose to be more adept at the handling of online marketing, PPC continues to play a large role in creating website traffic and providing revenue for both the business and the search engine, mutually benefiting the other.
So, whether you're a blogger looking to reach a wider audience or a business that is branching out to social media for the first time, PPC can be an avenue to provide your business with steady profits and a measurable, attainable return of investment.
Every online business needs options to convince more customers to buy from them. Chris Silver Smith discusses one such option, pay-per-click advertising, in his piece for Search Engine Land:
"Many small-to-medium businesses (SMBs) focus heavily on their organic search rankings. After all, it's "free," and if you enjoy a high ranking, you can derive excellent business from it. But, even if your business ranks well in local search (and especially if you don't), there are great reasons to consider some paid search advertising, aka "PPC."
Local SEO definitely works and works well, but my back-of-the-napkin math indicates that targeting local search results rankings has its limits for a great many of the SMBs out there.

In larger metro areas and for more popular business categories, there can be hundreds and thousands of businesses that vie for the same customers. If you're a hotelier, florist, attorney, accountant, plumber, or contractor for instance, you may be trying to capture consumers' attention along with hundreds of others in your field."
There are many users on the Internet who may be in need of your product or service. Ads that show a clear message can steer them to you. Ensuring their rudder does not waver may require the services of a skilled PPC marketing agency such as Whitehat.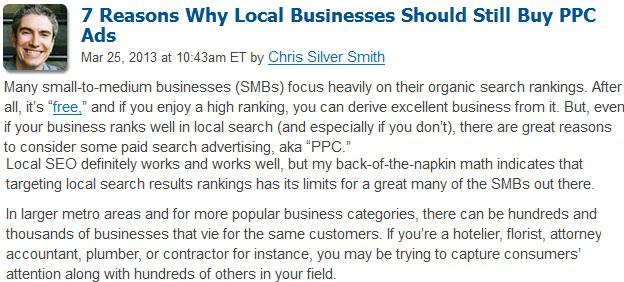 PPC is rewarding, but while the legwork will certainly be doable it will also be tough. Start by consulting your PPC specialist on the campaign objectives, which may dovetail into SEO protocols to ensure your ads appear more in the results. Establishing road maps to the goals will also require researching your ideal keywords, the keywords your competition uses, and your target market.
Seek your PPC agent's guidance on the AdWorks UK slots you should bid on. The keyword research should continue because you have the time to see which keywords will work on the slots for a better conversion. You can also organise the campaigns to be more variable in time duration– for example, taking down your PPC blitz ads for a Queen's Birthday sale as soon as midnight ticks in.
Smith notes that mixing PPC with SEO works in a number of ways. For instance: if your PPC ads are meant for attracting customers within a few kilometres of your branch, tune the keywords to target users from say your town city, or county. The positioning in PPC ads will be essential if your store is slightly behind the competition in search results
PPC ads are a great way to increase traffic for your business. Even if you do not have enough advertising funds to spare, an expert marketing firm like Whitehat has the tools to help get you to where you need to go.
Remember to Download Your Beginners Guide To Google Adwords.
Reference Sources:
What Is PPC? Learn the Basics of Pay-Per-Click (PPC) Marketing, WordStream.com
Get started with pay-per-click advertising,MarketingDonut.co.uk
---
Other articles worth reading: