Updated 27 May 2020
For a top digital marketing agency, building and executing your digital marketing strategy is no simple task. You have to manage your team, launch and monitor individual campaigns, and keep track of anything from creative development to media buying. Even in a small marketing team, keeping track of it all can be a major challenge.
As your business grows, so will the complexity of your marketing efforts. Sooner or later, simple to-do lists and communication tools might no longer be enough. That's when project management software tends to enter the equation.
According to the Project Management Institute, 30% of large-scale projects fail to meet their objectives, most likely because of a lack of proper management and organisation. At the same time, 77% of high-performing projects benefited from a project management platform.
With the right software, you can effectively manage teams of any size while tracking and supporting both creative development and the execution of multi-channel marketing campaigns. You just have to know what that right software is for your business, industry, and management style.
What follows is an overview of 9 project management platforms that offer specific benefits for marketers. They're not ranked; all can fulfil their function depending on what exactly you're looking for. Finding the right solution for your needs can be the key to your long-term marketing success.
---
Monday.com - Perfect for Collaboration
Marketing is largely about collaboration. It's about making sure that your team works well together, from writers and designers to strategists and leadership. That's where Monday.com shines.
The Price
Monday.com is priced on a tiered level based on both users (in increments of 5) and features (from basic to enterprise). Listing every tier based on these variables is too complex, but it ranges from $40 to $1,500 a month and more:
Basic Platform for 5 Users: $39/month. Includes 5 GB storage, 1 week's worth of activity archives, mobile apps, as well as list-based and Kanban boards.
Pro platform for 100 Users: $1,599/month. Includes unlimited storage and activity archives, unlimited guest accounts, single sign-on, calendar and map views, advanced search, and automated tasks.
Enterprise pricing is always custom based on user needs. A free UK trial can help organisations on the fence test out the free CRM software before they jump in.
The Pros
Collaboration. Monday.com shines when it comes to working together. Its views are modular and allow cross-project teams to see them depending on their needs. Intuitive chat and comment functions help communication.
Templates. Rather than setting each project up from scratch, Monday.com offers several templates to streamline your marketing projects. Not satisfied with those? Build your own with just a few clicks.
Extensive support. The knowledge base is as substantial and the 24/7 customer service is impressive. Enterprise customers can also get 1:1 training from dedicated account reps on the software
The Cons
Isolated "Pulse". Monday.com prides itself on its Pulse feature, a system of task lists, but those features are limited to individual projects. If you want to provide regular updates through a pulse, it has to be done individually on each project.
Limited Mobile App. It can be difficult to navigate and is not nearly as functional as the desktop alternative. It works for collaboration, but less well for actual project management.
Basic Features are Limited. It seems obvious, but the Basic version of Monday is so limited that most businesses won't be able to benefit from it. The true version of the software begins in the higher pricing tiers.
The Verdict
Great software for collaborating across distances when not everyone is in the office together. It gets expensive quickly once the advanced project management features come into play.
Asana - Perfect for Visual Timelines
Initially developed as an internal task management suite for Facebook employees, Asana has become a powerful tool used in a variety of industries. It shines especially with its low price and visual approach to team and project management.

The Price
The pricing of Asana is among the lowest in the industry. Simple task management in the Basic version is free for up to 15 users. From there, it goes from $10.99/month for the Premium Tier to $24.99/month for the Business Tier. Enterprise pricing is custom and determined on a per-client basis.
Premium users can benefit from a timeline view (more on that below) as well as advanced search, forms to collect information and project milestones. Business users can track their workload, create custom rules for automation, and integrate directly with Adobe Creative Cloud.
The Pros
User-Friendly. Asana is built to be simple and it doesn't take extensive training to jump in. The screens are self-explanatory, and the features (like creating a new task by pressing enter) are easy to learn.
Project Timelines. With the click of a button, you can turn every project into a timeline based on the start and end time of individual tasks. Shifting around times is as simple as drag and drop, making it easy to plan and adjust projects as they happen.
Extensive Integrations. From creating a new task through an email in your inbox to getting notifications through Slack, countless integrations help you bridge Asana into your regular and existing workflow.
The Cons
Limited Support. Asana does have a knowledge base, but everything beyond that is through a ticketing system that isn't always quick to respond. The platform (other than the enterprise tier) is pretty much self-serve.
Single Task Assignments. Every task is limited to one assignee. In marketing, sometimes multiple people work on the same thing together, so this feature can be somewhat limiting.
Advanced Features Can be Confusing. In theory, workload and portfolio features sound great. In practice, they can be difficult and counter-intuitive, clearly added onto a system that otherwise shines in its intuitiveness.
The Verdict
Asana is almost perfect in its simplicity. If you're simply looking for a visual way to plan and execute projects, it might be your choice. You might want to look elsewhere for advanced features, though.
Trello - Perfect for Short-Term Projects
Where Asana strives for simplicity, Trello might outshine it. The platform takes just minutes to set up and learn and is perfect for simple, straightforward marketing tasks and projects. The low price makes it a good match for smaller teams.

The Price
The free version is limited, but still usable if you only want to manage individual tasks. Beyond that, a Business version checks in at $9.99/month for each user, while the Enterprise tier starts at $20.99/month per user for 20 team members and goes down from there for each additional member added.
The Pros
It Could be Free. Trello offers perhaps the most robust free version of its platform of all options listed here. If you don't have the budget but still want to try project management, start here.
Extremely Light. Even in advanced tiers, the software maintains a light feel that strips down its functionality to what you need. That makes it extremely user-friendly and easy to set up.
Great for Agile. The whole system is set up to support Agile management, with Kanban boards and an intuitive workflow. If your marketing projects aren't always linear, that could be a good fit.
The Cons
Limited Functionality. Trello's emphasis on simplicity comes back to haunt marketing teams looking for more advanced PM features. Even in the most advanced tiers, that simply isn't included.
Information Tends to Expire. There is no unlimited archive of deleted or completed tasks and projects. Once a project is done, you can't get it back.
No tracking capabilities. You won't be able to see or even estimate your team's workload in terms of task overview or hours spent.
The Verdict
Trello is great for teams just starting with project management. As long as you keep it simple, it will stay usable. You cannot expect more complex Gantt charts or project analysis from this tool.
Accelo - Perfect for Budget and Resource Integration
Time to get complex. Accelo, designed for service companies like marketing agencies, integrates several features beyond project management that make the PM process easier. You just have to know how to use it.

The Price
The Accelo suite is comprised of four distinct platforms, all priced at $39/month per user: Sales, Service, Projects, and Retainer. All four are available in a bundle at $79/month per user, making it relevant as soon as you're looking for more than a single platform.
The Pros
Automation. Accelo bills itself as a sales automation platform first, which shows. Anything from processes to tasks can be automated, and the data flow between its variety of features deepens those automation possibilities.
Internal Integrations. Accelo shines when it can showcase its integration: lead management from the free cloud CRM flows right into project management, as does revenue generation and invoice building through workflows in the retainer system.
Forecasting Abilities. Thanks in part due to its integrations, Accelo offers forecasting possibilities far beyond other PM software. You can estimate future revenues, workload, and more in the platform's reporting suite.
The Cons
Significant Learning Curve. This is a complex piece of software. Navigation and features aren't always intuitive, so you and your team will likely need quite some time and training before they're ready to embrace it.
Relatively Weak CRM. According to most reviews, the CRM is the weakest part of Accelo. If you already use a CRM to manage your leads and customers, you might be better served to stick with that.
Only for Service Companies. Accelo brands itself as a service platform, making it perfect marketing agencies and other service industry companies. Clients who sell tangible products will have a more difficult time catching on.
The Verdict
Are you looking for integration beyond the isolated project management system? Are you ready to embrace the learning curve that ultimately leads to more beneficial features? If so, Accelo is for you. If not, you might want to stick with a simpler solution.
Basecamp - Perfect for Limited Budgets
The simplicity of Basecamp is so well-known it inspired latecomers like Asana and Trello. Especially if you're just looking to start your PM tracking, this might be your best choice.

The Price
Pricing is where Basecamp stands out. Try the software for free 30 days, or sign up for its simple plan: $99/month, regardless of the number of users. No matter how large your team grows that price won't change. A personal version, designed for light use, remains free.
The Pros
Simplicity and Ease of Use. Nothing in Basecamp is a list. Everything is visual in a simple dashboard, making it easy for individual users to track their tasks and the larger projects they attach to.
Communication Tools. Basecamp promises to replace both PM and collaboration tools, and it shows. Central announcements, task-based comments, and a general chat function are all part of the suite.
Guest accounts. You don't need a dedicated account to use the platform. Instead, admins can invite unlimited guests, making it perfect for working with freelancers, clients, and temporary marketing professionals.
The Cons
Limited Tracking and Analytics. Don't look to Basecamp for a detailed breakdown of efficiency or task tracking. You won't find tools related to workload or time tracking.
Limited Chat Management. The chat tool is great for real-time communication, but you cannot archive conversations or topics so, over time, it can become more unruly than a more dedicated solution like Slack.
Sometimes Too Simple. If you embrace Agile or need to work on complex projects, this might not be your best choice. The downside of Basecamp's simplicity is that it falls behind other, more complex project management software.
The Verdict
Agencies most likely won't be happy with the limits of Basecamp. But if you just need a better way to organise how your team handles basic marketing tasks, the low price of the platform might just be perfect.
The issue with many project management platform is trying to find one that suits a wide variety of needs. You want powerful features yet you also want a user friendly interface, you want the peace of mind that even though you may not need the most powerful features right now, they are there for when you need them. That's where Teamwork comes in.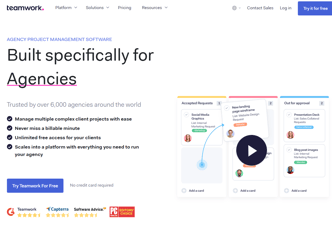 The Price
Teamwork has a tiered pricing system ranging from free, to customised quotes at the Enterprise level.
Free: For individuals and small teams getting started with project management.
Pro: £10 per user per month (billed annually). Allows users to multiple projects.
Premium: £18 per user per month (billed annually). A great option for larger teams.
Enterprise: Contact them for a tailored quote.
The Pros
Ease of Use: Despite a huge list of powerful features, Teamwork has an excellent and intuitive user interface.
Manage Client Permissions: Manage permissions so clients can access features such as invoicing and time tracking.
Workload Management: Allows you to manage tasks and distribute them to team members based on existing workload.
The Cons
Version Limitations: The free version is limited to just 5 projects
Feature Restrictions: Some features are restricted to higher pricing tiers
The Verdict
Teamwork is a great platform for agencies due to its wide range of powerful features, ease of use and in particular the client permissions make it an excellent choice for agencies.


Wrike - Perfect for Maximising Efficiencies
As your marketing team and budget grows, maintaining and improving efficiency becomes more important. Wrike promises to do just that, thanks to features like proofing and time tracking. But be careful: it gets pricey quickly.

The Price
Wrike's pricing, like most of its competitors, depends on both users and functionality. A simple task list is free. The professional package starts at $9.80/month/user for up to 15 users, while the business plan is $24.80/month/user for up to 200 team members. Enterprise solutions require custom pricing.
Be careful, though: many of the integrations that make the tool so comprehensive, like proofing and publishing for marketers, come with an add-on price.
The Pros
Optimised for Larger Teams. Unlike Basecamp or Trello, which can be useful for as few as 2 users, Wrike is designed for larger marketing teams of 5-10 or more. Cross-topic task and project integrations can help in more complex setups.
Review Functionality. Proofing and reviews (should you choose to add this function) is a true distinguishing factor. All creative processes can be easily streamlined into making sure the right people get a closer look.
Intuitive Time Tracking. Of the solutions discussed here, Wrike has the most comprehensive time and workload tracking functionality. That makes it especially beneficial for agencies and larger marketing teams needing to optimise efficiencies.
The Cons
Limited Integrations. If you can't get it in the software itself, chances are an outside service can't help. Wrike falls behind competitors like Asana when it comes to integration with other marketing and productivity tools.
Gets Pricy Quickly. The many add-ons quickly add up to a price that especially smaller firms simply cannot afford.
Delayed Notifications. You won't get an instant notification when something happens in the software; instead, they're usually delayed by an hour or two. That can make it more difficult to collaborate in real-time or on time-sensitive tasks.
The Verdict
Make sure you have the budget first. But if your marketing depends on working with clients or includes complex creative review processes, Wrike may just be worth the investment.
Hive - Perfect for Advanced Marketers
Hive seeks to trump its competitors with tools beyond the standard expectations. An in-depth analytics suite goes along with task automation is perfect for marketers looking to optimise their project management.

The Price
The basic Hive price is $12/month/user. Like Wrike, though, several add-ons can modify that price. From proofing to guest accounts, the total package deal can easily go to and above $25/month/user.
The Pros
Analytics and Automation. Some of these features are only available via add-ons, but the analytics and automation functions can go a long way towards improving the way your team works and completes projects.
Client Management for Agencies. Track the work done for separate clients on different reports, and allow them to request new work with a form directly integrated into the software.
Comprehensive Support. Live and online support around the clock, along with an extensive knowledge base and customisable training opportunities specifically for your business.
The Cons
Limited MS Office Integrations. The platform works great with the Google suite, but functionalities are significantly more limited for Word, Excel, and Outlook. Hive has promised it for a future update.
No Project Prioritisation. You cannot pin projects or assign them a higher priority; that communication has to happen outside of the formal structure.
Not Always Intuitive. It's a side effect of the complexity and functionality, but Hive is not always intuitive for users not familiar with project management tools. The extensive support and training might be necessary.
The Verdict
Agencies tend to love Hive, and so do multi-brand companies who work on different projects. For simple marketing tasks that are more common for single-product companies, another PM solution may be better.
ProofHub - perfect for both project management and collaboration
ProofHub is an all-in-one project management and collaboration software. Anyone with tasks, projects, teams, clients can use it to manage work. It aims to replace the need to use multiple tools and thus eliminates the high costs, wastage of everyone's time to get started with each new tool, scattered data, distracted users, extra work, and no single place for work and performance overview. That's where ProofHub excels.

The Price
No per-user fee: ProofHub doesn't chart per user, so it lets you grow all you want. ProofHub's Ultimate Control plan is for $89/month only (limited time offer - usually $150). ProofHub is cost-effective for the set of tools it covers as an all-in-one project management and collaboration software, unlike other tools that are highly priced and cannot do half an all-in-one platform can do.
The Pros
Everything under one roof. tools for Chat/messaging, task management, Gantt chart, proofing, file management, time tracking, note-taking, reporting, etc.
Easy-to-understand interface. ProofHub has a simple and easy-to-understand user interface with little to no learning curve that also makes enterprise onboarding HubSpot easier.
Integrations. FreshBooks Classic, FreshBooks, QuickBooks, Google Calendar, iCal, Box, Dropbox, Google Drive, OneDrive and Outlook -- and the list of tools is increasing over time.
The Cons
Limited app integrations. They are currently under development.
The Verdict
ProofHub is one single platform for all your projects, tasks, teams and client communication. If you're looking for a cost-effective, easy-to-understand, and at the same time, effective software, ProofHub is the answer.
Orangescrum – Robust Task, Time & Resource Management
Orangescrum is built for managers and teams alike to do their job easily, effectively and efficiently. You can build detailed project plans, perform task breakdowns, define custom status workflows, track billable hours, resource utilisation & allocation in a transparent & collaborative manner.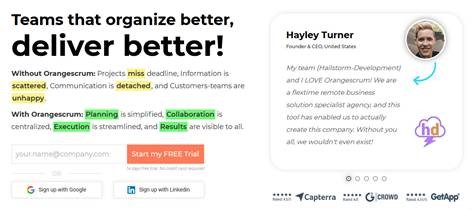 The Price
Orangescrum Startup plans begin with $9 for 10 users and can scale up to unlimited users based on your requirements.
The pricing is very simple.
Startup Plan – offers all the core project management features such as Kanban, Scrum, Status Workflows, Google Drive, Slack and Dropbox integrations, free mobile apps (iOS and Android), custom task types, labels, Gantt chart, time tracking and resource utilisation. Storage is capped at 5GB for 10 users.
Professional Plan – As you upgrade to more than 10 users, all the premium features are unlocked. GIT Integration, GCAL integration, Resource Availability, Wiki, In-app chat and time-sheets. Storage is tiered with the number of users. 11-20 users – 10 GB. 21-50 users – 20 GB, 51-100 – 50 GB. Pricing for 15 user onwards are at $4 per user.
There is a standard 14-day free trial with access to all the features. Self-hosted options are also available with custom pricing based on features and number of user licenses.
The Pros
Easy to adopt. Zero learning curve – Orangescrum UI/UX is pretty straightforward and self-explanatory. You can start immediately with a quick project setup and get going with your tasks.
Multiple Views – Task lists, Kanban View, Scrum Board. Set a view you work the best with and continue executing tasks. Well-defined start and end dates and all task info centralised in a single task detail view makes it easy to pick up tasks from where they were left off.
Time & Resource Management – Orangescrum's resource availability and allocation features aren't available in most of the leading project management tools. This is a huge plus. In-depth details of resource utilisation and real-time status of their tasks and availability makes it a comprehensive project collaboration tool.
The Cons
Integrations – Current available integrations are Slack, Gdrive, GCAL, GIT. Other integrations are in progress.
Custom Fields – Custom fields are currently not available but is planned to be released soon.
Automation – Detailed process automation is where Orangescrum lags. However, the custom status workflow, project level task types and labels to make up some part of it.
Verdict
Overall, Orangescrum is a cost effective yet, a powerful project management tool for teams of all sizes. Email notifications, in-app chat, native mobile apps, thorough reports and metric ensure thorough collaboration and transparency. Your teams can run agile, Kanban or simple project management as per their business needs.
---
How to Find the Right Marketing Project Management Software For Your Business
Ultimately, it comes down to both your preferences and current business situation. The right project management software has to align with both your business goals and complexity and with the nature and expectations of your team.
The good news is that almost all of the above solutions offer a free trial version. Don't be afraid to go through a few alternatives and see what makes the most sense to you. You need to make sure the project management software you choose is the right one for you, so due diligence will always help to improve your marketing operations.
Next Steps
Do you know of other great project management tools? Let us know by posting a comment below.
If you are using (or used) some of the software systems in the list, please share your feedback and we'll take your thoughts into account.
If you're looking for an experienced agency to help with your marketing campaigns and need a quote for a digital marketing project, Whitehat is on top of all the latest trends and software to help your business. Check out our services >> here <<