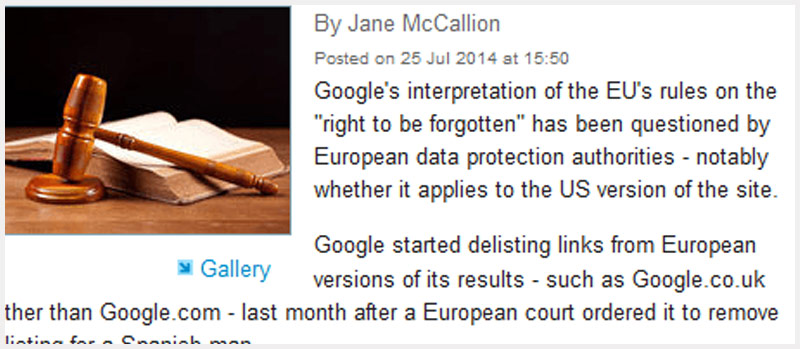 When a European court recently upheld the "right to be forgotten" rule and instructed search engine Google to remove past information about a person that are already irrelevant and inadequate, it was a victory for online reputation management companies like Whitehat. It allows people who have been subjected to bad publicity, whether intentional or not, to emerge with a clean slate, particularly if the information in question no longer applies to their present status.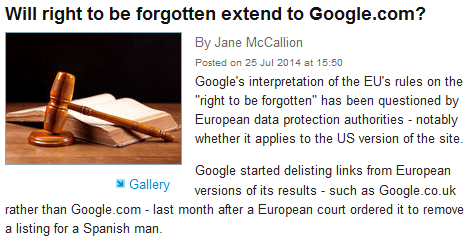 The right to be forgotten is a concept revolving around a person's wish to get on with life without being continually stigmatised by past actions and situations. The idea supports the move of anyone to have past photos, posts, articles and links delisted from Google's search database.
In light of Google's current policies, however, the concept has been met with mixed views. Some argue that the initiative to have something "hidden" triggers more attention, thereby defeating the purpose of why it was requested for deletion in the first place. PC Pro has more:
Google's policy of informing publishers that one of their links is being removed under the right to be forgotten rule was also criticised.

Three weeks ago, Google's removal of several links to stories that seemed to have a strong public interest defence were removed, causing outcry.

Some of the links were eventually reinstated, but not before the authors had written new stories about the articles that were removed.
Having a positive reputation online is definitely the dream of many businesses, but managing that reputation requires skill and the help of reputation management experts like Whitehat. Here are a few tips for ensuring your reputation remains sanitised and you don't have to request a delisting of your pages in the future:
Be Proactive
Gone were the days when your customers were simply blank faces that you can ignore. With the advent of social media, each of your customers has acquired a persona, with whom you need to interact on a regular basis to determine his or her level of engagement.
Be Transparent
This is something small and medium companies dread, but it is necessary. Being transparent means opening up your business to public opinion, to gain workable feedback and to address negative issues quickly. The risk of being transparent is scary, but the risk of being not transparent is even more so. Once you open yourself to public opinion, be prepared to face it.
Know When to React
Often, maintaining a good reputation is simply knowing how to respond appropriately to criticisms, when to respond, or if you even need to respond at all. Being intuitive in various customer situations you encounter can go a long way in keeping your online image positive.
(Source: "Will right to be forgotten extend to Google.com?")
Contact our professional inbound marketing agency today, and get a FREE consultation on how to strategically invest in your digital marketing.
Send us an email now at info@whitehat-seo.co.uk or call us at (+44) 020 8834 4795 and grow your bottom line through our online marketing expertise today.