In the UK, it's been said time and again that online shopping has been increasing in leaps and bounds. One industry which can attest to this exponential growth is the logistics industry. According to the Financial Times writer Jane Wild, many logistics companies are feeling the pressure of the online shopping boom.
"The changes will place "huge challenges on the logistics operations of retailers and manufacturers", says Coolin Desai, PwC transport and logistics lead partner, who led the research.

Before online shopping, delivery companies shifted bulk orders of goods to shops to a regular timetable. As shoppers migrated online, logistics companies had to go not to one destination to drop off 100 dresses, but to 100 addresses to drop a dress at each, adding time and cost."
With the huge potential of e-commerce, small and start-up businesses can't afford to get left behind. What their owners can do is to keep up with the changes and take advantage. A good way to start is to work with an established SEO company so they can increase their online presence. Below are a few SEO strategies that are bound to work wonders for online retail companies: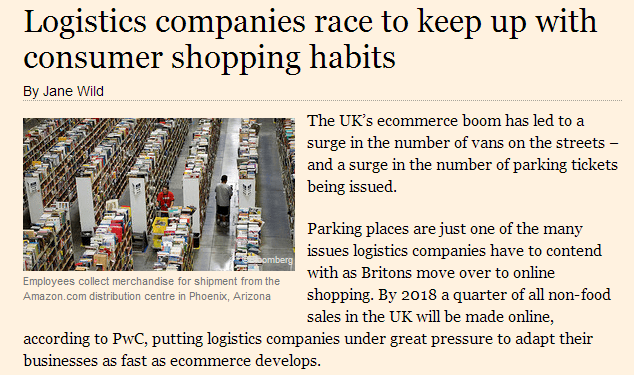 In-depth Keyword Research
The use of relevant keywords is an important component of any search engine optimisation campaign, and meticulous keyword research is the starting point. Business owners first have to know what exactly online shoppers search for in Google or Yahoo. It will also help entrepreneurs use the Google Adwords Keyword Tool to get an idea of what they are up against and find out how their competition is driving traffic to their products.
Reader-friendly Content
Once business owners determine the popular keywords, it's time to build content around them. However, articles and blog posts must be simple and direct so they'll be easy to read. In addition, natural keyword insertion is important. Online visitors are likely to leave web pages if they feel that content has keywords that are all over the place.
High-quality Product Images
In SEO, it's often said that content is king. However, this doesn't mean that product images are unimportant because potential shoppers are also likely to look at "images" results when they do a product search. Putting up high-quality product images on the website can boost the chances of landing sales.
These days, logistics companies are struggling to keep up with the demands of online retail. Thus, it's about time for new and small businesses to embrace e-commerce as well and take advantage of the boom. Working with reliable SEO companies like Whitehat SEO Ltd. will be a great way for them to secure an effective SEO campaign.
(Source: Logistics companies race to keep up with consumer shopping habits, ft.com, May 7, 2014)