Henry Ford once said that a reputation can't be built solely on what one intends to do. In short, a person's reputation is determined by what one has already accomplished. In business terms, a company can maintain a good reputation by providing quality service and doing so consistently.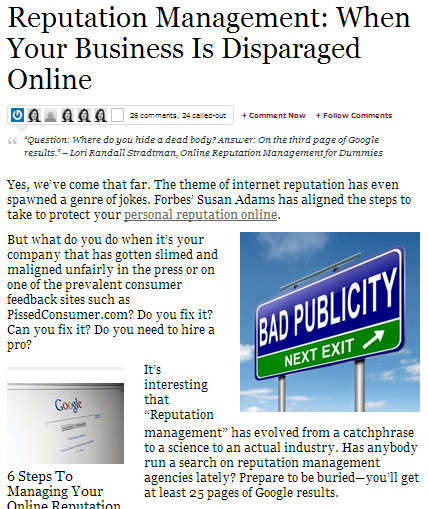 Unfortunately, in today's increasingly volatile market, any business can suffer a blow to its otherwise blameless reputation as a result of a few disparaging comments that went viral on social media—never mind that fact that it has served its customers well for many years. Yet with effective online reputation management and marketing, a business can overcome such a momentary setback, especially if the negative remarks are uncalled for. Cheryl Conner's article for Forbes.com provides tips on how businesses can monitor their digital reputation.
"Monitor consumers' online activity for new outlets and discussion threads. It's easy to search Twitter to see what others are saying about your company. Facebook feedback is more difficult to monitor, particularly if your company doesn't have its own page.

Bring the complainers to you. It's good to go to the source of a complaint, but it's better to have the complainer come to you. By channeling consumer communication to your own website, where possible, your company will own the medium of communication.

Address every online complaint promptly. Un-answered complaints can hurt the perception of your company's responsiveness with future consumers."
What makes managing an online reputation rather daunting is the fact that previously resolved issues may still be resurrected and come back to haunt a business. Fortunately, an online marketing expert such as Whitehat SEO Ltd can track damaging reviews and ensure that positive comments far outrank the negative ones on search engines. In addition, such an internet marketing firm can instil a so-called "reputation marketing" culture within the organisation by educating staff about ethical practices and the finer points of providing great service as a way to win (or win back) customer loyalty.
Indeed, building a solid reputation starts with providing great service. To learn how to make a favourable first impression, uphold a positive public image, and thereby secure their bottom line, businesses can turn to a reliable reputation marketing agency such as Whitehat SEO Ltd.
(Source: Reputation Management: When Your Business Is Disparaged Online, Forbes.com)