The most recent Google algorithm updates shifted the focus to high-quality and relevant content as a countermeasure against those who are trying to game the system, so to speak. As a result, websites that provide clear, concise, and informative content to Google's end-users secure higher rankings on search engine results pages (SERPs) This is known as a White Hat SEO service. In contrast, those that resort to unethical search engine optimisation (SEO) methods such as keyword stuffing are penalised through loss of site traffic and even an outright ban on Google.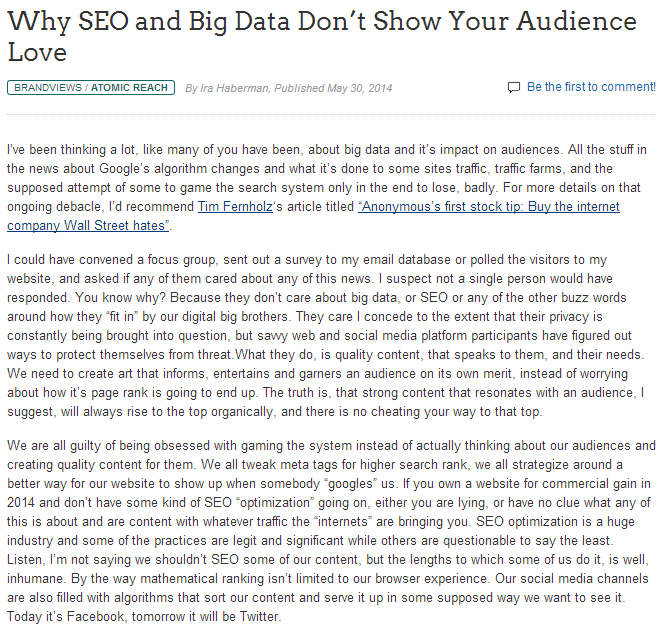 Knowledge of Google's SEO guidelines is, thus, necessary to evade such penalties. These days, professional SEO services in the UK are geared towards helping businesses keep up with constantly changing search engine algorithms that dictate the direction of existing and future online marketing strategies.
For instance, an internet marketing agency such as Whitehat SEO Ltd can update a website's structure to make it more SEO-friendly and likewise ensure that all content on the site will prove useful to site visitors. Meanwhile, Ira Haberman's article for Business2Community.com discusses the sort of SEO practices companies would do well to avoid from this year onwards.
"We are all guilty of being obsessed with gaming the system instead of actually thinking about our audiences and creating quality content for them. We all tweak meta tags for higher search rank, we all strategize around a better way for our website to show up when somebody "googles" us. If you own a website for commercial gain in 2014 and don't have some kind of SEO "optimization" going on, either you are lying, or have no clue what any of this is about and are content with whatever traffic the "internets" are bringing you."
In addition to ensuring high-quality content, ethical or white hat SEO services help increase the odds of the website being visited by the target audience through local buzz programs. Unlike typical strategies that involve placing ads on random sites, local buzz advertises only to certain geographic areas where the business's products and services are actually provided.
Finally, should a website experience loss site of traffic not necessarily for violating Google's parameters but due to a barrage of negative reviews, an online marketing company like Whitehat SEO Ltd can carry out proprietary reputation management solutions. With such an expert on board, positive reviews can soon outrank negative comments on SERPs, thereby restoring public confidence.
(Source: Why SEO and Big Data Don't Show Your Audience Love, Business2Community.com)