Before the Internet came along, word of mouth meant that product opinions came from actual conversations with friends or family, which were then passed around from one person to another. These days, however, people make use of social networking sites to offer their product opinions not only to those they know but to strangers too. Business2Community.com writer Nate Leung offers an insight on online word-of-mouth:
"The real reason that social media has become the new word-of-mouth marketing medium is because it offers instant communication in a modern culture that demands answers right this very minute.

It's absolutely no surprise to anyone that modern psychologists, market researchers, and business people all over the world (as well as anyone and everyone that has to try to influence people on a regular basis) has discovered that the modern attention span has whittled down to just about nothing.

We're always trying to flit from one thing to another, bouncing from this device to that device – and then back again – all in an effort to "get our fix".

Social media helps to feed instant communication that we crave and almost demand, especially when it comes to finding out whether or not we should purchase something."
While using social networking sites seems simple enough, one wrong move can spell doom for any business. For this reason, it's wise to work with an experienced social media agency when planning to use social networking sites for word-of-mouth marketing. Take at two reasons below: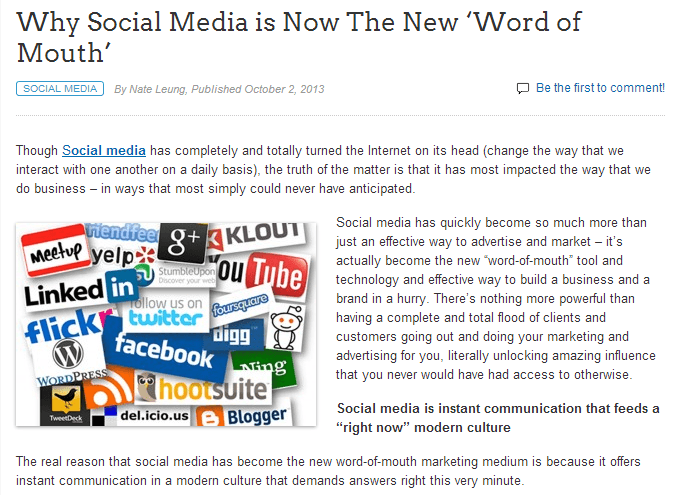 Social media agencies help businesses choose the right platform
When using social media to promote a product or service, business owners can't simply choose a medium based on popularity and ease of use. They should choose the ones that can best serve word-of-mouth marketing purposes.
For instance: pet grooming business owners will most likely have success with attracting customers through Instagram and Pinterest. Here, they can post and share lovely photos of their pet clients. Meanwhile, such sites are practically useless for those offering editing or proofreading services.
Social media agencies help produce quality content
Catchy headlines and interesting content are important to social networking sites. These are certainly things that reliable social media agencies like Whitehat SEO Ltd. would know a lot about. Timeliness is also of the essence in the world of social networking, and a reliable social media manager can ensure regular posts and immediate responses to comments.
Social media has revolutionised word-of-mouth marketing, making it necessary for businesses to grab the opportunity and sign up for accounts in social networking sites. However, business owners should keep in mind that there are ways to do things right, and professional social media managers can help in that regard.
(Source: Why Social Media is Now The New 'Word of Mouth', business2community.com, October 2, 2013)