The SEO industry is entirely dependent on the algorithms set by search engines. All SEO marketing companies should move along with algorithm changes to maintain their ranks on search results. With algorithms changing over 500 times each year, the race for high rankings is incredibly tough.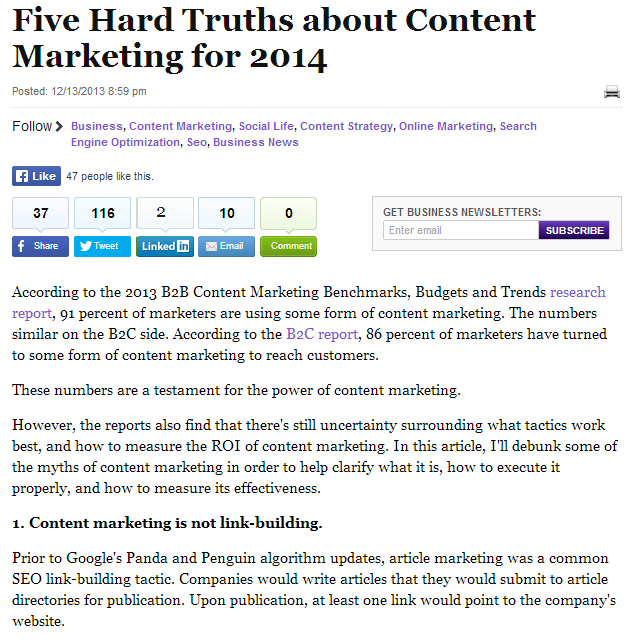 Despite the numerous adjustments an established SEO company has to make, SEO marketing, particularly in 2014, is centered on improving one key element—content. In an article for The Huffington Post, entitled Five Hard Truths about Content Marketing for 2014, writer Jayson DeMers emphasizes that there are many types of content aside from text that are essential to SEO, including videos, e-books, and infographics. DeMers also explains that improving the quality of these content types is the secret to a successful SEO marketing from this year onwards.
"If you search Google for the query "content marketing," it won't take long before you stumble across the old mantra: "Content is king." People recite it all the time to express how important content is to all facets of Internet marketing.

But too often, marketers misinterpret this phrase to simply mean more is better. It's true that more content is a good thing, but that content must be high-quality. Publishing low-quality content at the expense of quality can actually hurt your other marketing efforts.

So, what makes content high-quality? Darren Rowse of ProBlogger outlined his opinions that serve as a solid checklist for content creation.
-Does the opportunity support you brand values?
-Is the format appropriate?
-Does the content offer a doorway into your blog (site)?
-Is the content targeted to the audience?
-Does the content provide real value in and of itself?"
DeMers is convinced that most companies, although experts in their fields, are not skilled in producing quality content for their SEO strategy. This is where reputable SEO companies like Whitehat comes in. The role of an SEO company is to boost traffic to a website. By providing high-quality and powerful content, companies encourage visitors to revisit their websites multiple times, increasing the website's reliability in Google's eyes.
With Google's updated algorithms, a new trend is emerging: companies and online marketers that provide high-quality content are most likely to get Google's support. Simply put, the old marketing strategies that do not really benefit the end-users are no longer helpful, and the "content is king" adage takes on a different meaning.
(Source: Five Hard Truths about Content Marketing for 2014, HuffingtonPost.com)