For any travel buff, accommodation is the first thing that enters their mind when it comes to deciding where to go. When travelling so far from home, it is easy to become lost in the options that have been given to you; from bedsits to grand, opulent suites, hotels nowadays are catering to different budgets and tastes.
More often than not, their chosen residences will end up defining their stay there. Better services lead to better word-of-mouth promotion, and that kind of good word is something that cannot be faked. Inbound marketing has received a reputation for allowing their subscribers to see how much of an impact their promotional work has given them.
Organic distribution of promotional activities is always best. With measurable returns of investment, Google analytics, and social media statistics readily available, it becomes much easier to handle heavier amounts of promotional work. This has made it easier for those who want to pursue a career in the hotel accommodation industry much easier.
In identifying methods of improvement, one must look to the customers to see where their interests lie. Your target market makes up for most, if not all, of where your customer service concerns should lie. You should, therefore, look into what is important to them, and what for them defines a comfortable hotel experience.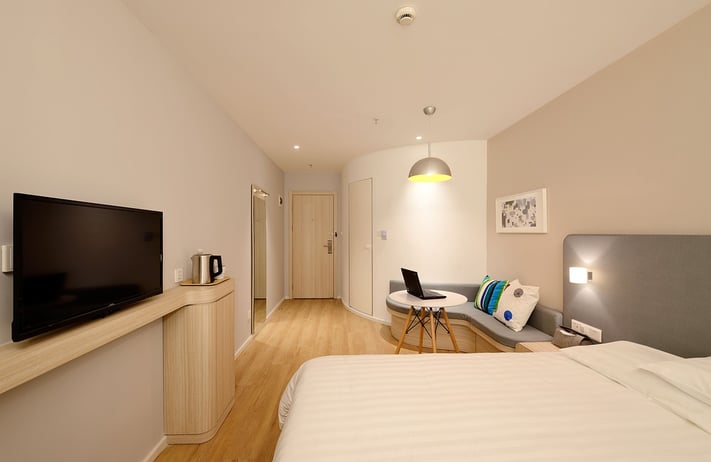 BUDGET
This is often the first concern of those who are travelling, especially if they come from abroad. These limits are often set by the travellers themselves, as they have other expenses that are to be accounted for. Are they in town for a relaxing vacation, or are they only there for business purposes? This dictates how much they are willing to spend, so opine discreetly.
Some folks are willing to spend a little more coin in better accommodations, and if so, the contents of your hotel's promotional materials must be updated with all your offers so they can reach a decision. Others are willing to pay extra to make their rooms more comfortable, whether it's for extra items or for room upgrades if applicable.
Apart from the sleeping quarters, hotel bathrooms have always received their own share of publicity. Some hotels tend to overlook this area, especially if it is a communal bathroom. Know when to invest in certain areas and when to hold back on other expenses. One need not be a five-star hotel in order to provide a pleasant experience for you guests. Let them prove the value of their money.
AMENITIES
If travelling with family, leisure amenities are almost a need. Young children often need to be given activities for them to enjoy, and so pools and recreational areas for them to run around are key. Leave areas for their parents to relax as well, by providing in-house spa facilities or massages, or if your hotel doesn't have these features, coupons or discounts to nearby establishments.
If travelling alone or with a partner, recommend local restaurants where they can have intimate dinners. Point them towards cultural landmarks, or of any local events where they can sample some of the nightlife. Know your customers well so as to know what sorts of things interest them, and then deliver. That sort of eye for detail will be remembered later.
Apart from facilities and amenities, a business-friendly hotel is also key. Wi-Fi connection, equipment such as printers and scanners, and other technology should be available to them in case of emergency. Function rooms can be prepared for those who are holding conferences or any sort of event that requires a boardroom-style setup.
LOCATION
The rule here is quite simple; the closer you are to the downtown area, the better. Prices increase simply due to the location of your hotel, so market that feature to the best of your ability. Highlight nearby establishments or areas that travellers and tourists can explore, or else travel guides who can show them around the city in packages that are affordable. Location is also important for those who want to experience more of the city's culture.
Location in neighbourhoods is also something to look into. If you are situated in a more bohemian kind of community, then the look and feel of your hotel will vary greatly from a hotel that is in a more urban environment. This also affects the kind of clientele that will frequent your hotel. Getting to know one's community is key in marketing your hotel properly.
The better your location is to a city or town's key districts, the more you are going to get out of it. Maximise your marketing campaigns around it for full effect, but do not simply rely on this feature to sell your business. One should also provide for other features in order to truly stand out.
SERVICE
Customer service – whether in the hotel operations staff or human resource – is one thing that travellers are keen on commenting about. Hotels with excellent price points and locations will fail if they feel that service is lacking. Train your staff to treat customers and clientele properly, and screen them regularly so as to ensure that their demeanour becomes pleasant to receive any and all concerns.
Those who have been treated well will be more susceptible to coming back or informing other tourists about their experience. Budget hotels often have a reputation for not having poor customer relations and service, so do not contribute to the stereotype by parroting it. Address their needs, and address them quickly. As their 'home away from home', it should speak to that idea clearly.
Apart from the staff, in-house restaurants and amenities must also have the appropriate staff nearby. Nurses, medical trainees, lifeguards, and security should also be employed in order ensure the safety of your residents. When anything unsavoury happens within the vicinity, or natural calamities seem to be a problem, train your staff and clientele to deal with it accordingly.
OVERALL EXPERIENCE
Even if you hit all the above targets, there is a need to set yourself apart in your industry. In order to establish your identity as a hotel, personalising your marketing campaigns in order to cultivate your brand is the way to go. Inbound marketing is flexible in the number of options it gives you. Unlike traditional outbound marketing, you are given more options as to how and when to set your message across.
You are allowed full control of who is exposed to your business and its accompanying events. This allows you to make more choices about how your campaign's direction is going and even allowing you room to make changes as you go along. Usually, with different marketing strategies, you can only sit and wait before you see the results if your campaign. Inbound methodologies allow you to see its progress in real time.
The advantage for hotel accommodation is that, as an industry, you can plan ahead of time. As a calendar of activities and peak points in check-ins happens, you can fit your inbound marketing schemes into whatever you're planning. A mix of proper planning and flexibility strengthens a marketing plan and makes it more viable for the kind of output you want.
Here are a few ways to improve upon one's overall experience:
Be an online and physical resource.
If you're the first to introduce inbound marketing in your community, you can turn it into an opportunity for local establishments to learn from you. Adjacent restaurants, spas, and sight-seeing locations can learn from your implementing search engine optimisation schemes in their own business plans. That way, you not only uplift the customer service offerings of your own business but of your community as well.
This helps in boosting a location's tourism efforts and entices others to revisit and partake more of what your city or town has to offer. Offer seminars that include how to be proficient in social media, SEO, marketing, and content. Content-driven marketing, in general, can lead to a larger online presence, creating more opportunities for a community to earn.
The more help you provide, the more people will turn to you for their accommodation needs. If ever they're in the area, they have a location where they know they can feel safe and they can trust the surroundings around them. The better you location's financial and tourism prospects, the better for you to make yourself available when you're needed.
Make use of onsite and offsite blogs.
As mentioned above, content marketing is a powerful way to make your online presence known. This can be in the form of written or visual content, and each has its own advantages that allow for it to be used interchangeably. Written content helps your website and domains rank higher on search results engine pages, while visual content often makes users want to visit your site more as it attracts the reader. Most blogs utilise both.
Onsite and offsite blogs also serve to promote your business in different, though closely related, ways. Onsite blogs help to rank your website while offsite blogs improve your brand's visibility, as you wouldn't be limited to only one domain. This allows brand optimisation to go deeper and wider into your target market's consciousness, helping to create a steady presence for your business online.
Expanding on social media is a great way to utilise this. Micro-blogging sites such as Twitter can be used to spread the word about events, promos, and the like. Facebook can be used to expand your network and allow users to review you, therefore allowing your clientele to speak for themselves about their experience staying with you. This can also lead to being part of your industry's leaders, as more and more important events and seminars will be held in your location the more your online profile grows.
Online forums are your friend.
Being part of an online community is a great way to expand your business' renown to other areas where you may plan on expanding. If anything, going online has made the world so much smaller than it used to be, and it isn't strange for people to have contacts from other towns, and even countries. Forging relationships like these is so important, especially on a macroeconomic level.
Strategic partnerships like this one pave the way for more tourism as well, as most of your clientele would likely not be from your area. Marketing to other areas will greatly increase your profile, and one cost-effective way is to do so online. That way you can screen and view other clients for your benefit, and make it so that it becomes easier as time goes on to forge partnerships like this.
One may be able to form groups that can lead to arranging discounts or promotional activities for both partner businesses, or banding together to report on new trends and technologies that could change how the industry is viewed or done. Gaining respect from others is always going to be positive. This way, you no longer need to travel far from home or leave hotel operations to others. This time you can arrange it so that you will have a global network that will prove beneficial to you in the long run.
Educate the masses about your local community.
Hotels are often a visitor's first experience dealing with locals and aspects of its culture. This could lead to different cultural exchanges that can lead to gaffes or problems along the way. Being an industry leader often means having an opinion on the trends and variations in marketing and sales, and sometimes even creating them. This can turn into an opportunity to teach your community a thing or two in regards to hospitality and customer service.
If you're part of an association of hoteliers or travel accommodations, you can prepare seminars on local tourist attractions and how to approach them, or to prepare tutorials and classes for tourists who want to learn the native cuisine of the area. Offer up new points for encouragement and it will make it easier to make yourself succeed on a professional level, while at the same time creating awareness for your community.
Source:
Top Trends of Boutique Hotels, Visualistan.com
Other blog posts worth reading: