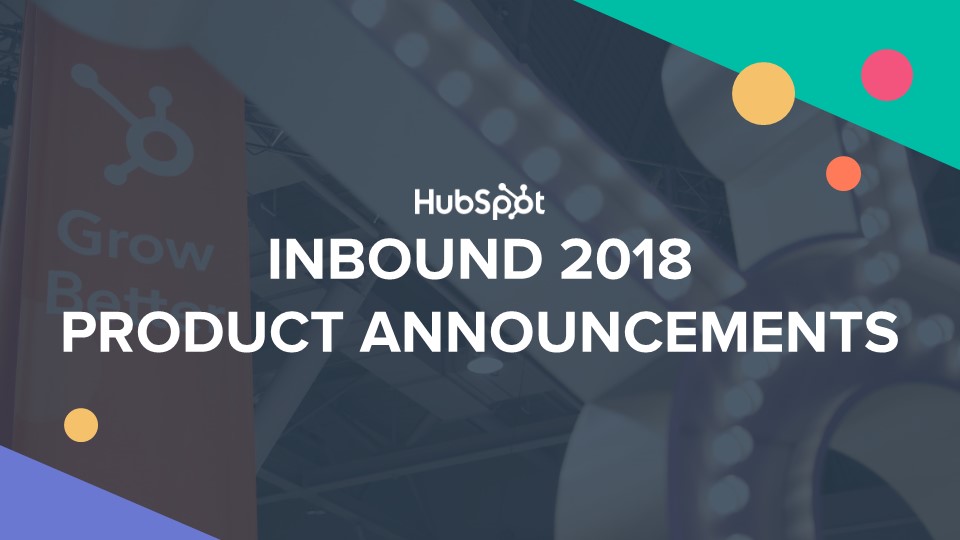 For 2018, HubSpot created the Enterprise, Starter and Professional Growth Suites.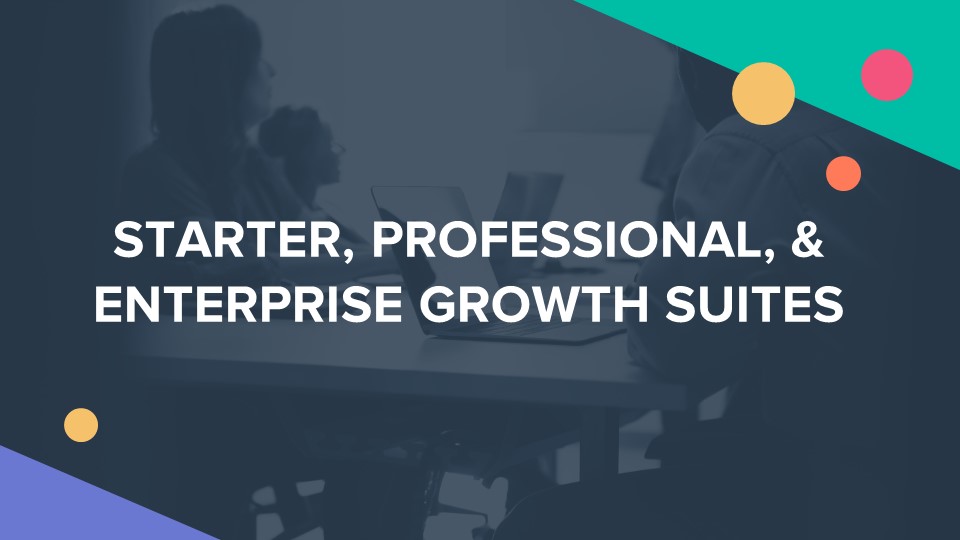 You get a discount if you buy the three hubs together and the simple free CRM is included in the package.

HUBSPOT MARKETING HUB ENTERPRISE
As your company grows, it also grows in complexity and so does HubSpot. This is why you need to use 'Enterprise HubSpot' as your team grows. Its features are:
Enhanced teams: it allows you to create different teams within HubSpot based on area or product.
Single sign-on: to be used whenever there are many teams using different software applications. You take one sign-on and use that within HubSpot, so that you only have to remember one password.
Custom slack integration: used in those cases where you use other tools beside HubSpot. It sends notifications whenever you close a deal.
Custom bots: they take care of some simple tasks that can be automated, like routing requests to a specific team. This way individuals can worry about the most sophisticated problems. Enter the custom code into HubSpot to deploy a custom bot.
Enhanced predictive lead scoring: it is the percentage likelihood that a particular lead will become a customer. It gives you more insight into how your sales team is doing.
Calculated and rollup properties: it calculates things like the commission that a sales rep is making, so you can run reports.
Recurring revenue tracking: it runs reports based on recurring revenue. You can see how much of your revenue is coming of new deals or is lost.
Additional reports and dashboards: not only you can add reports to dashboards, but you can also create reports within the 'reports' home and have them live there. You do not need the reporting add-on to create custom reports.
Customer property search: if you have a property, you can use HubSpot's search bar to search for that property. It makes your database more navigable and much easier to find specific contacts.
Relational imports: you can import a bunch of contacts associated with specific companies from an Excel spreadsheet, all in one step. You do not have to go through the process of doing multiple imports and then manually connecting them together.
Analytics filtering: you can segment based on specific domains, regions or URL structure. You can create custom analytic views for your website traffic for more granular reporting.
Enhanced social permissions: as your team grows, you delegate tasks such as creating social posts to other colleagues. Nevertheless, you still want to be able to keep control over the overall message. You can create 'draft-only' permissions, so you have the final say.
Content partitioning: different teams create separate content for different regions. It keeps things more organised and it allows people to only access the content that pertains to them.
Send frequency cap: whenever you have more workflows, it makes sure that you are not spamming the people that are subscribed to your e-mails. You can override this in case there is an urgent message that needs to be delivered.
Membership driven content: you can create a 'members-only' portal on your website where only current customers can access specific content through a log-in. You can use HubSpot's lists to gate this content.
YouTube integration: it allows you to see engagement on YouTube compared to all your other social channels and to report on your success.
Continuous optimisation: to be used when you have to decide where your lead flow will appear on your website. You have options like a pop-up box or a drop-down banner. The continuous testing option runs a test for everyone that comes in and it shows them the best option.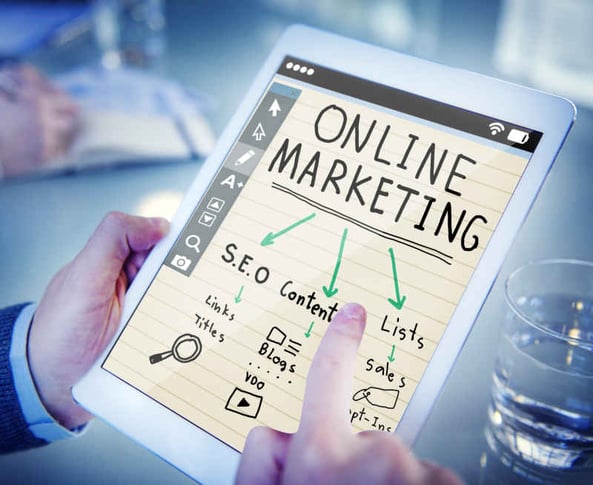 HUBSPOT SALES HUB ENTERPRISE
It is going to give the more advanced organisations the CRM and sales acceleration they need, all in a single package. It allows more flexibility to manage even the most complex sales strategies.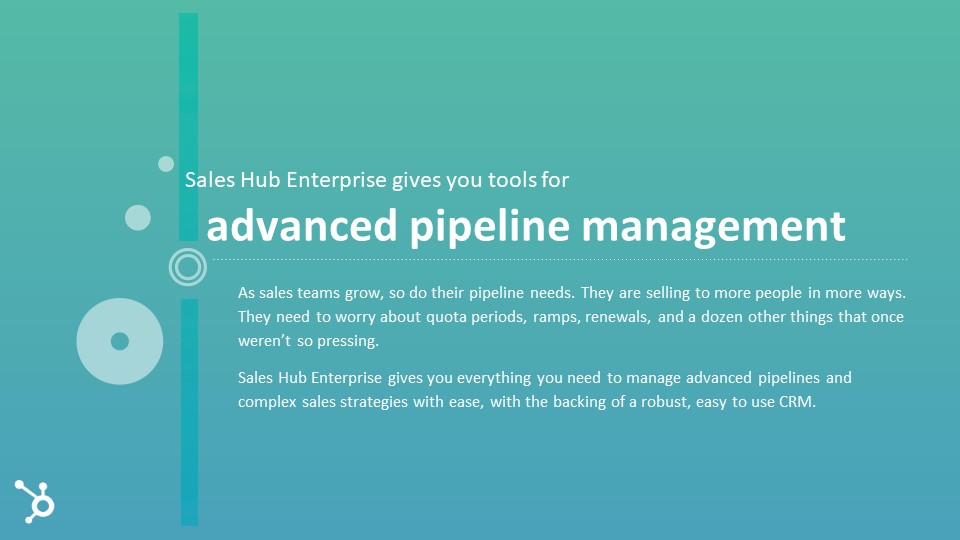 Its features are:
Goals: you can set goals like monthly quotas inside of HubSpot, so that each sales representative will have a report telling them how they are doing in relation to that goal.
Call transcription and recording: it is an easy way to record your calls inside of HubSpot and get them transcribed.
eSignature: it allows you to collect a signature on a quote or any other document inside of sales hub. It makes it easier to close deals.
Quote approvals: to be used whenever there is a system in place where a sales rep needs approval or to meet certain criteria.
Calling API: it allows you to integrate a third party telephone provider inside of HubSpot, so you do not need an extension or a plug-in to call.
Playbooks: playbooks is a built-in library of best practices, scripts, questions and resources you can provide someone who is brand new your team with.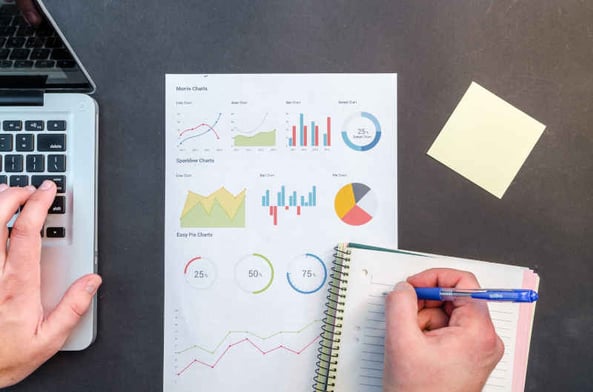 HUBSPOT SERVICE HUB ENTERPRISE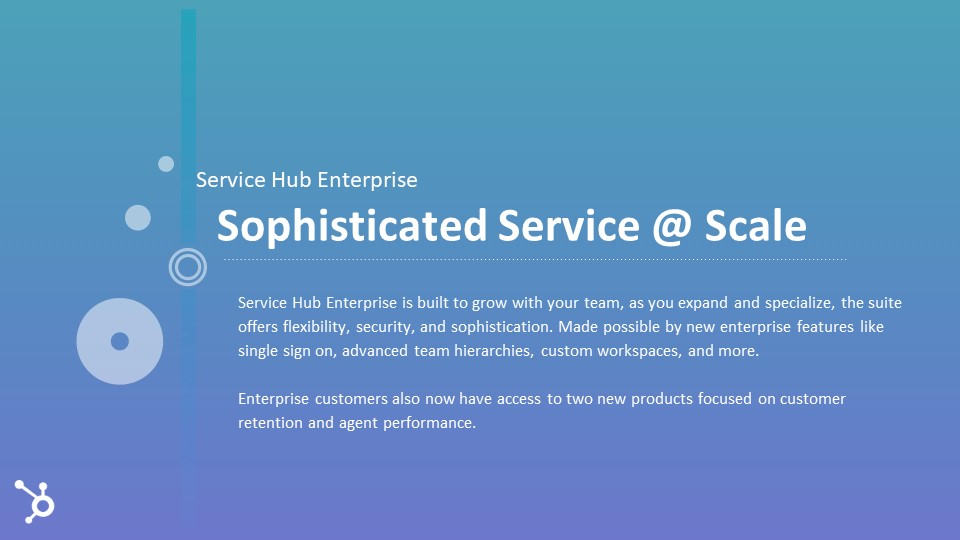 Its features are:
Goals: they are set around specific customer SLAs. If you have an agreement with your customer on things like ticket's value, response time or resolution time, you can view it inside of service hub.
Health scoring: it allows you to use list criteria to help assign a score to any given contact inside your database. Based on the criteria that you have laid out, the system will give your contacts a score.
Playbooks: they are best practices, resources and scripts that you can give service agents as part of their process.
HUBSPOT VIDEO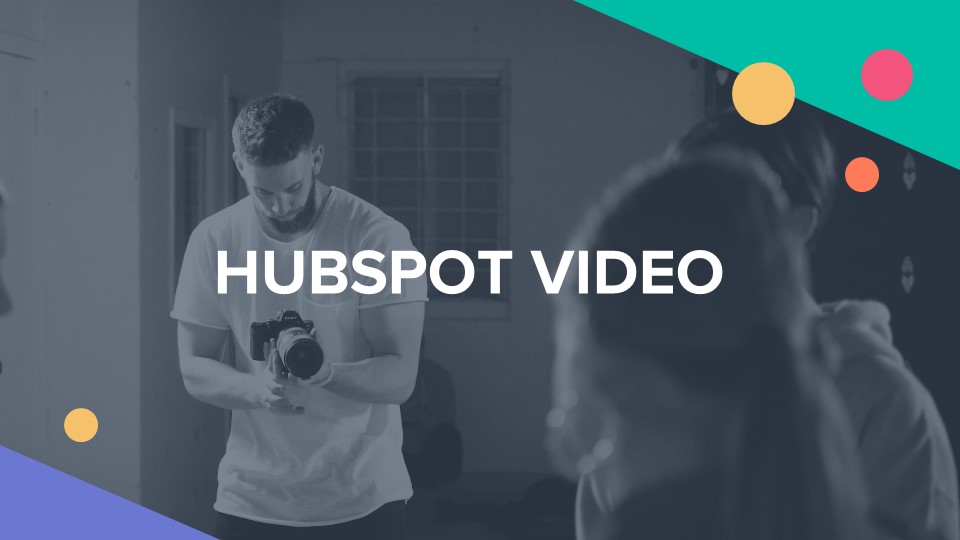 It's video throughout the entire product and platform. People are connecting with all sorts of video, but the ones we gravitate towards the most are the ones that are personal, authentic and relevant. If you are able to match that change and adopt video throughout your entire organisation, it can really be transformational for your business.
'HS video marketing' marketers have a number of new features related to video. You can now host up to 250 videos inside of HubSpot through Vidyard. The integration is free. You can add the videos to a blog post or a landing page in one click. You can add CTAs and forms directly into the video. There are also new analytics on the performance page of any blog post or landing page that features a video.
'HubSpot video selling' sales teams will also have access to new video features and this is powered by an integration of Vidyard's browser plugin 'GoVideo'. It allows you to quickly record a video directly from your browser. Video can really help you stand out when you're prospecting someone or send a follow-up that's really personal. It's a great way to build a relationship.
'HubSpot video service' service agents will be able to respond to tickets inside of service hub with a video. If you're facing a really complex question from a customer, instead of replying with a long e-mail, you can just send a short video that explains a lot more. You can now upload your videos to HS and then embed them in your knowledge base.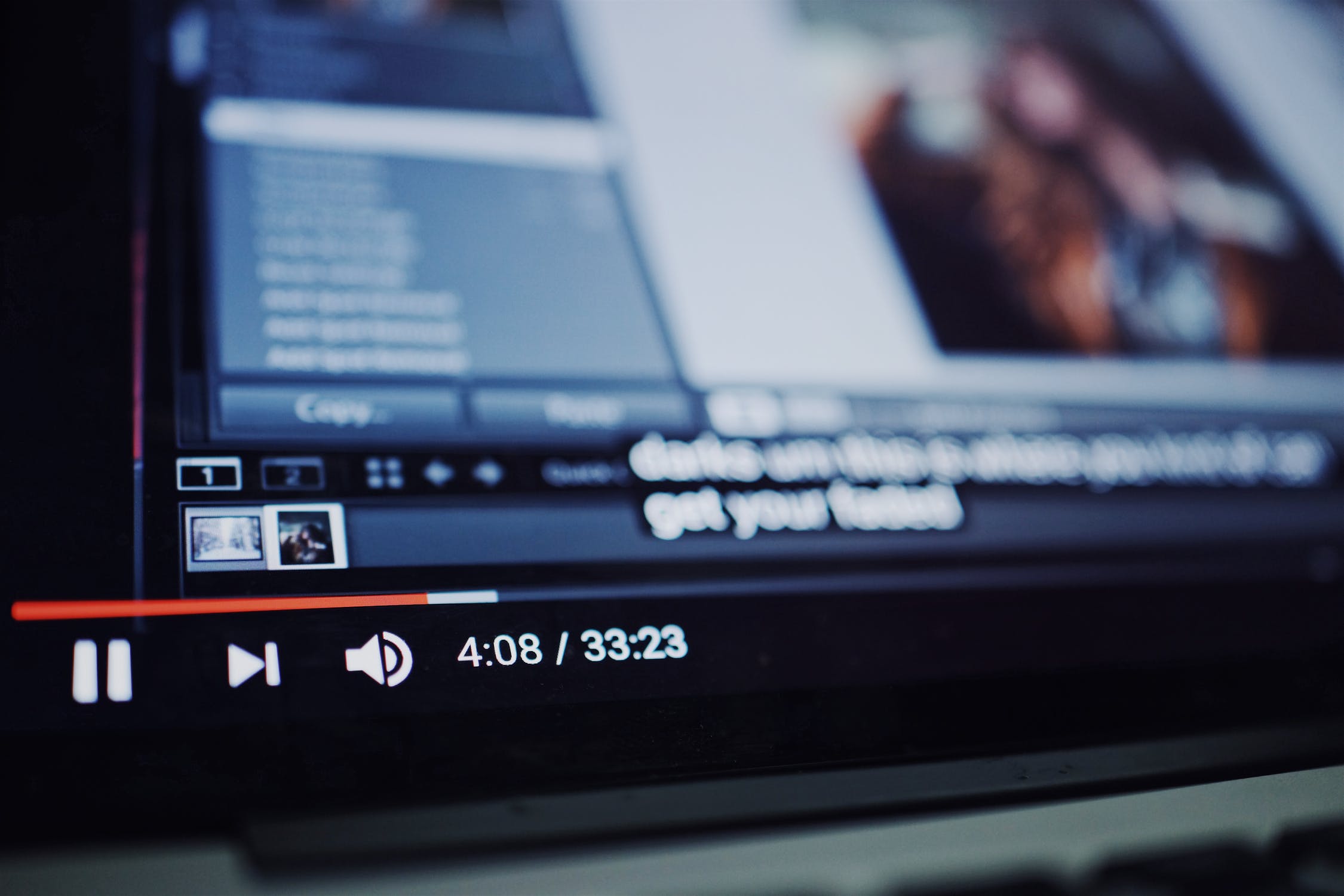 HUBSPOT CMS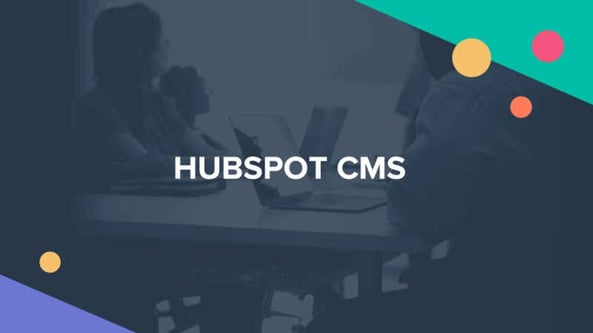 It combines the power of website creation with a free CRM online to customise the entire buying journey. This is a stand alone product now. You can buy just the CMS for those companies that are only looking to HS for website solution, this is a great way to just offer that service.
Other announcements
'Multiple currencies' you can track and manage multiple currencies across HS in your deals and reporting. If you're expanding globally, you can use it for exchange rates.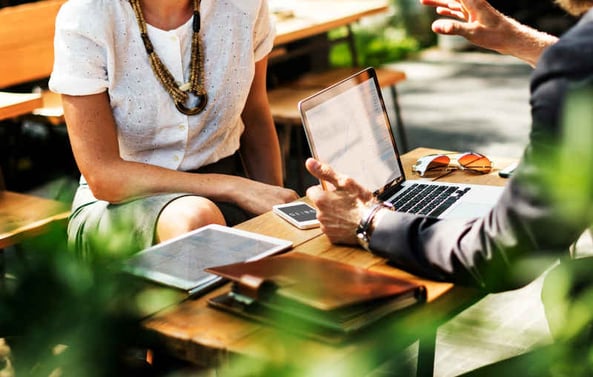 Next Steps
If you would like to see these features in action. Then you can book a HubSpot demo with one of our team and we will walk you through all of the new features.