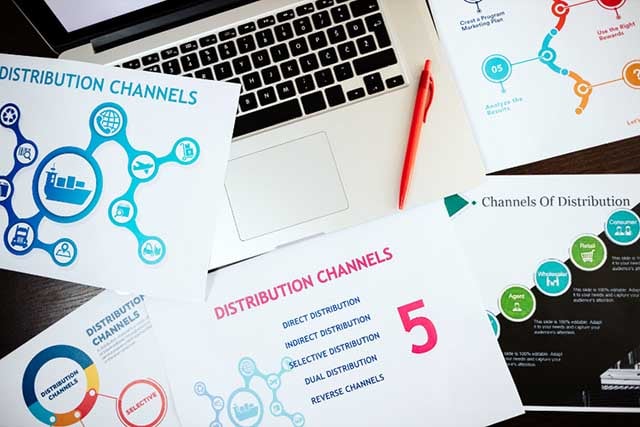 HubSpot reveals their newest CMS Hub product addition
I said you wanna be starting something? You've got to be starting something…..
Ok yes, these are the lyrics to a fabulous song, but once you realise what HubSpot has got in store for you with their CMS Hub revelation. You will not only be signing from the rafters but wanting to get started and get stuck in.
Whether you're a new kid on the block or an old-time city roller like us at Whitehat, CMS Hub has something fresh for you.
HubSpot has made it their personal mission to listen to all the feedback about Content Management Systems, implement changes and make upgrades to enable customers to have control and impact over their content production and content management.
Before we make the big CMS Hub reveal, so we're all in tune, let's identify what a CMS is. What different categories of CMS there are in the digital market and how CMS Hub can benefit you by helping your business scalability and align teams.
If you're pressed for time, watch this short video first to see HubSpot reveal their newest CMS Hub product edition.
What is a CMS?
Content Management System(CMS): A software application that allows you to create and modify your website without having to code
Most companies will use some sort of CMS for marketing their website. They usually fall within these categories:
Open source:
Proprietary:
SaaS:

Installed and managed on a server

WordPress, Joomla!, Drupal

Typically self-hosted

Adobe Experience Manager

Kentico

Sitecore

Subscription fee usually covers hosting and software

HubSpot

Squarespace

Wix

Shopify
As each of us has varied needs, it's the same for our website and content management requirements.
So, we've listed the categories so that you can see where you currently fit into and showcase the options if you're looking for a better fit.
| | | |
| --- | --- | --- |
| Open source: | Proprietary: | SaaS: |
| Anyone can build on the platform, removing central authority of quality of apps and service providers | These systems are extremely heavy, expensive and results in a complex system that makes it harder for marketers to make updates | Most Saas options were designed for low tech lifestyle businesses and sometimes don't have the flexibility and power to help you grow. |
But why would you need a better Content Management System?
Many companies experience friction and frustration with Content Management Systems, HubSpot's aim is to make a CMS platform that works with minimal effort but produces maximum output.
So why choose a SaaS solution and why HubSpot?
HubSpot is a Saas solution for Marketers who wish to take charge of their website without limiting their growth.
Alongside this, HubSpot offers a complete CRM platform that works as an accompaniment to your CMS Hub to build out other aspects of your business.
This powerful platform tool gives you the opportunity to create, analyse, document and grow. Giving you insights into all your marketing efforts so that energy is concentrated with an improved customer experience and less likely to result in random acts of marketing.
What can HubSpot CMS Hub do, that others can't?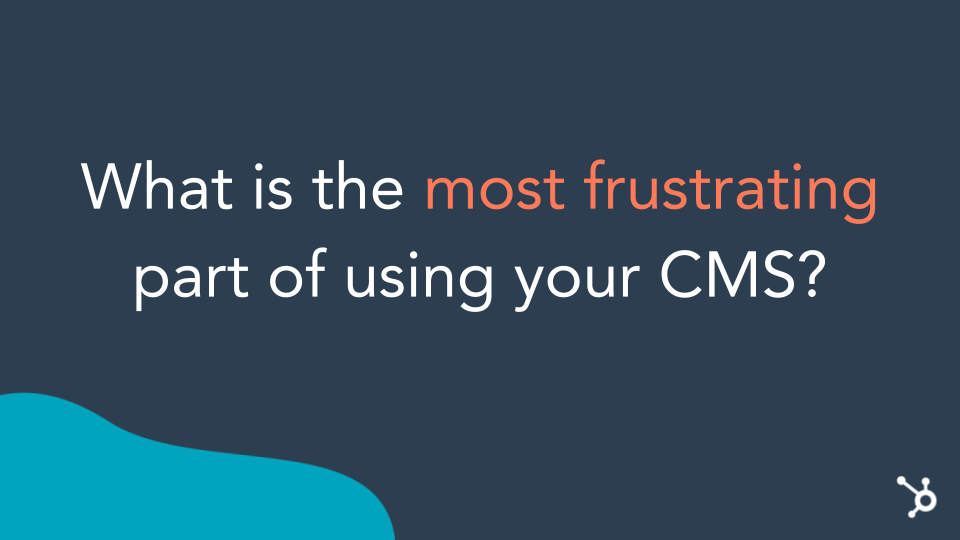 The usual process for your website is to build website presence, build awareness and then manage at scale.
To achieve this, many external apps and platforms are used. This can lead to confusion, frustration misalignment and ultimately technical failures which nobody wants.
HubSpot always believes in working smarter and not harder.
So, they created a platform that's conveniently packaged for you, with one entry point and ease of use due to rigorous vetting and testing. These thorough processes result in consistent and secure service built specifically for user needs.
HubSpot realises that the creation and publication can be difficult, let alone the disjointed journey your customers may overcome as they access your website.
With CMS you can build a website customers love, without the pain of managing it.
CMS Hub concentrates on making it easy to produce and create world-class personalised experiences by overcoming pain points within the five necessary categories HubSpot base their delivery.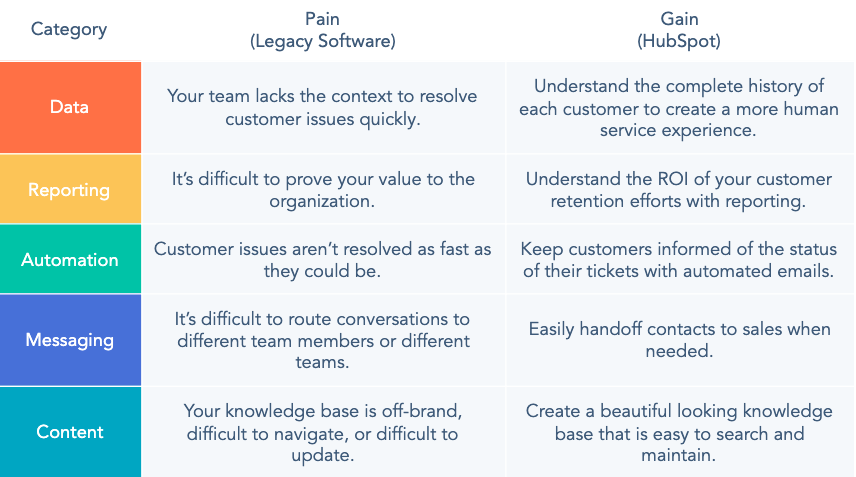 CMS Hub is HubSpot's latest iteration of their content management system, packed with new features at relevant tiers.
CMS Hub allows you to:
Easily build and optimise remarkable website pages
Developers can build marketer-friendly web apps
All-in-one tools to help grow traffic and generate leads
Gain governance and control at scale
Ok, so what! It allows me to do all of that but why do I need it?
That's a fair point, using HubSpot CMS is a good fit if you need:
Avoid friction: You and your team want to make simple changes to their website without the involvement of a developer.
Website redesign: You're business is looking for a fresh new design but want to seek a new vendor
All-in-one system: your teams manage too many systems to accomplish their marketing goals
Launch a new business: need a CMS tool that's easy to set up and reliable, connected to a CRM system and gives them flexibility to make changes.
Plus, CMS Hub is a good platform to consider if you're fed up with:
Maintenance and updates
Developers as gatekeepers
Siloed systems
Whatever your business size or industry, HubSpot CMS is designed to scale and grow with you.
Have a look at the wonderful examples and possibilities your company can adopt with the use of HubSpot CMS at Inspire CMS Website
So what's new with CMS Hub?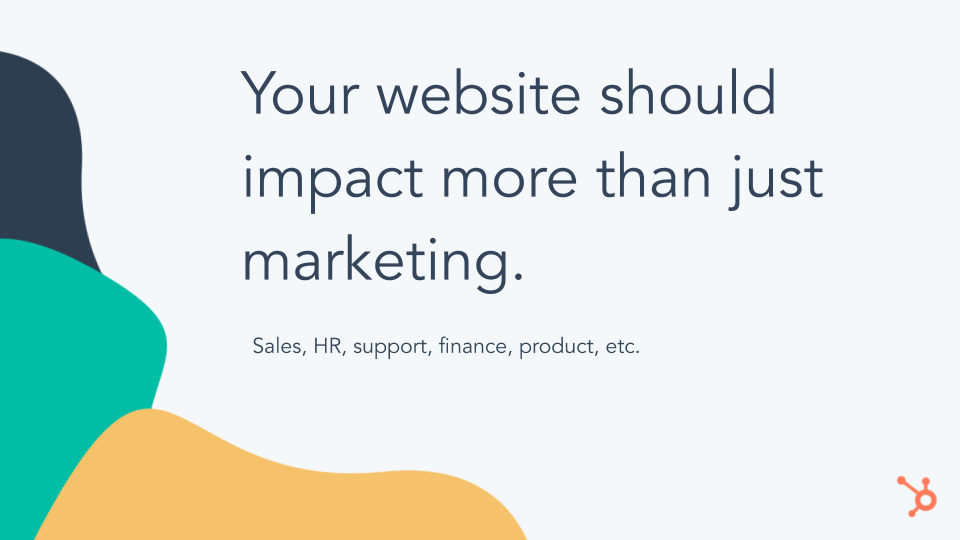 Ok, get ready…a little drum roll please!
The big reveal you've been waiting for.
CMS is now celebrating its 1st birthday and has been growing like KER-RAY-ZEE!
With vast growth came much feedback and as always, HubSpot like to listen and give you what you want and need!
HubSpot is dedicated to building a world-class experience.
So not only have they made significant improvements and updates to their Professional and Enterprise tiers, including things such as:
Improved editing experience
Introduced a number of visual editing improvements
Global content editing
Responsive theme settings
Blog listing and listing
Adding custom fonts
Create, move and edit sections
Introduced site tree in professional and enterprise to make it easier to manage, organise and find content on larger sites
CRM-Powered CMS
Smart content in custom modules
Custom objects in CMS Enterprise
CRM-powered dynamic pages
CRM-oriented HubL functions
The digital experience extends beyond just the corporate website
All these functions and more enable you to produce and provide the best, personalised user experiences.
The possibilities of extending beyond your 'company website' are endless. You can build new digital experiences to drive growth.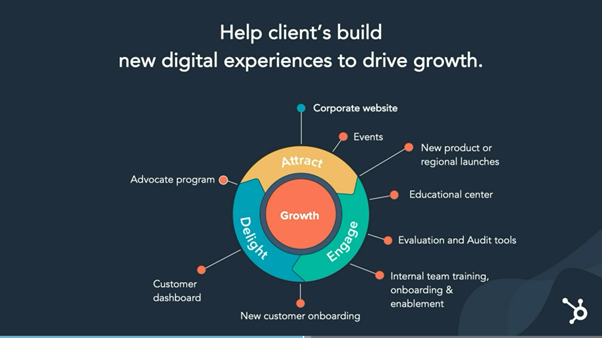 But there's more….
Whitehat is excited to announce that HubSpot has launched its CMS Hub Starter and has now added it to its CMS Hub subscription tiers.
What does this mean?
If you thought possibilities were endless before, this opens up a whole new world to generating business.
Who is CMS Starter for: what subscription do I need?
In the past, CMS subscriptions would be tentatively based upon the number of employees your organisation had, but HubSpot has found that this is not necessarily the case anymore.
So, more clarification and adjustment was needed for the new CMS Hub subscription tiers.
For instance, you may be a small start-up that has only a few employees. Yet you have venture funding and very complex systems that you want to integrate into your app. You may even be leveraging CMS Hub as part of the app.
Based on employees and being a start-up, CMS Hub Starter would be great right? Not really, because you need the functionality and complexity of CMS Hub Professional or Enterprise.
The same could be applied if you have a multimillion business with 200+ employees but only require a simple level website.
Based on employees, the old tier system would have indicated you would be a good fit for Enterprise.
With the launch of CMS Hub Starter and repositioning of the tiers, allows for everybody to get the right fit for business circumstances and requirements but most importantly content management and website goals.
CMS Hub Starter: Generate business
A simple web content management system for growing businesses who want to leverage the CRM platform to generate business through their website.
CMS Hub Starter could potentially be a great fit because it's fast, reliable and secure. You're able to remove gatekeepers or bottlenecks as it has all the tools necessary for you and your developer to build a remarkable website.
Cut through the hassle of holding all your technology platforms together with duct tape and have unified customer data in one place with the all-in-one CRM platform.
CMS Hub Starter is a great entry point to generate business and building your site but ultimately HubSpot has premium offerings.
CMS Hub Professional: Optimise and personalise
A customisable web content management system that allows fast-growing companies to optimise and personalise their website for better results.
CMS Hub Professional is good if your business has multiple sections and needs a site to accommodate this.
You may have different audiences or sections such as B2B or B2C, have distributers, multiple regions, plus various personas to cater for.
The professional tier allows you to personalise your customer experience as well as scaling your content strategy and growing your organic traffic.
Your main objective is to continually improve your website to grow impact upon your business. With Growth-Driven Design (GDD) and CMS Hub Professional tier you're able to leverage true optimisation and personalisation.
CMS Hub Enterprise: Scale
An advanced web content management system that gives scaling organisations the power to manage all of their company's digital experiences and teams at scale.
CMS Hub Enterprise is great to seamlessly scale.
You may want an interactive calculator, dashboards, login and checkout, enterprise tier allows you to create powerful digital experiences to accommodate complex sections of your website.
Easily manage a growing team and your brand as multiple teams across your organisation use your website.
With CMS Hub Enterprise take it further by extending your brand and managing all your web properties in one place.
What is included in CMS Hub Starter?
HubSpot are aggressive about transforming the world of web design and bringing something that's easy to get started.
Fast, secure and reliable website
With CMS Hub Starter it's an easy start and entry point and delivers a fast, secure, reliable website.
CMS Hub starter is jam-packed and you get everything, and HubSpot's premium hosting is included.
You get content delivery network (CDN), secure sockets layer (SSL), web application firewall (WAF) 24hr security monitoring basically amazing superpower stuff.
You get unlimited visits, bandwidth, and storage so there are none of these pricing games with variable skyrocketing costs and you know exactly where you are.
There's full access to the marketplace and all the developer tools baked in there too. You can build amazing experiences; your developers get to do the work they want and code amazing stuff.
You have a drag-and-drop & theme editor to use to create up to 15 remarkable website pages. You can create as many blog posts as you want but only for one blog channel.
All of this and it comes with HubSpot all-in-one CRM Platform. So, you get all the CRM and free stuff as well as the HubSpot starter conversational platform included.
HubSpot CMS Hub Starter is seriously a game-changer!
CMS Hub Starter may be great for entering the CMS platform to see how it feels or be ideal if you require an extra or external site to your main business website.
As discussed, HubSpot does have premium offerings that may be better suited to you or you wish to eventually upgrade to.
Personalise the customer experience
With CMS Hub Professional you get everything from the CMS Hub Starter. Plus, you can customise and personalise the customer experience with smart content, HubDB, and the CRM object module field.
Intensely scale your content strategy with removed site page, landing page and blog channel limits. Receive advanced SEO recommendations to make the best of your content and easily fin, locate and organise with the added site tree.
If you have content in various other sites, platforms, or programmes you have use of the HubSpot-led migration service to bring all that content over to your site.
With CMS Hub Professional, optimise what's working with A/B testing, custom reporting and contact attribution.
Powerful digital experiences
With CMS Hub Enterprise you get everything from the professional tier plus mighty tools to create powerful digital experiences.
You have custom objects, serverless functions and memberships and can easily manage a growing team and brand with content partitioning, performance and activity logging with Single Sign-On (SSO).
You can further expand and extend your brand with multisites and APEX domain hosting.
How do I get CMS Hub Starter now?
We asked you in the beginning if you wanna be starting something?
Now you know why we were really excited to let you know about the opportunities that HubSpot CMS Starter can bring.
HubSpot is aggressive about transforming the world of web design and bringing something that's easy to get started.
CMS Hub Starter is an easy entry point that you can build upon for a small fee per month and a little more to include the starter growth suite.
CMS Hub Starter may suffice all your business needs, yet you have the beauty of being able to grow and upgrade to professional or enterprise tiers over time.
If you need any further help and guidance or have a question or query, please do not hesitate to reach out. The Whitehat team is waiting to help.
Take the next step and download our ultimate guide to building peak-performing websites using the HubSpot CMS Hub.
Other articles you might like