It's not unusual for people to want to take time off and get pampered in luxurious surroundings, such as a hotel with a respectable number of stars. In his piece for 4Hoteliers, Vikram Singh states the importance of pay per click management for operators in the hospitality industry.

"I have had a front row seat to the hotel pay per click (PPC) world for the past decade, PPC is not new, but it's rapidly changing;
One thing that hasn't changed: hotel marketers and owners are still caught up in debates about its effectiveness and viability. As a result, a lot of hotels are still not embracing the power of pay per click."
His thoughts may resonate with hotel operators across the country, not just in the Greater London area. A new industry study published last month revealed that occupancies in London were down 1.9% year-on-year with moderate effects in revenue; regional hotels, especially in Scotland, were doing well on revenue and occupancy even though some experts predict five years before a return to full power. When you need adequate advertising to pump up customer traffic and bring in more bookings, a skilled PPC agency will be able to help.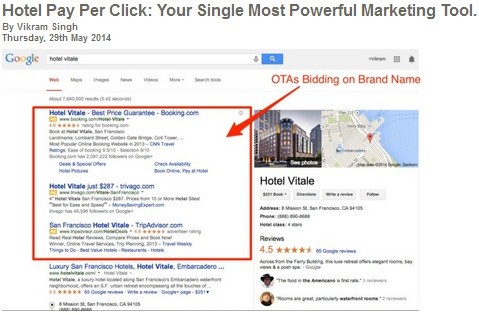 PPC Specialists in London
A PPC specialist may stress linking the ads under your brand name to better position it in search results. Although your preferred marketer will also have search engine optimisation (SEO) services to help raise your establishment's local search rankings, Vikram stated you cannot fully rely on SEO to bring in the customers. A PPC ad directing to related pages on the website must require intensive bidding for the brand name to ensure the traffic comes to you first and the revenues end up in your hands instead of an online travel agency that just aids in booking rooms.

Why hire a PPC professional?
One benefit of hiring UK PPC professionals to run ads for your hotel is that you can have them fine-tune the ads, especially when you are running specific promos.
Vikram says a preferred PPC specialist should be proficient in "active management," where functions such as proper bidding strategies, ad execution, and performance audits on the fly are made.
When people are considering getting a room for a vacation, they be checking out ads for hotels that offer ample accommodations at competitive rates. Expert marketers can help set the package up for you.
Enlisting a Reputable PPC Agency to Lead Your Local Promotions Effort
Local businesses, like hotels and restaurants, need many options to better position themselves first in tapping customers. One of these is pay-per-click (PPC) marketing, in which you earn income from an online ad every time a customer clicks on it. Melih Oztalay writes for Web Marketing Today:
"Getting your website to appear in organic search engine results is one of the most important web marketing strategies. But don't forget about search engine advertising, too. Pay-per-click ads are among the quickest ways to drive website traffic to generate more leads and sales."
Using other online methods to attract customers to your business is well established as a marketing tactic. An Advertising Association study reported that the country's advertising market spending was pegged at £17.6 billion last year, with online advertising efforts accounting for £6.3 billion and £1 billion on mobile ads. When your business is considering other avenues to attract new customers, a reputable PPC agency such as White Hat can help you along.

Oztalay says that in designing a region-specific PPC ad over Google AdWords UK, you and your assigned marketing specialist can use chosen keywords and add a location so that the ad can appear in the search results of users from the target areas. For example, a business in the Southeast of England may concentrate its marketing efforts on Kent, Sussex, and Surrey, and include the other Home Counties later. Your business' particulars must be described in the ad.
With the ad's mechanics laid down, it's time to link them to a related section of the business' website. That way the customer can proceed with learning more about the subject product or service and not have to scour the entire site for it.
Your PPC specialist may use search engine optimisation methods to accompany the ads. The aim is for your business to appear on the first page of any search result and a section above the results list contains at least one ad for the business.
According to Oztalay, PPC advertising can be a stopgap solution while your main marketing efforts for the business are formulated. Your online marketer can assist with auditing the ad's performance to see which parts of it are doing well and which parts still require fine-tuning. At the same time, you can control the duration of the ad, such as taking it off when a promo period is over.
PPC ads will help bring in customers to your business and also bring you a good amount of income as long as the campaign is planned and executed well.
Contact our professional inbound marketing agency today, and get a FREE consultation on how to strategically invest in your digital marketing.
Send us an email now at info@whitehat-seo.co.uk or call us at (+44) 020 8834 4795 and grow your bottom line through our online marketing expertise today.
Remember to download your free PPC Guide:
See Also