From optimising pay-per-click ads to understanding the user experience of your website, knowing what metrics to analyse and what marketing strategies to employ requires the kind of expertise the average business lacks.
Digital marketing agencies however do have the expertise to increase traffic, conversion rates and sales to a business. Experts in digital agency advertising are also trained to understand your customers' demands so they can fulfil your business's needs.
The best digital marketing agencies in the UK utilise various methods to boost SEO rankings, analyse site metrics and improve ROI for all clients. Read on to learn about 4 of the UK's (including London's) best digital marketing agencies that we like and respect. These agencies can tackle virtually any of your digital advertising needs - wherever you are in the country.
Best Digital Marketing Agencies Throughout the UK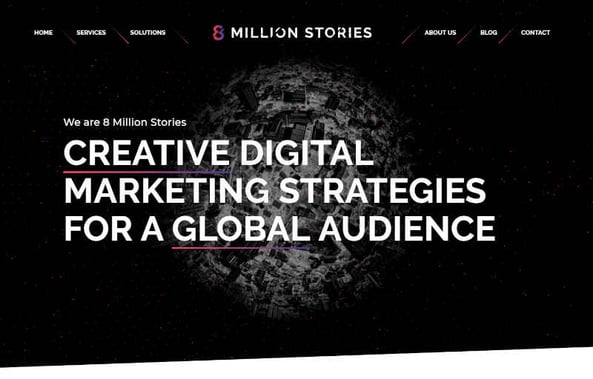 For digital content marketing agency Eight Million Stories of Edinburgh, Scotland, effective content marketing means content monetisation for clients. One of Eight Million Stories' areas of expertise lies in content marketing, which involves researching your audience and distribution strategies in order to enjoy greater returns. This digital marketing and advertising agency's strategy begins with evaluating your business's current standpoint.
Eight Million Stories devotes time to studying your current ad campaigns to distinguish strengths from weaknesses. Learning about your audience also reveals what is expected from your business so you can refocus marketing techniques to suit individuals you seek after. The digital advertising agency provides tools to help you realise trends in the market and to gauge your competition. This advantage allows you to interpret other businesses' weak points so you can harness your own strengths.
After analysing your current position, Eight Million Stories' next steps in their digital marketing services include advancing your website content. The experts at this marketing agency are equipped with creative and effective strategies that allow you to market the right content to the right people. Having tailored, time-relevant information for visitors on your website contributes to your greater marketing plan, digital and non-digital. Even after employing new, innovative marketing strategies, Eight Million Stories provides clients with a custom dashboard so you can review your business status, progress and viewer analytics. Such information makes it easier to stay current with potential customers as time goes on and demands change.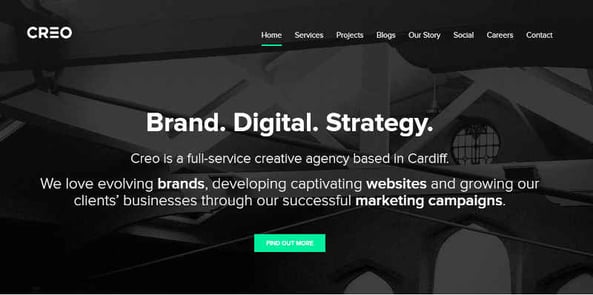 One of the most crucial aspects of digital marketing for Creo is brand awareness and audience engagement. Creo, a creative digital marketing agency based in Cardiff, Wales, hones in on social media marketing to make that impact. This agency emphasizes social media presence for more personal and targeted interactions with potential customers.
Creo's social media specialists train you to learn what platforms work best for your business and your objectives, and how to take advantage of those spaces. This digital media agency helps to manage social media profiles to maintain your values, image and connection with supporters online.
From fully managing your accounts to providing advice on specific problem areas, Creo helps elevate your presence throughout the internet. Not only does the agency assist with social media content, but they also strategise and manage your social media ads. Creo has the tools to identify where most of your ideal customers are concentrated, what content would lead to the most engagement and what strategies make your work the most shareable.
Besides social media marketing, Creo also enhances your email marketing strategies to take advantage of targeted communication. Advertising through email involves personalised content that suits each potential customer's needs and unique situation. The team at Creo can provide services that range from managing your databases to designing captivating yet informative content to creating tailored email campaigns that meet your specific goals at the moment.
By utilising Google Analytics, this digital marketing agency will get you the reach and responses you desire. Their reporting tools reveal statistics, like click-through rates, that keep you updated on what tweaks your digital marketing strategy needs. Throughout this whole process, Creo prioritises constant communication with clients about scheduling, content and campaign results so you can see your progress as it happens.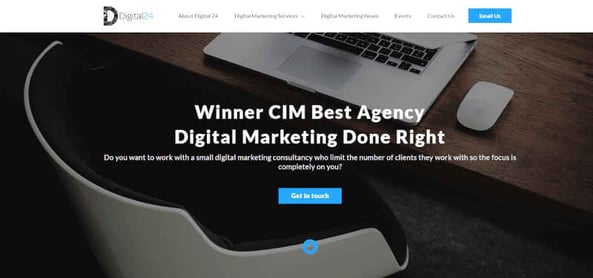 Digital Twenty Four is small digital marketing agency based in Belfast, Northern Ireland. Since it is a small agency, they limit their number of clients so each business receives the attention and dedication they deserve. Digital Twenty Four also sympathises with the small businesses they work with by offering affordable prices for their digital advertising services.
As a Google Partner, Digital Twenty Four's PPC marketing services are backed by data from customer behaviours and website patterns. This access to insightful data gives you an inside look on how to appeal to your potential customers and what content works to engage visitors.
This digital marketing and advertising agency also provides research on keywords that are frequently used by potential customers in order for you to integrate them into your site and ad campaigns. And with Google Display network, Digital Twenty Four provides information on customer behaviours and allows you to connect with them through tailored ads that correspond to their current internet searches. Keyword research plus the ability to interact with potential buyers through Google Display network creates the most reliable strategy to increase your traffic and sales. These methods allow you to fully understand your target audience and to adapt to exactly what they are looking for without any hassle on their end.
Great PPC marketing should bring potential customers to an even higher quality website. Digital Twenty Four knows that the quality of your website reflects the quality of products or services customers can expect from your business. This is why Digital Twenty Four prioritises conversion rate optimisation (CRO) through quality ads, and valuable website content and design. This digital content marketing agency performs numerous user tests to identify the best content and delivery methods for you and your customers.
Outsourcing CRO needs to Digital Twenty Four allows you to focus on your business operations while a trustworthy agency brings in the traffic and reports them back to you. Especially since this digital marketing agency also specialises in re-targeting potential customers, you can depend on Digital Twenty Four to continuously adapt your ad campaigns and site content to be the most suitable for customers at any stage of the purchasing process.
Best Digital Marketing Agencies in London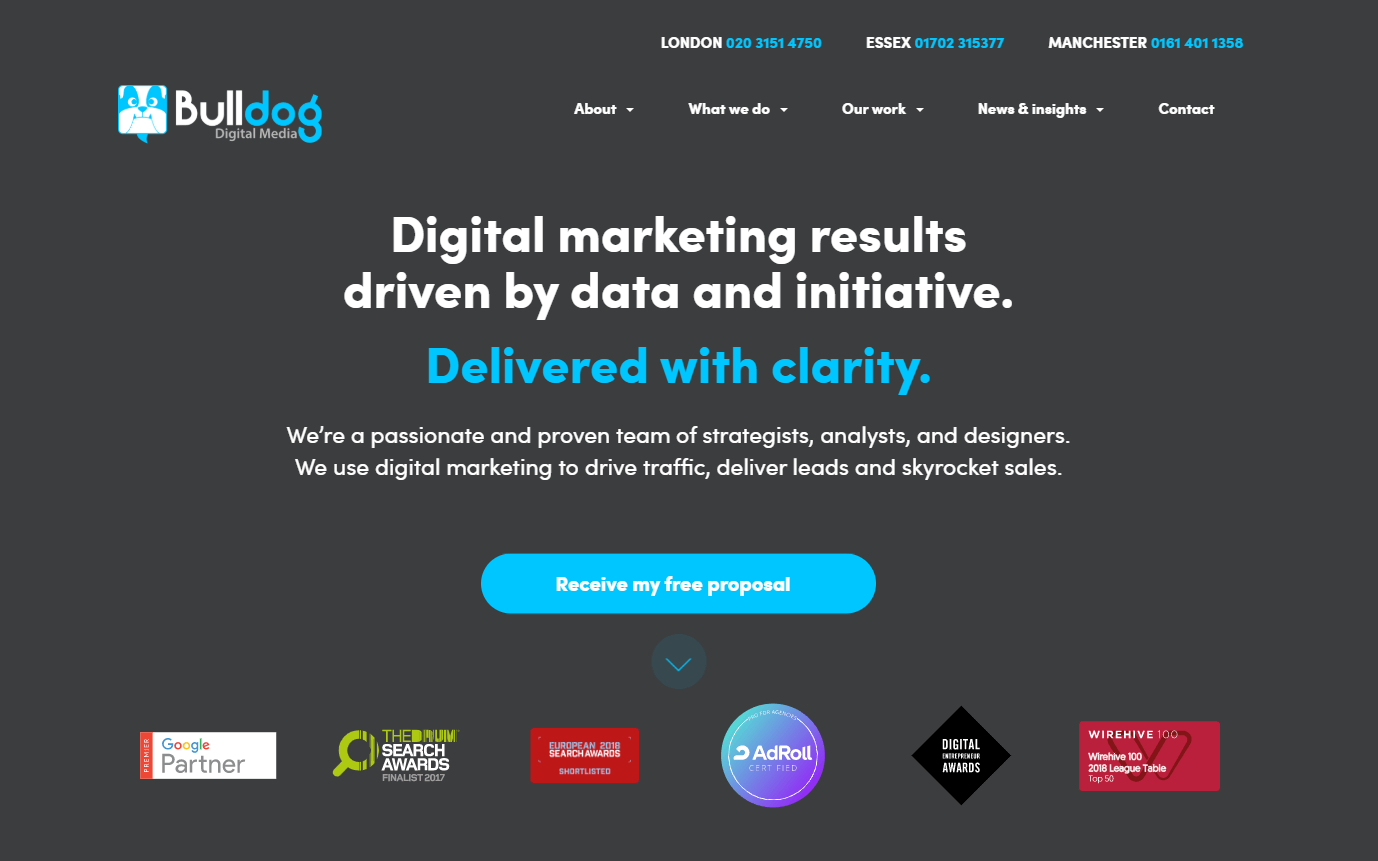 One of Bulldog Digital Media's many strengths as a digital marketing agency is their trained eye in search engine optimisation. With their unique SEO strategies, the team targets aspects of your website such as technicalities for unbeatable user experience and informative content that draws in your audience.
Bulldog Digital Media offers experts who reassure clients with quality code to support smooth-running websites and to encourage search engine indexing. Their digital marketing services also include integrating innovative content with engaging visuals to prove your business's excellence over competitors. When you have the support of experienced writers and designers backing your website your backlinks, social media shares and traffic will inevitably rise, and convert more internet users into potential customers and more potential customers into loyal supporters.
To further push conversion rates, this digital content marketing agency also helps establish bold websites with their expertise in creating clear call-to-action landing pages that draw more ad-clickers to your checkout page. Experts at Bulldog Digital Media continuously study your audience's needs and your industry's trends to get your site to the top.
Attempting to attract high traffic to your site is difficult when solely relying on organic searches. Bulldog Digital Media understands that a smart method to increasing traffic is to establish strong networks with other relevant businesses to fuel more potential customers with less effort. This digital marketing advertising agency is equipped with PR specialists who can help you establish these crucial connections with respectable individuals and businesses in your industry. Increasing numbers of mentions and back-links to your site improves off-page SEO which allows you to be recognised by people and search engines.
However, having connections with relevant businesses does not suffice if your website's content is not worth sharing. Bulldog Digital Marketing's services provide the tools to develop new, relevant content that gains the respect of others to earn these valuable connections.
There are many agencies that offer their own expertise in the digital marketing world. The best digital marketing agency for you depends on the strategies you desire and the agency mission that best aligns with your business's values. Because the world of digital marketing and advertising requires great strategy, working with one of the UK's best digital marketing services agencies from this list will show undeniable progress. You will see your business grow whether it be through better search engine rankings, greater traffic to your website or a growing network with respectable individuals and companies in your industry.
Bonus Marketing Agency: Whitehat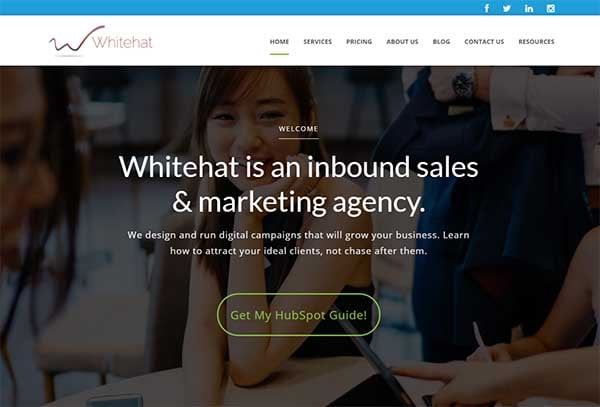 Whitehat is a digital marketing agency focused on creating leads through inbound marketing. Our digital marketing and advertising strategy begins with attracting customers by optimising your site. The Whitehat team incorporates various digital marketing strategies, from SEO to pay-per-click ads, to get visitors talking about your business.
After attracting visitors to your site, this agency helps you establish resources to on-board more visitors by educating them about solutions you offer. Rather than forcing sales, a strategy that many other competitors rely on, Whitehat proves your solutions to potential customers. Whitehat's digital marketing services allow you to strategise content that builds authority and trust in your potential buyers so they're confident in your business. As a Hubspot Certified Platinum Partner, Whitehat is dedicated to ensure you continue engagement with potential customers even after their first visit to continuously improve lead conversions.
Another expertise of Whitehat is our growth-driven design methodology. As a digital content marketing agency, the Whitehat team consists of web designers who will help you optimise your site to provide information your visitors need, when they need it. Whitehat's design strategy emphasises user empathy to understand your leads in order to base business priorities after them. This digital media agency also provides a single dashboard to house all business analytics in order to study user behaviour. By incorporating analytic findings to your website, Whitehat allows you to continuously tailor your site to visitor demands in order to increase conversions. Our digital marketing services rely on evidence-based decisions in order to bring results based on facts, not assumptions.
Tell us what you think in the comments below.