Hot on the heels of our last blog looking at customer relationship management, we're now going to take a look at closed-loop reporting. The CRM blog looked at how you can utilise a computerised system to track and manage the contacts, opportunities and leads you've worked hard to collect. Closed-loop reporting goes one stage further to help you understand the process to see where the successes, and failures, of those leads are taking your sales and marketing teams.
When it comes to inbound marketing, it's one thing to generate a lead, but quite another to turn it into a satisfied customer that generates revenue for your business. That's the loop we are looking to close.
Typically, the sales teams will report back to the marketing team about the status of the leads they've received via various campaigns, landing pages, etc. In turn, this feedback helps Marketing understand the sources of those leads their campaigns have generated and are able to see which are working, and which are not. Those campaigns that created a lead and has generated a sale clearly are. Those that haven't, may need to be revisited.
Closed-loop reporting helps you to understand this particular puzzle and will allow the decision-makers to see which advertising is money well-spent, and which is wasted. It also allows marketers to demonstrate their ability to quantify the work they are doing. Historically, this hasn't always been as easy as it sounds. Being able to link every lead and customer to the revenue they have generated is a vital part of the marketing process and particularly the inbound methodology.
Closed-loop marketing and reporting comes in 4 basic steps. The first two we've looked at in more detail in previous blogs which you can find linked here and here. The first step involves a prospect visiting your website. A small file, known as a cookie, is created which lets you know how they came to land on the site, i.e. search engine, social media, email campaign, etc. This cookie allows you to link them to a particular source, which starts the loop. HubSpot's proprietary inbound marketing software allows you to do this easily and it's certainly the one we'd recommend.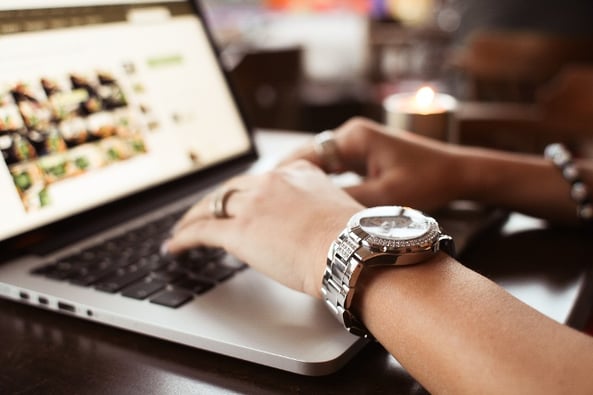 As visitors browse your site, looking at what you offer and reading the fantastic content you're becoming known for, thanks to your inbound marketing efforts, you need to be tracking their behaviour. You need to see which pages they're looking at and how they are interacting with the site. When you see this over the course of time, you can begin to hone your site and optimise it to speed up the visitor-to-lead and ultimately, visitor-to-customer conversions.
The previous 2 steps have been about attracting visitors and understanding their behaviour. Step 3 is about beginning to monetise this. Visitors that come and go with no ability, or opportunity, to capture their contact information are wasted. Now we have them, and we understand where they came from, that's valuable data to your sales and marketing teams, but we need more. We need to know who they are and how to get in touch with them to begin converting them into leads. We do this through landing pages and Call-to-Action buttons that give them something original, engaging and useful in return. To get this, we ask them to fill in a short form with their name and email address. This information also allows us to associate them to the original source of their inquiry.
To finally begin to close the loop, we need step 4. It's now time to work out which visits ultimately ended up creating revenue through a sale. Which of your marketing campaigns provided the most useful leads and converted the most customers. It will also help you see which one provided the least. By looking at the leads the sales team have closed, you can begin to attribute them back to each campaign. CRM, which we talked about in our last blog, makes this process much easier.
All of this might sound incredibly complex and convoluted, but there are some fantastic tools out there to help you achieve this. If closed-loop reporting is a new concept to you, then Whitehat and HubSpot are perfectly placed to offer these tools to you. Give our expert team a call and let's close that loop together.
Reference: Hubspot CRM Software
---
Other blogs you might like...