You're writing stellar content, yet your reads barely crack a hundred. At this point, you might be wondering what you're doing wrong. Isn't that why you're here now?
First: cheer up! Many writers face the problem of having a small readership. However, you should remember that even large publications started out small, so there's hope for your blog.
Second: realize that the problem may be on your end; that is, you might not be doing the right things often enough. Don't forget that mistake-free doesn't necessarily equate to doing something the right way. That in mind, here are a few tips from a reputable SEO agency to help you grow your readership: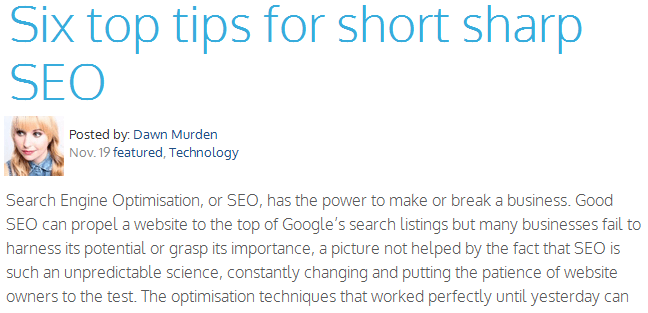 It Starts Up Top
Crafting witty titles is slowly becoming a lost art. Today, most people want to read titles that are short and sweet— and that's exactly what you should give them. An article from Talk Business Magazine discusses this:
"The way you head your pages, is a signpost to visitors but also to search engine bots crawling your site. Using words that clearly describe the content on those pages makes it easier for people to find your pages. Weight is given to these titles too, so if you can sum everything up in a short title you increase your chances of getting a better listing."
When writing titles, it also pays to have them at 70 characters or less in length, including the spaces. This prevents the title from being cut off in search results, shares, etc.
Following the Leader
Conduct interviews with industry leaders or local celebrities and get their thoughts on the latest developments in your industry. This is great for adding truly unique content to your entries and increasing their credibility. At the same time, the people you interview are likely to share the link to your story with their followers.
Ramp up the Shutter Speed
Increase the visual appeal of your content by adding photos and videos to your blog posts. Studies have shown that people are more likely to share great content with photos than great content without photos— and you definitely want your readers to share your content on social media.
Still struggling to find readers for your business blog? Maybe it's time to consult an experienced SEO agency in London like Whitehat SEO Ltd. These professionals can help you optimize your entries and make it easier for search engines to find and bring up your content when certain keywords are used in search queries. This way, you can naturally attract traffic to your blog and your business website.
(Source: Six top tips for short sharp SEO; Talk Business Magazine; November 19, 2013)