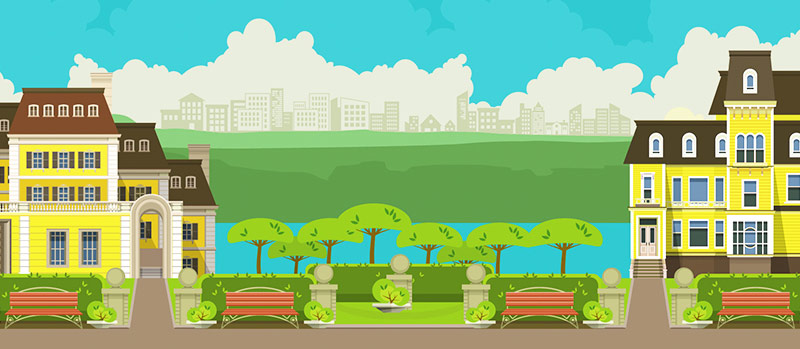 Revenue from residential property sales in the UK account for a huge part of the overall economic revenue.
According to recent statistics from Property Partner, residential property in the UK is now worth more than £5 trillion, and buy-to-let transactions add up to more than £20 billion annually. Moreover, residential property holds a dynamic percentage of the UK built environment. The UK built environment was worth £5,480bn, with residential estate representing roughly 87% (worth £4,670 billion).
With the demand for residential property constantly growing, can home buyers find you when they search for an estate agent like yourself to assist them with their needs?
Find out more on this featured infographic about how to market your real estate services online:
Most of your prospective clients are turning to the Internet during their home-buying process.
Your prospective clients are browsing property agents' websites, and reading reviews to assess the properties for sale. In fact, online estate agent eMoov.co.uk revealed that 98% of all property searches in the UK are now conducted online. Sixty seven percent (67%) of buyers start their research by visiting the property details page and read the full property description.
Of those searching for properties, 41% turn to the Internet to view a floor plan, 36% to compare a property to others listed in the area, and 21% to look at previous property sold prices.
Do you come up in their searches? What online channels are best for you?
More and more buyers are using their mobile devices when searching for a home to purchase.
According to research, your prospective clients aren't just performing searches on desktop. A growing number of home buyers utilise a mobile website when accessing information about a residential property.
Recent studies have shown that 56% of people in the UK consume digital media on mobile devices and tablets. As much as 74% of buyers searched on mobile using a search engine before making a purchase, and half, or 50%, mobile device users reported making a purchase in a browser on their mobile.
Is your website responsive and mobile-friendly?
Most of the actions performed by home buyers originate from a local search.
A growing percentage of home buyers rely on local searches when looking for a property for sale—from 70% in 2010, the number has increased to 80% in 2014. Today, fifty four percent of searchers include a local modifier, such as a city or zip code, in their search. Seventy-one percent of searchers, on the other hand, say they value the information they find in local search results.
Do you have a strong presence in local listings, maps, and directories?
Home buyers are also turning to videos for their multiple research needs.
Because most people would choose to watch videos rather than read text about products and services, videos play a significant part in the home-buying process. According to studies, visitors who view videos stay on websites an average of 2 minutes longer than those who don't view videos.
Moreover, homepage videos are shown to increase conversion rates by 20% or more. Sixty four percent (64%) of consumers are more likely to buy a product or service after watching a video about it, and 39% have called a vendor or service provider after watching a video.
Is video part of your marketing mix?
Online reviews play a key role in estate agents' online marketing efforts.
Your prospective clients value the reviews they read online about property services. Seventy percent (70%) of online searchers say they look at online reviews before purchasing a product or service. The same percentage of global consumers trust online consumer reviews, making it the second most trusted form of advertising behind earned media, like word of mouth.
Because of the help they got from online reviews, 92% of searchers deem customer reviews as "extremely" or "very helpful," while 59% consider customer reviews to be more valuable than expert reviews.
Are there positive reviews about your property services online?
Build a Solid Online Marketing Campaign for your Estate Agent Services with us, today.
Send us an email, give us a call at 020 8834 4795, or fill out the form to schedule a consultation.