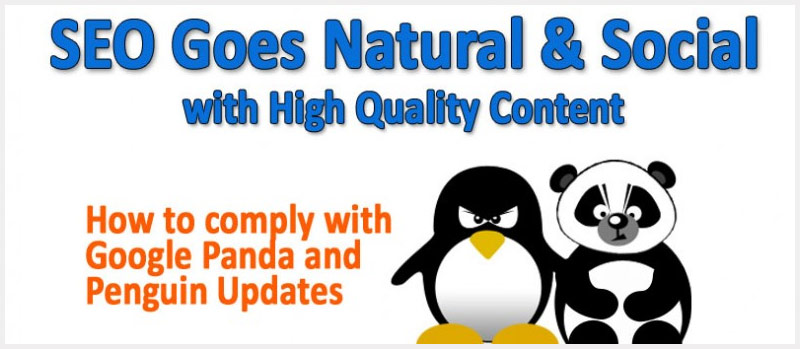 Useful SEO Tips On How To Make Your Content More Google-Friendly

Google released two massive updates and they are still having an effect today: the Panda and the Penguin updates. Both of them target the content published by website owners, and their purpose is to lower the rank of low-quality websites and to increase the rank of websites that truly offer value to the reader.
Every website owner knows that search engine optimisation plays a vital role for increasing the traffic and improving the visibility of the website, but it is essential to understand that there are two types of SEO: white hat SEO (the positive and efficient techniques based on natural SEO) and the black hat SEO (negative techniques that are penalised by Google).
Take a look at our Infographic:
Useful Tips On How To Make Your Content More Google-Friendly
Original Content – The Key To A High-Ranking Website
The first and perhaps most important aspect that you need to take into account is to publish only high-quality, original and well-written content that will bring value to the reader.
The content must be engaging, as this is the only way to keep the reader interested and to bring more visitors to your website. This is part of what is known as content marketing, a popular technique designed to increase traffic – the technique is used by more than half of the marketers worldwide, and approximately 9 out of 10 readers say that they are very satisfied when reading original and informative articles.
As statistics reveal, more than 70% of the marketers claim that an efficient online marketing strategy can be more efficient than the traditional magazine ads.
How Can Blogging Come In Handy?
Another great SEO technique for website owners who want to boost their website ranking is to start a blog – there is no faster, easier or more efficient way to create inbound links than through a blog where you post quality, original content. The secret is to post the content on a regular basis, as this is the only way to make sure that Google will index it faster.
When it comes to indexing, Google uses a special crawler designed to analyse both the content and the keyword density, as well as to determine how relevant it is to your website – depending on the results, the content will be indexed and will appear in the SERP.
A blog can be of great help, and statistics reveal that large companies and organisations who have a blog have reported over 90% more inbound links. Your blogging frequency is also very important – if you blog a few times a week, the chances are that you will be able to get up to 5 times more traffic per month.
The Power Of Press Releases And Promotional Copies
Press releases and high-quality promotional copies play a crucial role when it comes to increasing the ranking of your website. This type of content is slightly different from the classic articles and blog posts in terms of format, but one thing is for sure: they are regarded as authority content and Google will pay attention to them more than it would do to articles.
However, it is important to focus only on top-notch press releases and to avoid illicit methods like article spinning or keyword stuffing otherwise Google will, most likely, penalise your website. Not only do press releases serve as a great way to attract website visitors, but they are also great to inform people about your website or business.
Promotional offers, on the other hand, are also great for generating leads, traffic and prospects – customers react very well to special deals and promotions, and this will basically be a win-win situation, both for them and for you as a website owner.
More than 80% of those who read a promotion are likely to share it with their friends, family or business acquaintances, which can result in even more leads.
On the other hand, seven people out of ten claimed that they would be more loyal to a company that offers sales promotions on a regular basis, while over 60% of people claimed that promotions do improve the image of a company.
Social Media Is Your Greatest SEO Ally
Social media networks have boomed over the past several years, with millions of registered users all around the world – Facebook, Twitter or Google+ are only three of the social layers that can connect you with your target audience, so why not use them in your best interest? Many website owners use Facebook to keep their fans informed about the latest posts, updates, contests and such – this is an efficient and cost-effective white hat technique that may come in handy for you as well.
Besides this, when you connect your website to a reputable social network, the chances are that your audience will consider your website an authority in your niche, and they will not hesitate to visit your site whenever they need information or guidance – this is undoubtedly a great way to attract loyal long-term readers.
People who see content distributed on social media are likely to share it with their friends and family and, on the other hand, this is a great opportunity for the website owners to keep in touch with the readers and to get some high-quality and unbiased feedback from them.
The Bottom Line
The bottom line is that these two massive updates are designed to improve the user experience, and to make sure that Internet users only get the most relevant and informative content whenever they are looking for something on Google.
While these updates are certainly beneficial for some website owners, they can wreak havoc on other people's website rankings. The tips and hints mentioned above will help you increase the rankings in the search engine and to attract more visitors to your website at the same time, without any financial investment.
Remember, if you want quality SEO done for you, email us at info@whitehat-seo.co.uk, or give us a call at +44 20 8834 4795 today for a free consultation.
Articles you may also like: