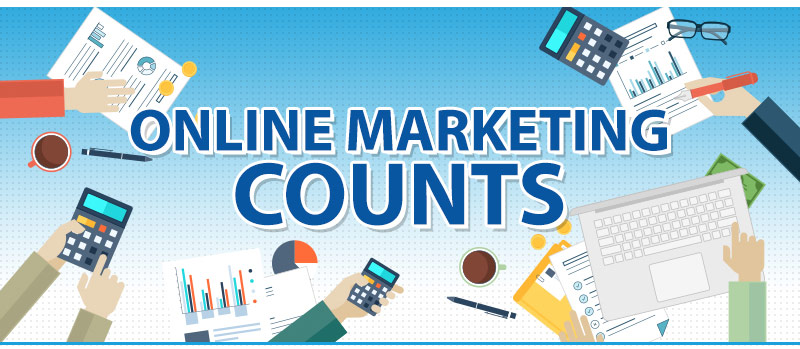 Your Potential Clients are Looking for you Online.
A recent study has found that more of your potential clients are searching for expert accounting services online than through word-of-mouth recommendations. In fact, 30% of those surveyed have said they are using search engines, social media, local listings and online reviews when looking for accounting firms, with only 19% saying they are relying on recommendations from friends and relatives.
A professionally-designed and accessible website is one of the most significant factors that drive visitors to become leads. To win their trust, you need to give your website an appealing design and convincing copy, and provide them with crucial information that answers their questions about your firm. According to studies, majority of your potential clients (80%) are basing their selection from websites they visit.
However, having a website doesn't necessarily guarantee more visitors for your site. Sixty seven percent (67%) of your potential clients agree that a mobile-friendly website makes them more likely to purchase a service. Simply put, you need to have a mobile-responsive website that adjusts to all screen sizes, from desktop, to smartphones and tablets, so as not to drive away mobile visitors.
Are you searchable and visible online? Do you have a website? Is it mobile-responsive?
Your Firm Must be Visible on Search Engines
But a mobile-responsive website with professional design and compelling content is nothing when it doesn't rank good on search engine results pages. As most of your potential clients are using search engines, you need to optimise your website with the right and relevant keywords that will make it appear on SERPs when users type terms to find accounting firms.
According to MarketingSherpa, a huge number of businesses rank SEO highest (94%) in terms of growing importance as a source of leads. This is closely followed by social media (85%) and blogging (68%).
Are you implementing SEO for your firm?
More Reasons for you to have a Mobile-Responsive Website
A study released by comScore claims that the number of mobile Internet users has already surpassed the number of desktop Internet users. comScore discovered that one in three minutes spent online is spent beyond the PC. Owners are so engaged with their devices that mobile Internet usage is projected to surge 66% in the next five years. This means that your potential clients are spending more time on their smartphones and tablets today more than ever!
Having a mobile-responsive website has never been this important for businesses, especially for accounting firms like yours. Why? Because it can bring in more leads and clients for your firm! Take a look at these numbers:
74% of users are more like likely to return to a mobile-friendly website
67% of users are more likely to buy if the site is mobile-friendly
62% of companies reported an increase in sales after designing a site for mobile users
Your Firm Should Be Active on Social Media
In order to take advantage of the benefits brought by online marketing, you need to take advantage of the power of social media. You must optimise your presence in social media channels, such as LinkedIn where client acquisition is high.
According to LinkedIn, they sign up approximately two new members every second. From its pool of 300 million active users, the customer acquisition success rate is remarkable at 61% for B2B companies and 39% for B2C.
Your Competition is Hyping up Their Online Marketing—and You Should Too.
Because of online marketing's proven effectiveness on businesses, many firms are turning to SEO, local online marketing and social media marketing in an effort to reach wider audience and convert more leads to clients.
What Businesses Use SEO for?
Majority of your competition are investing on SEO. Seventy two percent (72%) of them are using this technique to gain website traffic, while 62% are using it to generate more leads.
What Are They Doing in Terms of Local Online Marketing?
Not only that — they are also looking into the positive effects brought by online marketing to their business. In one survey, 82% of organisations have said they are developing content on pages, blog posts, and page titles to optimise local search results. Forty two percent (42%) have said they are considering local search a critical or important factor for achieving search marketing objectives.
What Social Channels Do They Use?
Businesses like yours also spend time and effort in establishing their presence on different social media channels. When SocialCPAs and the Association for Accounting Marketing (AAM) asked firms what social channels they are using, they found out that:
92.8% use LinkedIn
76% use Facebook
65.6% use Twitter
34% use Google+
30.8% use YouTube
9.2% use SlideShare
4.8% use Vimeo
10% use other channels
How Often Do They Post in a Week?
The same study by SocialCPAs and AAM revealed that on average, most firms are posting 5.96 times per week on Twitter, 3.37 times per week on Facebook, 3.06 times per week on LinkedIn, and 1.74 times per week on Google+. According to the study, sole proprietors nearly post as much as large firms do, while small and mid-sized organisations lag behind.
What Type of Posts Do They Share?
The kind of posts these organisations produce range from culture driven content (such as pictures at firm outings and parties), recruiting opportunities, promotions and awards for their employees, events, conference attendance, speaking announcements, tax and accounting alerts, self-published content, and news sourced from third parties.
What Percentage of Leads Come From These Channels?
When asked what percentage of their leads come from social media channels, most respondents said that majority of their leads are from LinkedIn. Here's the breakdown:
10.6% of leads come from LinkedIn according to respondents posting daily or more; 8.3% come from LinkedIn according to all respondents
3.1% of leads come from Twitter according to respondents posting daily or more; 2.2% come from Twitter according to all respondents
3.5% of leads come from Google+ according to respondents posting daily or more; 5.3% come from Google+ according to all respondents
5.5% of leads come from Facebook according to respondents posting daily or more; 2.4% come from Facebook according to all respondents
41.7% of leads come from other social channels according to all respondents
Increase Client Flow and Achieve Higher ROI with Our Online Marketing Services
We can help you establish and promote your accounting expertise in the online world to help you increase your clients. Fill out the form today or call us for a free consultation!