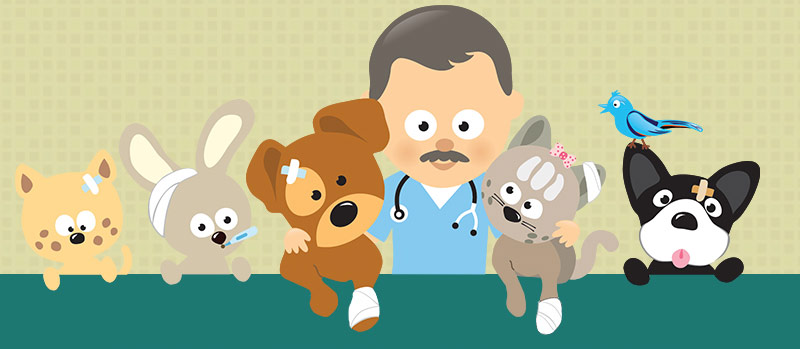 Reach More Customers by Marketing Your Veterinary Practice Online
Today's pet owners look for information online before and after visiting a vet.
Bayer Healthcare's Bayer Veterinary Care Usage Study suggested that more and more pet owners today rely on the Internet to search for information about their pet's health.
According to the study, almost 4 out 10 pet owners say they first look for information online when a pet is sick or injured, while nearly 3 out of 10 almost always go online after a veterinary visit.
Do you have an online presence? When pet owners go online looking for information about their pets' health – is it YOU that they find?
How many pets are owned in the UK?
In this info-graphic, we looked at the data provided by Statista, pets.thenets.com, Pet Manufacturers Association – UK, American Veterinary Medical Association, Australian Veterinary Association, and Horsetalk.co.nz to determine the numbers.
U.K. citizens own:
9,000,000 dogs
7,900,000 cats
25,000,000 fish
1,000,000 rabbits
1,300,000 birds
400,000 horses
20,400,000 other pets
Having a professionally designed and mobile-friendly website is essential for vets like you.
LifeLearn and the Pew Research Center both found out the growing significance of having a professionally designed and mobile-friendly website to veterinary surgeons.
In LifeLearn's 2015 Veterinary Online Marketing Report, it was revealed that a whopping 77% of vets promote their clinic using professionally designed websites. Pew Research's report, on the other hand, found that 52% of smartphone owners gather health information using their phones.
Is your website professional-looking and mobile-friendly? Are you visible to all online searchers, including mobile users? Do you have a website at all?
Most medical information seekers begin at a search engine.
Of those searching for medical information online, 77% say they begin at a search engine, such as Google, Bing, and Yahoo. Can pet owners find you when they hit the search button?
When marketing their practice online, most veterinary surgeons choose to use social media.
A huge number of veterinary surgeons use social media in their online marketing efforts. Here is the breakdown:
92% use Facebook
45% use Google+
41% use YouTube
24% use Pinterest
21% use Twitter
20% use LinkedIn
16% use Instagram
Indeed, vets are making the transition from leaflets and brochures to the world of Facebook likes and shares. To keep their pages up-to-date and engaging for their followers, 34% spend one to two hours per week on Facebook, while 22% spend two to five hours per week on the popular social network.
Are you active on social media?
More and more pet owners are looking for vets using local search.
The number of consumers doing local search has grown immensely from 70% in 2010 to 80% in 2014. Do you have a strong presence in local listings and directories?
Online reviews play a key role in vet's online marketing efforts.
Seventy percent (70%) of online searchers say they look at online reviews before purchasing a product or service. The same percentage of global consumers trust online reviews, making it the second most trusted form of advertising behind earned media, like word of mouth.
A huge 92% of consumers deemed online customer reviews as "extremely" or "very" helpful, while 59% consider reviews to be more valuable than expert reviews. Do you have positive reviews online and fans who think you're awesome?
Be the Best Vet in Town through Digital Marketing
Can Pet Owners Find You When They Look for a Vet Online?
People love their pets and consider them part of the family. Even during a recession, 81 billion was spent on pet care worldwide. Wouldn't it be great to be the one most people turn to for their pet care needs?
Pet Owners Use Search Engines to Find Veterinary Surgeons
When people were asked to think about the last time they searched for health and medical information, as well as doctors or other health professionals, 77% said that they began at a search engine such as Google, Bing, or Yahoo.
Can pet owners find you online? Do your contact details show them clearly how to reach you? Do you also provide them with directions to your office for pet emergencies?
Can they find you on search engines at all?
Vets like You Need to Get a Mobile-friendly Website
And here's something that'll make you roll over:
Fifty two percent (52%) of smartphone owners gather health information, as well as health-related services on their phones.
Is your website mobile-friendly?
Online Reviews are Essential for Pet Owners
A survey finds that of the 74% adults who use the Internet:
Eighty percent (80%) of them have looked online for information about health topics such as specific diseases or treatments.

Thirty four percent (34%) of Internet users have read someone else's commentary or experience about health or medical issues on an online news group, website, or blog.

And 25% of Internet users have watched an online video about health or medical issues.
Are there positive reviews about your practice online?
If your answer to any of these questions is "no," you don't need to claw your hair out. There's a lot you can do to make your practice more searchable and accessible online — and most of all, appealing to your target patients. You can engage pet owners with treats via social media.
Why Veterinary Surgeons Need Well-Designed, Mobile-Friendly Websites
Why Having a Professionally Designed and Mobile-Friendly Website is Essential for Veterinary Surgeons
It's undeniable that pet owners love their furry, scaly, and feathered little friends. However, when your prospective clients' pets have been injured, aren't feeling well, or need to undergo their wellness exams, how will you get your prospects to choose your office over the competition?
Many of your prospective clients are looking for reputable veterinary surgeons online via search engines, social media sites, and online business directories. According to Pew Research Center, 77% of online medical information seekers begin at a search engine such as Google, Bing, or Yahoo.
Moreover, a lot of online health information gathering no longer takes place exclusively on desktop computers, as online searchers also use smartphones, tablets, and other devices to gather online medical information.
Your prospective clients are using their smartphones increasingly while on the go. According to Pew Research Center, 52% of smartphone owners gather health information using their phones. In other words, when their pets are in need, pet owners are just as likely to turn to their smartphones as they would to their computers when searching for reputable veterinary surgeons and online medical information.
When your prospective clients search for vets online, will they find your website?
According to the latest statistics from comScore, more than three-fourths of all digital consumers use both desktop and mobile platforms. Such consumers are known as "multi-platform" users. To market your veterinary services to multi-platform users, you'll need to ensure that your website is mobile responsive (i.e. the layout and/or content adapts based on the size of the screen).
While you may have an existing website to market your business online, is this website mobile responsive? Is your website regularly updated and optimised to provide the best experience to multi-platform users? Just as importantly, what does Google Search think of your website?
In February 2015, Google engineers announced that Google Search would be expanding the use of mobile-friendliness as a ranking signal. To make a long story short, if your website does not carry Google's "mobile-friendly" label, after April 21, 2015, your website may not show up for any Google searches performed on mobile devices. As a consequence, your website could plummet so drastically in rankings on the search engine results pages that it might as well cease to exist.
Many tech experts are calling this algorithm update the Google "Mice" update. If you fail to optimise your website, Google's little rodents will soon be chewing away at your rankings on mobile search results.
"But my practice is doing just fine. I get lots of great referrals and get decent foot traffic."
Your business may be doing fine for now, but if you fail to keep up with the marketing efforts of your competitors, you may eventually see yourself left behind. Recent research indicates that 77% of veterinary surgeons are promoting their using professionally designed websites.
Your competitors are keeping up with the needs of digital consumers and the latest technological innovations. They're optimising their websites for Google "Mice" and driving more targeted traffic to their websites. They're bent on converting their site visitors into customers. They're implementing long-term strategies designed to sustain revenue and business growth.
Busy professionals like you don't have the time to worry about optimising websites. How can you continue to meet the needs of your clients and market your services effectively to online prospects?
Other relevant articles
We're here to help.
We can update your website, making it more functional and navigable, and better equipped to nurture leads and convert them into clients. We can make your website more mobile-friendly for Google "Mice".
Everything you need to boost your online marketing campaign is our expertise and eventually our marketing company can help your veterinary practice get the attention it deserves.
Fetch more customers and become every man's best vet with our online marketing services. Fill out the form and contact us now at 020 8834 4795 for a consultation!